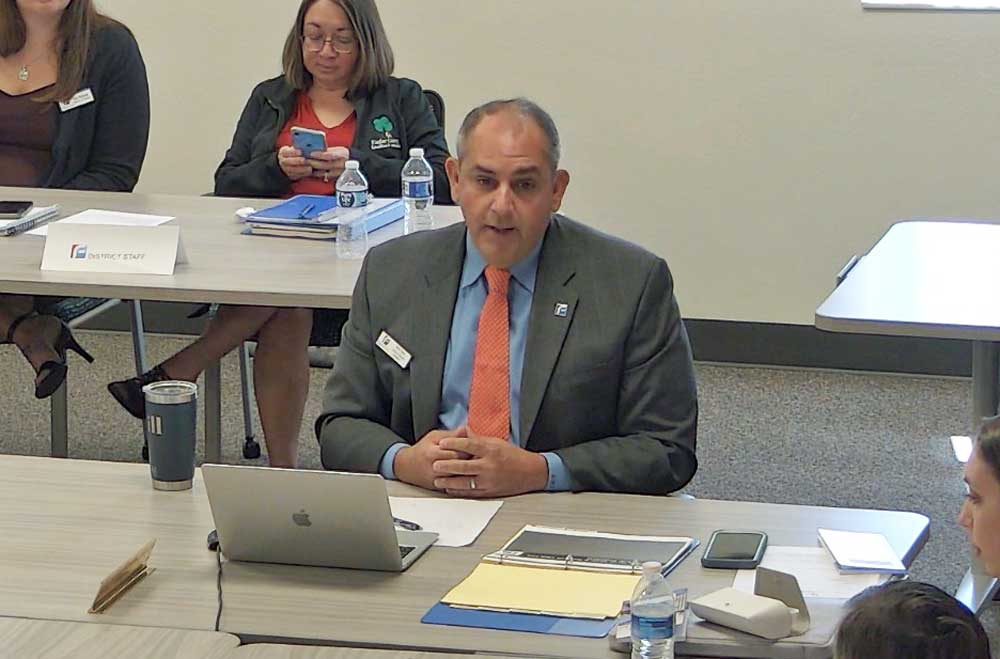 School Board members Will Furry and Christy Chong are ready to redirect the Belle Terre Swim and Racquet Club toward a student-focused facility, with a potential allowance for some public use. But they no longer wish to operate the club as a public facility.
Colleen Conklin and Cheryl Massaro are not willing to end the facility's mixed-use by residents through memberships, as well as by students. Sally Hunt wants additional conversations.




So ended what had been dubbed as a special workshop to decide the future of the club, after more than two hours of presentations and discussions this morning, into the afternoon.
Nevertheless, after a decade of hesitancy and inaction, it's as close as the board has gotten to a decision, with clearer ideas on how to proceed. It was also an example of how the board, so deeply divided and at times embittered on certain issues–book bans, the superintendent's future, internal machinations–can tackle a difficult issue reasonably, deliberately and without the corrosions of hidden agendas.
The board will discuss the matter once again at its information workshop later this month, with a possible, decisive vote at a school board meeting in a few weeks. Meanwhile, yet more information-gathering by board members and lobbying of board members will continue.
"I know this is a bear. We're going to work it out," Cheryl Massaro, the board's chair, said as she gaveled the end of the meeting. "We're going to get there."




Two proposals are on the table. One is to run Belle Terre as an exclusively student-focused facility. The other is to continue the current model, but as a "self-funded" facility that would have to stop relying on subsidies from other parts of the district's adult education budget.
As student-focused, it would no longer be a public facility. The district would maintain it for clubs such as the Synchro Belles, Swim Safe and Flagler Fluids, which would rent the pool for their use, and it would continue providing the pool for high school teams. It would potentially allow for other student-related programs. That would cost $81,400 a year, not including personnel costs.
As a self-funded facility, the club would have to stop relying on the district's extended day program's subsidies. That's the before and after school child care operations at various schools, which are run through the district's Adult Education division and are profitable enough to subsidize the club's shortfalls. But to make it self-funded, membership costs would have to rise to anywhere between $660 and $1,000 a year, according to projections presented by Josh Walker, who oversees the club. Otherwise, at current membership rates, the facility may see a $145,000 deficit.




There are other, less dire calculations. But the bottom line is that without either a significant increase in the number of members or in membership fees, or a combination of both, the facility will continue to run deficits, which some, if not most, members of the board find unacceptable.
The workshop began with a long presentation by Doug Courtney, the long-time public advocate for the facility who saved it from one demise almost a decade ago and is trying again this year. (His arguments and documentation are all summarized here: "Belle Terre Swim Club's Finances Are Not as Dire as Projected.")
Like Courtney, Conklin remains mistrustful of the district's numbers, at least regarding projected revenue. "Each time we have this conversation, it always looks like our expenses are way more than what we historically have dealt with," Conklin said. "And then at the end of the year, the loss is never as much as we first–everybody panicked, hair on fire–thought it was going to be. With that being said I believe that there is the opportunity to have a student and community focus."
Furry thinks it's time to end the community focus, or at least remove it as a main component, for various reasons: the facility is outdated and cannot compete with existing fitness clubs at its current prices. It's difficult to market, with its geographic location in the middle of Palm Coast's P Section. And it's just not making money to sustain itself. "I cannot see investing more money into this property as it is to make it to where it would be a truly marketable product," Furry said. "I just don't think we have a very marketable product of the outside of the pool itself."
His proposal: end the public component, at least in its current form. Close the gym and turn that building into an events venue. And keep the pool usable for students' swimming teams and student-centered groups like the Synchro Belles, Swim Safe and Flagler Fluids, groups that would pay to lease the facility. As an open door to community use, Furry is also proposing that current members could form their own community group and lease the facility for their own uses on a regular basis, an approach that could potentially save them money, compared to membership fees. "There's a potential solution for them to still have access," Furry said. "We would have an ongoing standing reservation for them, based on their need."
Chong agreed with that approach.




To Conklin, the district would have to maintain the pool anyway. Cutting out memberships would make no sense. "I'm still trying to figure out why it couldn't serve both students and community members. I just don't I don't understand what the issue is as to why we can't do that," she said. "If you could do it for one group, why you couldn't do it for another. "
She noted what Courtney had noted: that at one point last year the district stopped taking memberships altogether and stopped marketing the facility altogether, since its future was in doubt. Those suspensions are reflected in lower revenue figures, but unfairly affect projections of future revenue, assuming marketing and membership drives were stronger.
"I understand both sides and I really believe that I too am with mixed-use," Massaro said. "I agree that it is taxpayers money, our taxpayers. Not only do they vote, but they actually gave us our half penny sales tax, which is incredible. So we were very excited about that. But these are reasons why we do it, and I would like to see mixed use come out of this."
The board looked to Hunt to swing the matter one way or the other, but she did not. She wanted more conversations, and possibly a visit to the club, as a board, though some of the other board members have visited on their own or have long been familiar with it. She will do so on her own. So the matter will be again discussed at the board's next information workshop on April 18, with a vote scheduled that evening.
"We rent out our schools to churches, so put in something similar," Chong said, opening the door to some community use. "That'd be done so that we can have a profit and still, it's just student focus."
Massaro's answer was indicative of where she, and the full board, may end up: "That seems to be the direction we're all heading in. We're just coming from two different points. I think we can meet in the middle."