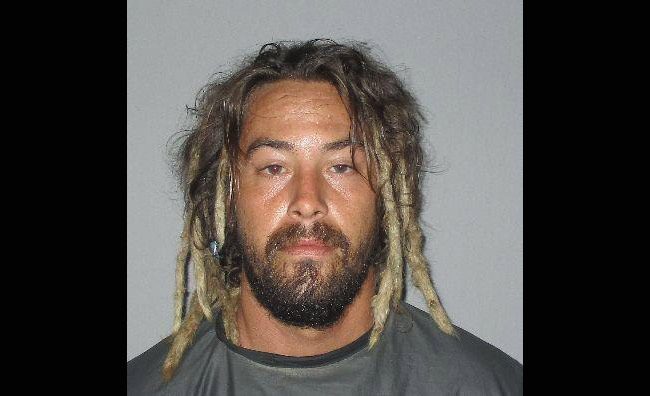 Steven R. Belisle, a 27-year-old resident of Central Avenue in Flagler Beach, is facing a felony aggravated battery charge for allegedly striking and throwing an object at his 31-year-old girlfriend, and pummeling and kicking her pit bull after the dog lunged at him in an apparent effort to protect his owner from Belisle.
The alleged incident took place early Saturday morning after the woman got home from work. Belisle, her boyfriend of three months, was at her apartment. The two were sitting outside talking when, she told police, Belisle accused her of cheating on him with one of her coworkers. (They both work at different bars in Flagler Beach.) She asked him to leave and tried to go into the apartment. They struggled. She managed to get away, go in, and lock the door. But he had a key and let himself in. "The argument continued to escalate from there," Belisle's arrest report states, with Belisle allegedly striking the woman in the face with the backside of his hand.
At that point the woman's gray pit bull lunged at Belisle, the report states. Belisle, according to the woman, then "turned his attention to her dog and started striking it with a closed fist with both hands," and he continued to strike the dog "as hard as he could," in the woman's words, reportedly following the dog into another room as he continued to do so. The woman told police that Belisle "was also kicking the dog," though the dog showed no signs of visible injuries.
The woman said she was able to stop Belisle and the argument cooled down, only to re-escalate when Belisle tried to use his phone and the woman broke a portion of it when she tried to take it away from him. He became "really pissed," in her words, and started throwing candles and glass vases around the apartment, breaking them. When Belisle allegedly pushed the woman out of the way as he tried to leave the apartment, the dog lunged at him again, but somehow, the report states, Belisle "started to again strike her in the face, causing her to fall to the ground," the report alleges, referring to the woman, "and stated that he would 'beat up' both her and her dog." Belisle also fell, giving the woman an opportunity to call 911.
She tried to block Belisle's way when he tried to leave after that because, she said, she didn't want him leaving before police showed up. But he did. She said he pushed her out of the way, opened the door, and allegedly threw a 20-ounce "Yeti"-stile stainless steel container full of alcohol at the woman's head. She was about three feet from him. Police noted a 2-inch knot or swelling on the back of her head, a 5-inch red and purple bruise on the inside of her right bicep, redness and swelling on her face, a small laceration on her lip, and a limp, as she had twisted her ankle when she'd fallen.
Several attempts to locate Belisle failed that morning, but he was found on Sunday and booked at the Flagler County jail that afternoon on a cruelty to animals charge, a third-degree felony, and an aggravated battery-domestic violence charge, a second degree felony. He posted $7,500 bond and was released this morning.