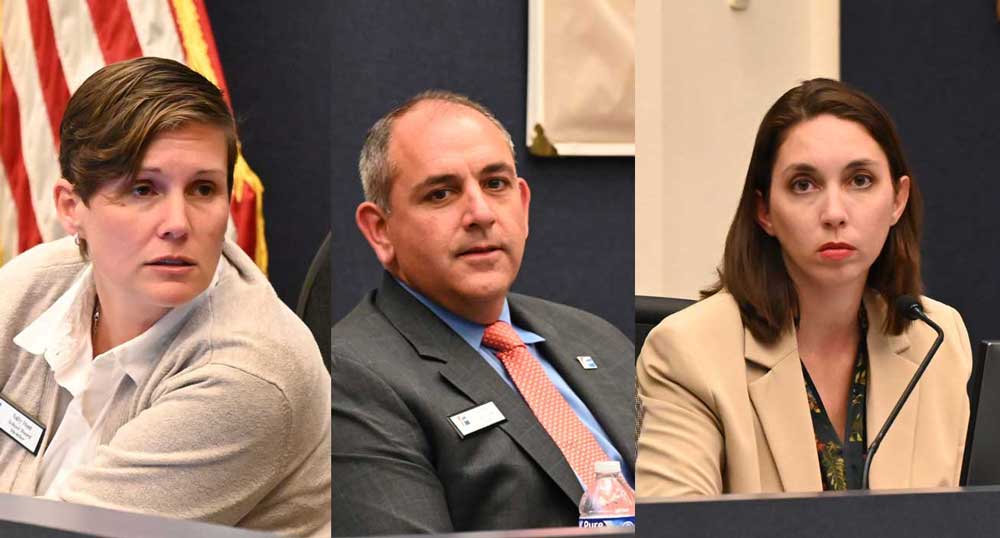 The bigoted, vengeful firing of Superintendent Cathy Mittelstadt will deeply stain Flagler County's reputation for business or great schools: Fabrications aside, neither the three school board members nor the chamber of commerce who orchestrated the ouster could find a single reason to fire her. Malevolence was enough.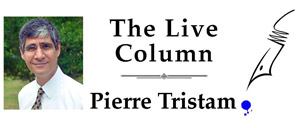 At least now it's in the open. Because for the life of us, those of us who tried to figure out the reasons behind the disenchantment with Mittelstadt of those three school board members and a posse of chamber members couldn't see where they were coming from. There was no there there. 
None. Not in their evaluations. Not in their amoebic statements before their vote to fire on Tuesday. Not in any public pronouncements they've made since they've been on the board. Not in the chamber's intellectually dishonest reading of student proficiency scores.
Then came Charlene Cothran, the self-described former lesbian activist responsible for turning the board's public speaking policy upside down after she openly vilified a transgender student who was in the audience during a 2019 meeting, insulted his parents, and broadened her attack on all things LGBTQ. 




She was back Tuesday. "I'm sure that she is an excellent administrator, but that's not my problem," Cothran said of Mittelstadt. (Mittelstadt's excellence isn't the board members' problem, either, or that of the chamber: they wouldn't recognize excellence if it flamed up in a pentecostal rainbow on Whitsunday.) "I believe that she was improperly selected in the first place through political pressures from the ACLU and NAACP," Cothran said, stumbling on the colored people part, though she's Black, "mainly because of her status as an out of the closet lesbian, married quote unquote, to a woman."
So there is it. The whisper campaign is no longer a whisper campaign. Will Furry and Christy Chong, two Republican Christian nationalists, joined hands with Sally Hunt, the narcissist with the judgment of a flea who identifies as a Democrat, to orchestrate the putsch, along with their supporting cast. Now an evangelical like Dusty Sims, the former principal at Flagler Palm Coast High School, can take over and put all things alt-right with the world. Overt prayers at board meetings are not far behind, because neither is the firing of Board Attorney Kristy Gavin.
The local chamber of commerce's board members aren't known for their Christian nationalism and doubtless they don't much care about that sort of thing. But their secret vote of no-confidence was prejudicial nonetheless, because it rested on a blend of misinformation, willful ignorance and vengefulness, as becomes clearer by the day. And it is reflected in their cowardice.  




Not a single one of the chamber's eight members who voted to fire had the courage to show his or her face at the school board meeting, or even to meet with the superintendent ahead of the ambush. Not Palm Coast Observer Publisher John Walsh, who proposed the "no-confidence" statement with the same finesse that endorsed Joe Mullins a few months ago, not Garry Lubi, who chairs the board and is a former Education Foundation president, not David Ayres, who's had Mittelstadt on his Free for All Fridays show on WNZF but never invited her to discuss these issues (Hunt and Chong were more recent guests), not Mike Chiumento, the attorney who'd led the charge against the district's impact fees last year, and who now represents Paul Peacock, the Wadsworth Elementary principal who played Hunt like a puppet, making her his most reliable mercenary in his war on Mittelstadt. (And who held the school board attorney's job for 16 years before Gavin? Chiumento's firm.) 




But what's the point. This coup wasn't about evidence. It wasn't about accomplishments. It certainly wasn't about looking out for the best interest of students. Some of the chamber members are still smarting over the superintendent standing her ground on impact fees. Some of them don't think she's servile enough. They want her to kiss their ring. She's not the type. So they wanted her gone. For them, it was a power play. For the bigots of the Cothran variety, it was hate. 
This is the message the Chamber of Commerce and the school board are sending businesses and families that may be thinking of moving here. They won't lack for like-minded intolerance. Heaven knows this country, like this county, has plenty of it: just last week we had a parent justify Hitler's book burnings as she addressed the same board. So it won't affect demographics. It will affect quality. Intolerance and small minds build fortresses and prison houses. But they demolish great communities, they asphyxiate culture, they make school districts look like boot camps. The best students will not wait to get the hell out. The best faculty are already leaving. And those who aren't, like Mittelstadt, are being shown the door.
Like the rest of Florida, Flagler County wants its 1950s back. It's getting there. 
Mittelstadt had brought the framed portrait of a kindergarten student and placed it next to her during the meeting on Tuesday. Had the chair not ended the meeting prematurely, Mittelstadt would have explained the meaning of the picture. This is who she is working for. This is who she was doing all this for. Not the politics, not the theatrics, but this kindergartener from the Class of 2035, and every student in between she symbolized. So when this board–these morons, these bigots–fired Mittelstadt, it isn't only the superintendent they screwed. It's that little girl. And everyone in between. 

Pierre Tristam is FlaglerLive's editor.