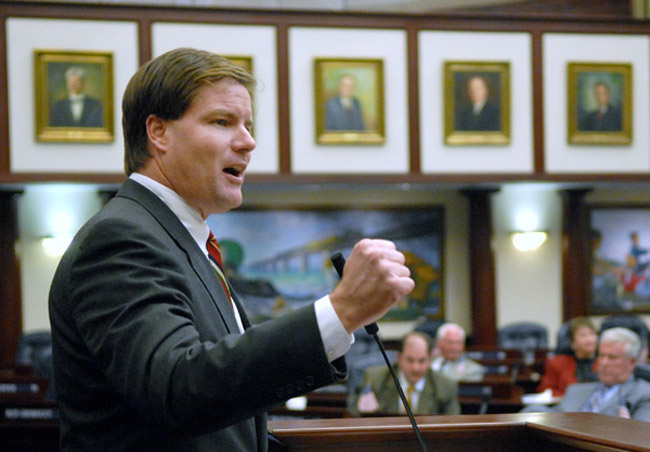 In a possible alternative to expanding Medicaid, a Senate committee Tuesday is expected to take up a proposal aimed at helping low-income Floridians get health services — while turning down billions of dollars in federal money.
The proposal, which Senate Health Policy Chairman Aaron Bean has helped draw up, would create the "Health Choice Plus Program" and would target adults whose incomes are below 100 percent of the federal poverty level.
Health Choice Plus would not be a traditional health-insurance program. Instead, money would go into accounts, which enrollees could tap to help pay for health-care services.
The proposal (SPB 7144) comes after House and Senate Republicans rejected an expansion of the Medicaid program under the federal Affordable Care Act. But it also differs greatly from a proposal by Senate Appropriations Chairman Joe Negron, R-Stuart, to use federal money to provide private insurance coverage to hundreds of thousands of low-income Floridians.
Bean, R-Fernandina Beach, has discussed his idea in broad terms, but the bill posted online provides the first clear details. During a March 20 meeting, Bean said he was trying to find a way to address health care for about 600,000 uninsured Floridians whose incomes fall below the poverty threshold, without becoming "addicted" to federal money.
Under the new bill, Health Choice Plus would be administered by the Florida Health Choices program, a long-planned — and long-delayed — state health marketplace aimed at small businesses. Bean is a former chairman of Florida Health Choices.
"What can we say yes to (as a way to) expand coverage for those without creating an entitlement?" said Bean, whose committee is scheduled to consider the bill Tuesday.
While House Republican leaders have not offered an alternative to expanding Medicaid, the general thrust of Bean's proposal addresses at least some of their concerns. Speaker Will Weatherford, R-Wesley Chapel, has made clear he doesn't want to rely on federal money. Also, Rep. Richard Corcoran, a Land O' Lakes Republican who is chairman of a select committee on the Affordable Care Act, has expressed interest in finding a way to help people below 100 percent of the federal poverty level.
But Health Choice Plus appears unlikely to satisfy Democratic lawmakers and groups such as the hospital industry that have lobbied heavily for Medicaid expansion or, more recently, have warmed to Negron's proposal for private insurance coverage.
The Affordable Care Act, better known as Obamacare, seeks to offer Medicaid coverage to people whose incomes are up to 138 percent of the federal poverty level. In Florida, for example, that would open Medicaid coverage to many childless adults who are currently ineligible for the program.
Bean's proposal would rely on another part of the Affordable Care Act as a way for people between 100 percent and 138 percent of the poverty level to get coverage. Those people will be eligible to get federally subsidized insurance through what is known as a health-insurance exchange, a type of online marketplace where they can shop for coverage.
But residents below 100 percent of the poverty level are not eligible for exchanges. For a one-person household, 100 percent of the federal poverty level equates to an income of $11,490; for a three-person household, it equates to $19,530, according to federal data.
The crux of Health Choice Plus would be to create "health benefits accounts," which would receive money from enrollees, the state and possibly sources such as employers. Money in the accounts could be used for a wide range of expenses, such as physicians' fees, prescriptions, co-payments and limited-benefit health plans.
Enrollees would contribute at least $20 a month to the accounts and also face other requirements, according to the bill. Those requirements include having health assessments within three months of enrolling, having at least one preventive-care visit to a primary-care provider within six months and working at least 20 hours a week or seeking employment — though the employment requirements would have some exceptions.
The proposal encourages the use of county health departments and federally qualified health centers as avenues for people to get care. Enrollees also might be able to receive extra money in their health-benefit accounts by taking steps such as getting dental exams and teeth cleanings, maintaining cholesterol and blood pressure at certain levels and having mammograms and prostate exams.
"Many insurance options are not affordable, and the Legislature intends to provide a benefit program to those individuals who seek assistance with coverage and who assume individual responsibility for their own health-care needs," the bill says.
The bill does not specify how much money the state might spend on the program, though it indicates the state contribution to health-benefit accounts each month would not exceed $10 per person. Also, it says enrollment would cease when the program is full based on available funding.
The advocacy group Florida CHAIN, which has been an outspoken supporter of expanding Medicaid, quickly took issue with the new proposal Sunday, posting a message on Twitter that said the bill — "unlike Sen. Negron's real alternative to Medicaid expansion — would spend max $10/mo from state and get $0 from feds."
–Jim Saunders, News Service of Florida