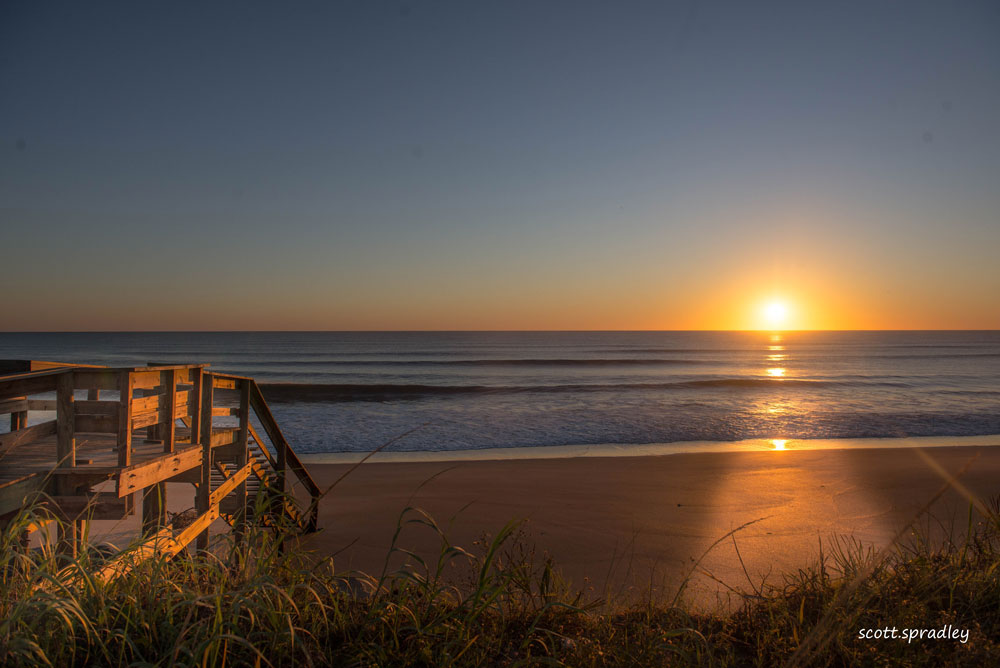 Scott Spradley is a long-time resident of Flagler Beach, a photographer who's been documenting cityscapes and sunrises on a daily basis for years, and an attorney. He's remaining on the Barrier Island for the duration of the storm, and is contributing a running account of Hurricane Ian's local impacts as they develop.
Sunday, October 2, 10:50 a.m. — I awoke this morning in my cozy bed on the Flagler Beach barrier island to near normalcy, for the first time in nearly a week. A predawn visit to the beach revealed an amazing post-Ian sunrise. I immediately had the sensation of "we survived." So, as I write this final chapter, the 11th altogether, to the Spradley Hurricane Ian Storm Blog, a range of emotions comes to mind. Rather than rehash what I have already written these past few days, I will share some behind the scenes thoughts and images to conclude.
First, the good. While the storm was fierce, and hit the barrier island with full force, we were spared the scope of roof damage and other structural damage of Hurricane Matthew. Likewise, while there was flooding, with many sustaining substantial flood damage to their homes, we did not see the scope of water damage brought about by Hurricane Irma. Nor has any loss of life as a result of Ian been reported to date. So, there is that.




Second, we saw the emergence–again–of a few dedicated Flagler Beach warriors who continually set aside personal gain in favor of helping others to overcome storm difficulties. Scott Fox, Paul Chestnut, Tracy Callahan-Hennesey, Tiffany Wiggan and others constitute the core of dependable locals who can be counted on to lead others through the neighborhoods to seek out and offer assistance of all kinds to our residents. This week has been no exception. Well done, all, including appreciation to our tireless police and fire departments behind the leadership of Chief Matt Doughney and Chief Bobby Pace.
I am also grateful that while there are tremendous concerns about the loss of dunes up and down the beaches of the barrier island, A1A survived, which is a testament to the planning, funding and implementation of significant repairs, beginning after Hurricane Matthew.  But the storm took a toll here and elsewhere in many ways that I observed.
In the background, I spared you the heartache and terror that I experienced the day before Ian's arrival here. My daughter Alyson is a student at Florida Gulf Coast University in Fort Myers. Despite careful planning, conversation and dependency on weather forecasts, we reluctantly concluded that Alyson would fare best by staying in her three-story apartment building in Fort Myers. After all, she was several miles from Fort Myers Beach and was shielded, it seemed, by the barrier island of Sanibel.
When all hell broke loose on the afternoon of Ian's arrival in Fort Myers, it hit me like a ton of coquina rocks that Alyson could not be in a worse location, due to the ongoing storm surge.  By now, you have seen the photos and videos of the destruction of Fort Myers. As a parent, there can be nothing worse than enduring a day watching the Weather Channel while a radar map superimposed on a road map clearly displayed the location of Alyson's apartment as being in the "red zone" of dangerous tidal surge. My agony was shared by Alyson's mom, Susan, in Orlando and the feeling of helplessness of both of us was unprecedented.
But there was a happy end to that story: Alyson's apartment complex was spared, she is dry, and she and her roommates are now comfortably in Orlando with Susan until Fort Myers reopens to the public. So there's that. Included is an image of the three of us in Sanibel, before the destructive storm, a year ago.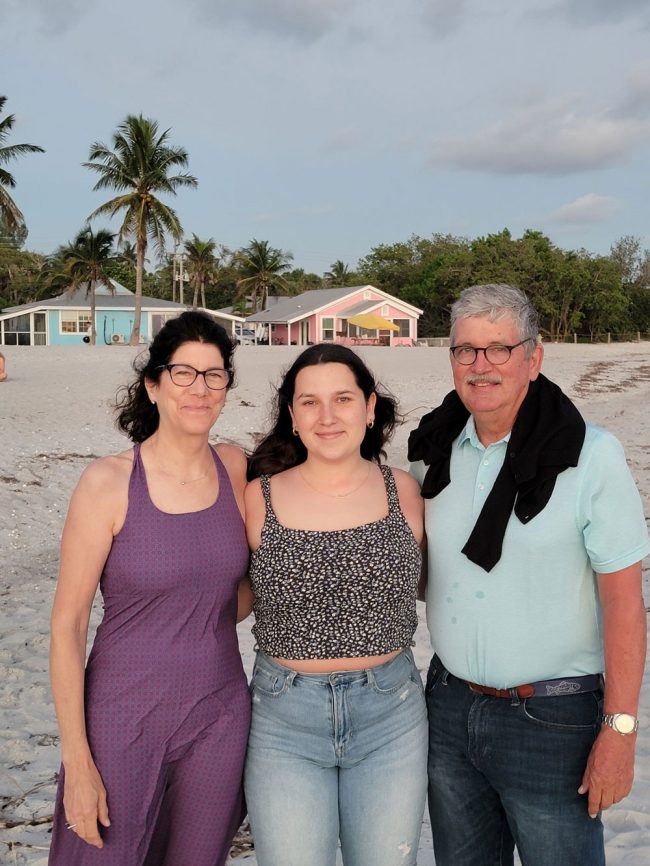 On a far lesser level, I had a bit of a loss as a direct result of Hurricane Ian. While I captured one of my best and favorite images, ever, of the storm inflicting fatal damage to the Flagler Beach Pier, that 10-minute session cost me my trusty Nikon D750 camera, which became saturated with salt water and is presently dead, thanks to the 50 mph gusts at the time. While in the big scheme of things, losing a camera pales in comparison to homes and lives, that camera has literally thousands of memories for me. At least I still have the digital images from it!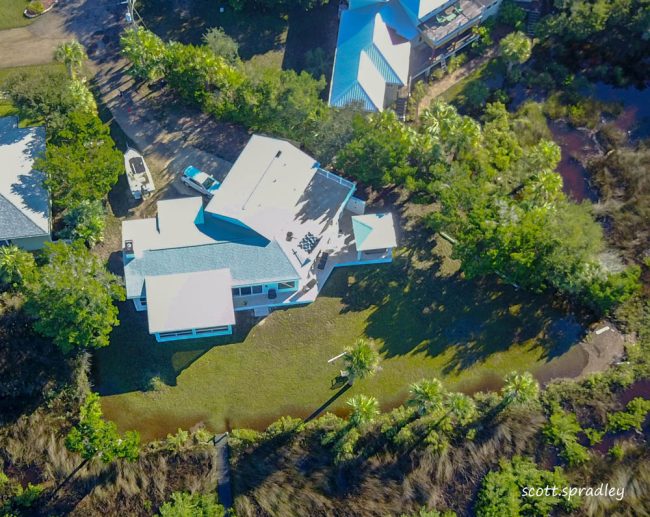 On another good note, my offer to fly a drone over homes of families who evacuated the island was accepted by 31 homeowners, of whom I was able to satisfy 28 with photographs from altitude of their homes.  Most were pleasantly surprised at minimal water intrusion or little or no damage to the roof. All were relieved to at least know what they would be coming back to, thus terminating the stress associated with the unknown. I was thrilled to provide that relief to my fellow barrier island residents. Plus, it's always fun to fly the drone!
Finally, I would be remiss if I did not acknowledge Pierre Tristam, who brainstormed the idea of the Spradley Hurricane Ian Storm Blog, during a call we had early in the week. By all accounts, it has been a success. Through your messages and posts on social media, through your emails and by your in-person comments and smiles at Publix and elsewhere, I now see there really was value to the information I carried to you. I am grateful for that, and I will just say: my pleasure. With that, I conclude this chapter and until next time (hopefully next year or beyond),
Cheers and Be Safe,
Scott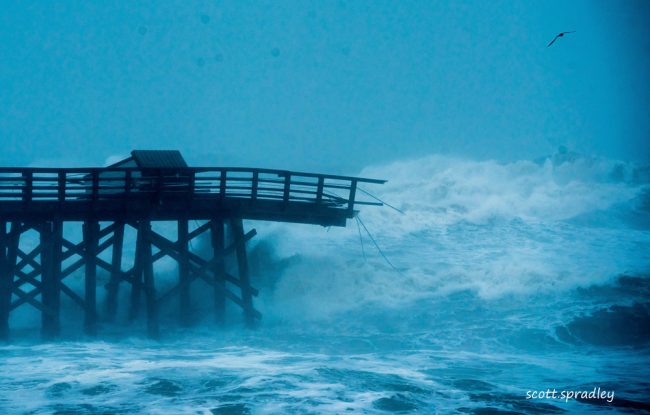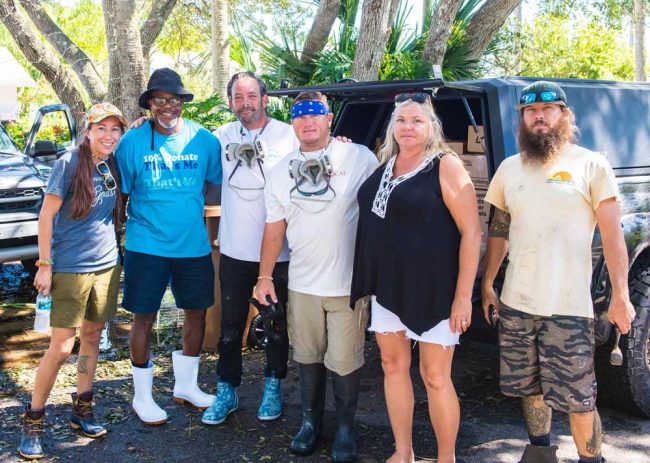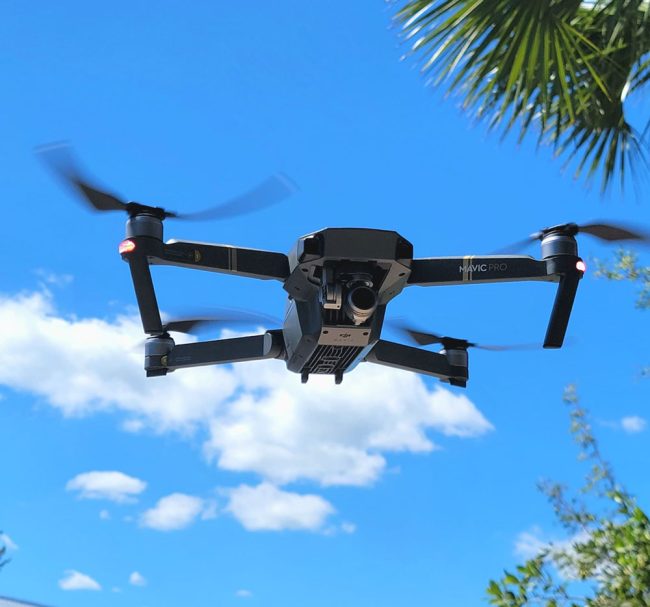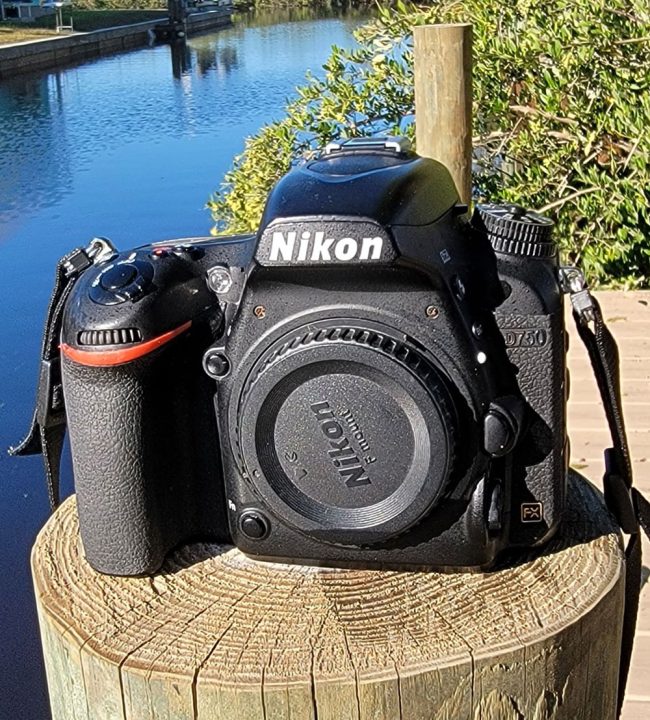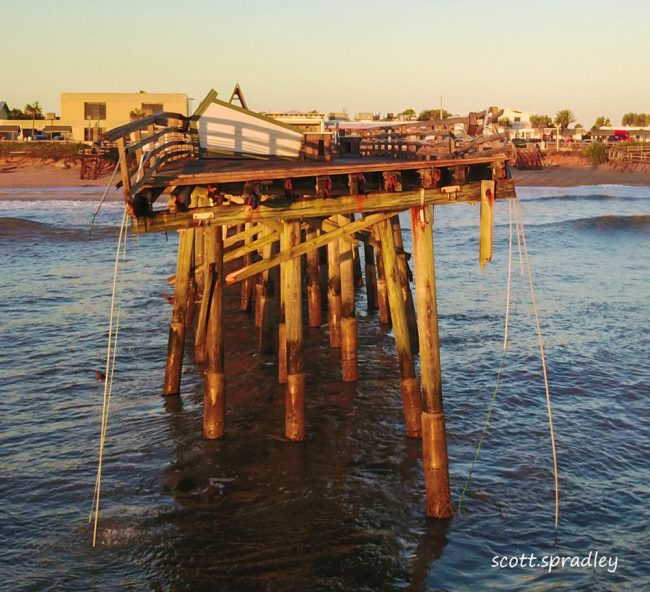 Flagler Strong Survives a Monumental Beating
Saturday, October 1, 12:40 p.m. — As the day breaks with a beautiful ocean sunrise, many questions have been answered about the effect of Hurricane Ian on the barrier island of Flagler Beach.  Yes, the Flagler Beach Pier sustained a monumental beating on the eve of its being replaced by a concrete version of itself. And yes, the area beaches and dunes have much erosion damage.  But on the bright side, flooding, while problematic if not catastrophic for some families in very low lying areas, was a temporary inconvenience for many of us.
For now, we wait for the tide waters to subside and for the roads to become navigable again.  And the effect of the erosion will not really be known for months to come as seasonal deposits of restorative sand will arrive with time.




Also in the positive column is the fact that  A1A largely held up to the challenges presented by the beatdown on the dunes by the storm. Hopefully as the days and weeks play out, order will be restored and Ian will become just another footnote in the rich history of Flagler Beach.
In the meantime, I have been flying my drone around checking out beach and pier damage, and sending photographs to homeowners who evacuated the area and are desperate to see how their home fared. So far, I have flown over 22 homes and happily, most remain dry, with minimal roof damage–welcome news for the home owners.  I will make one final Hurricane Ian post later today after I nose around town looking at damage but also looking for refreshing survival stories. Until then…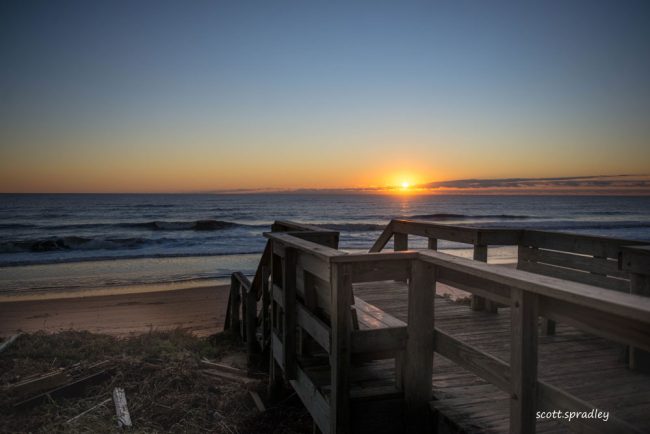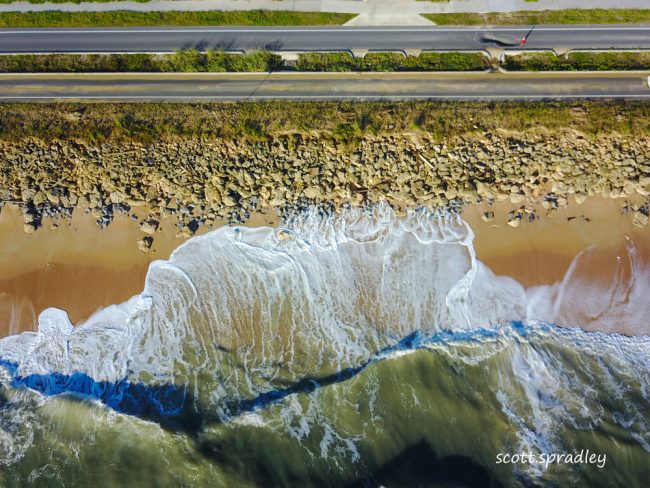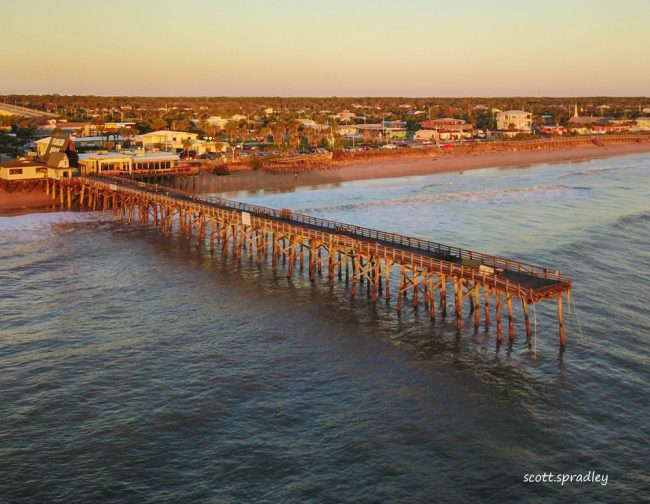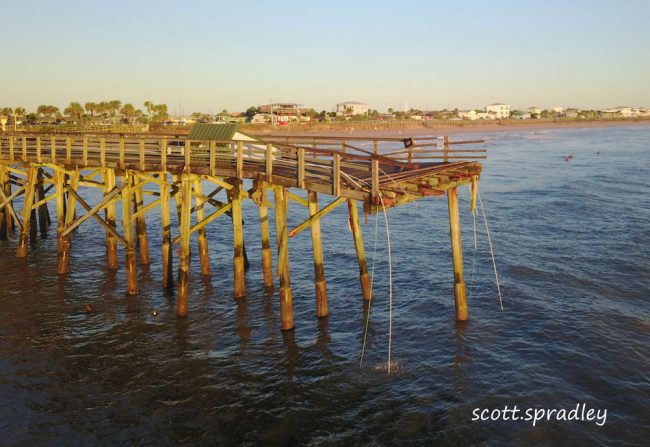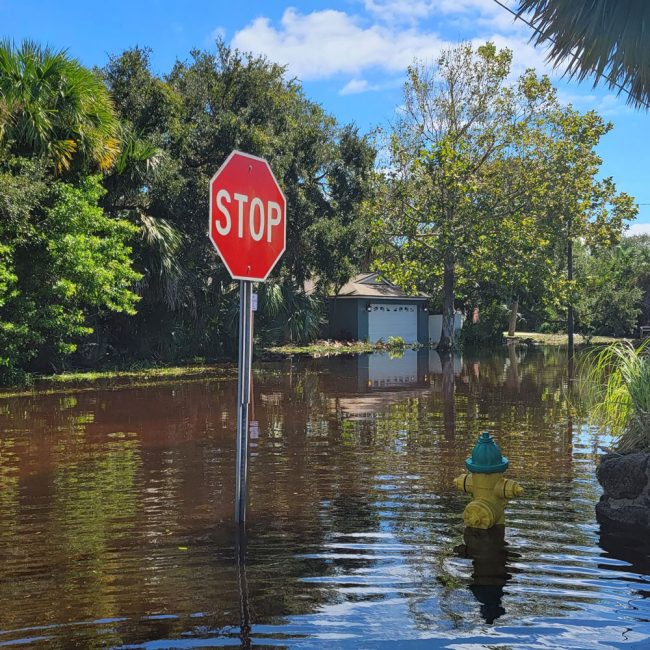 Does Anybody Know What Time It Is?
Friday, 7:00 p.m.– The first hit by the rock/jazz band Chicago was "Does Anybody Really Know What Time it is" back in the early 70's.  With the week we've had, thanks to Hurricane Ian, I feel like asking: "Does Anybody Really Know What day it is."  Yesterday did not feel like Thursday and today most certainly does not feel like Friday, all thanks to the turmoil and interruptions brought about by Ian.
For me, it actually started several days ago when the family was huddled up to make a decision on whether my daughter Alyson should stay at school (Florida Gulf Coast University in FORT MYERS), or depart for Orlando, where her Mom is, or Flagler Beach where I am, or just a shelter where she is. Maybe we overanalyzed it, but she stayed at her Fort Myers apartment, and in the middle of what turned out to be a horrific situation.
But Alyson is safe and she is dry. Thankfully.
More on the Fort Myers episode and associated panic attacks in a separate post.
As for Flagler Beach and life on the barrier island post-Ian, the verdict is still out. We know we lost the Flagler Beach Pier, for all intents and purposes. We know that A1A was challenged and succeeded on some level. We know beach erosion was massive. But based on the fact that my deck just disappeared under water at 4 p.m. today for the very first time in the event, I must say we are not yet done with the effects of Ian.
As for beach erosion, I was able to take photos with a handheld camera and with the drone camera. The handheld photos were tricky. I was and still am without the ability to drive my car anywhere due to significant flooding on South 23rd Street in the area of Flagler Avenue. So after becoming a bit restless, I just walked to the beach and navigated the water to get there.  That may not have been an awesome decision, as I found out on my return trip home, because the tide rose significantly during the one hour I was at the beach. Calf-deep became nearly waist-deep. Consequently, I will remain at home until further notice.




Attached are a few photos taken by land and by air, which evidence the significant erosion at the South 23rd walkover. As you can see, there is no beach. None. Nor is there much dune, either. It is also a stark feeling to see what feels like triple the number of boulders that were present a day ago. But that is a deception: there are no new boulders. The disappearance of so much sand, carried away by storm waves, has simply revealed a massive number of boulders previously beneath the sand and outside of view. But there they are, arguably having done their job by protecting A1A.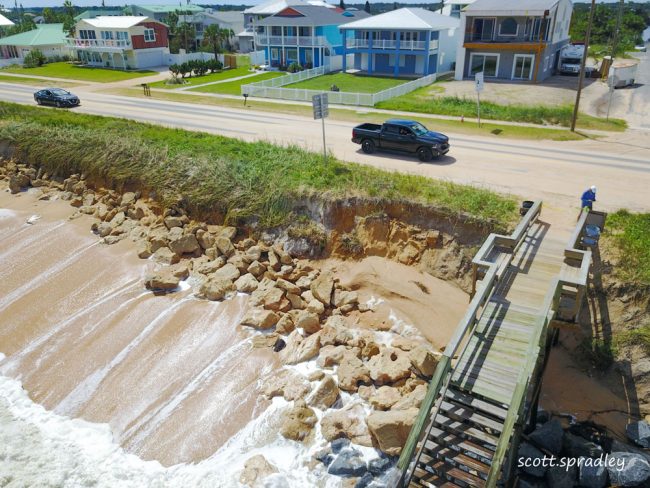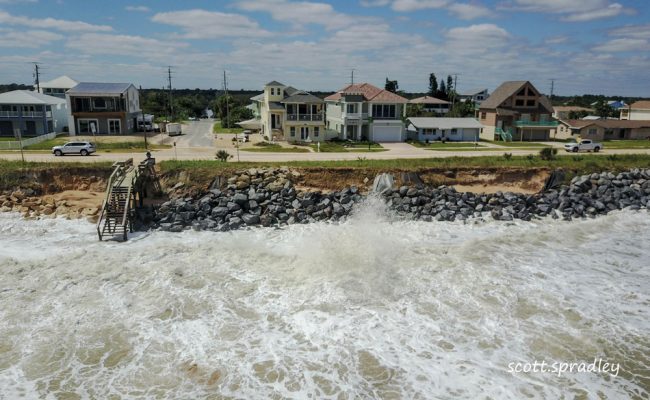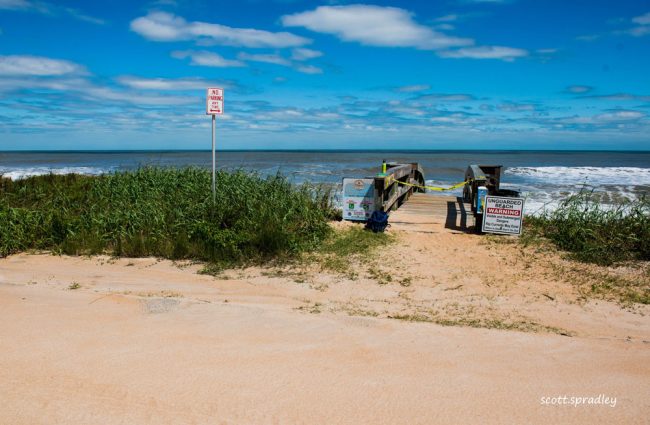 Also attached are a few photos of the flooding situation at South 23rd Street. The water there is deep. I previously posted an image of a white stake that recently appeared on the side of the road and converted by someone into a rain gauge, complete with a numbered grid. Now I see why. The water level when I walked by was between 12 and 14 inches. And that is not the deepest the water stands in that area, as you can gather from the other photographs.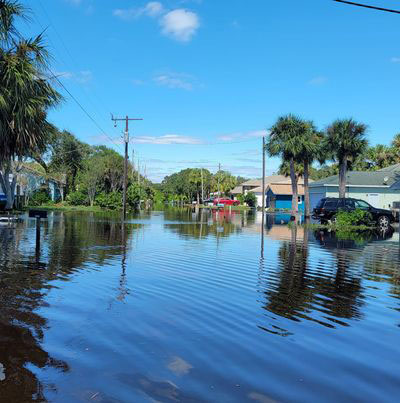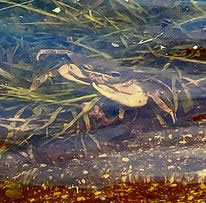 For your viewing pleasure, I have also attached a couple of images of the awesome waves, another side effect of a strong tropical storm. And finally, I could not help but include an image of a good sized crab, submerged in the water on the road, while chasing a minnow. I wasn't quick enough to get the minnow (nor was the crab). But seeing that image sums up for me the surreal nature of life on a barrier island post-hurricane. Does anybody know what day it is?
Cheers and be Safe.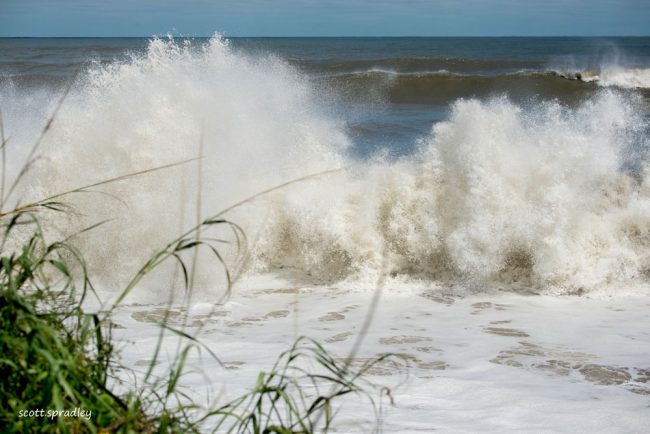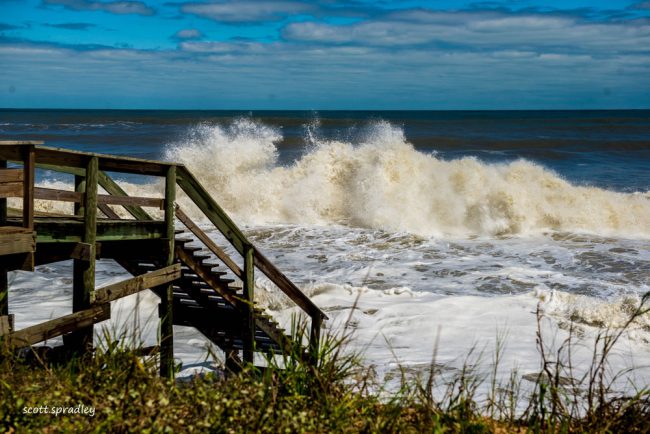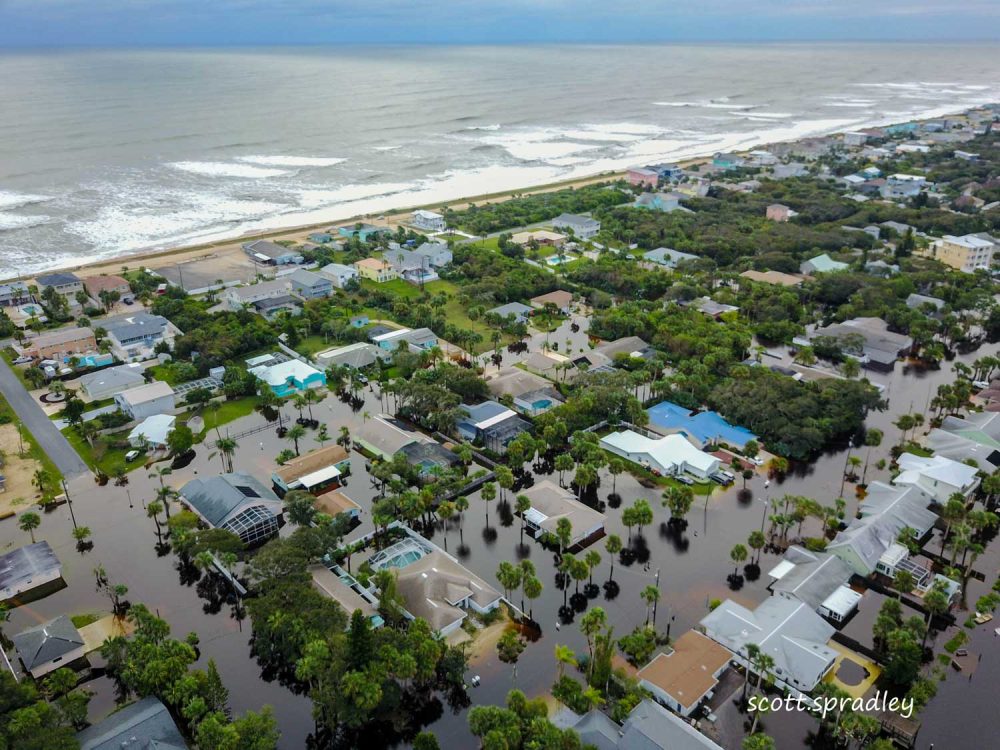 The Day After Ian, South Flagler Beach Is Waterlogged
Friday, 9:30 a.m.— Dawn has broken and the storm formerly known as Hurricane Ian–if only for us–has Flagler Beach in its rear view mirror. While there is much relief here, damage is substantial and is still being evaluated.
From my perspective, I am homebound at the moment with road flooding preventing me from leaving my neighborhood. Thankfully my house stayed dry. Also thankfully, the rain has stopped and the winds have died down. So that means my reporting can continue, but instead of a handheld camera, I am bringing you images from above, with my drone.




First is an image of South 23rd Street, which is normally my thoroughfare from my neighborhood, to A1A and the beach. As you can see, it is underwater. (With every shot, click on the image for largest view.)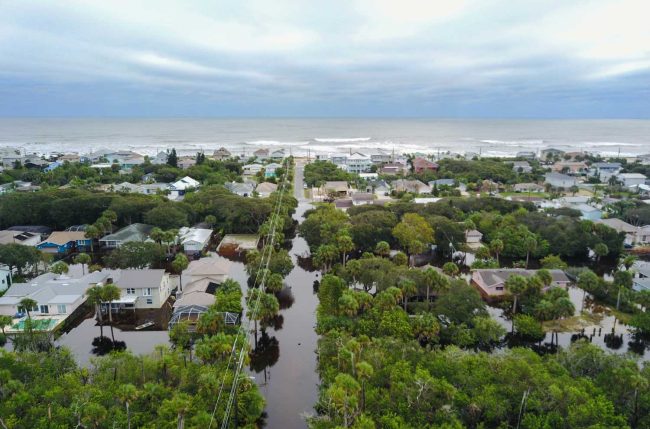 In a second image, we see a white vehicle that attempted to drive out on South 23rd Street, but since the wake is in front of the car, well, it's retreating back to the house: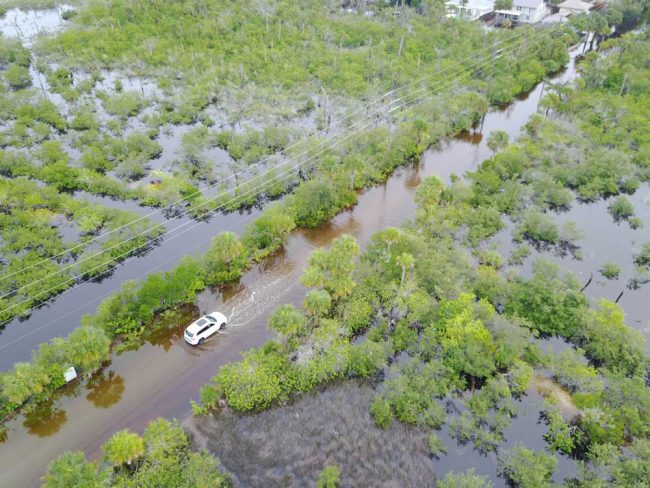 As for me, I ventured out in my car a couple of hours ago, and was proceeding cautiously until I spotted two young men in a kayak a couple of hundred yards in front of me, on the road. That was my signal to return home.
The next pair of images is of the beach erosion between South 23rd and South 24th Streets. The erosion is substantial. I hope to be on the beach for a detailed look within an hour or so, conditions permitting.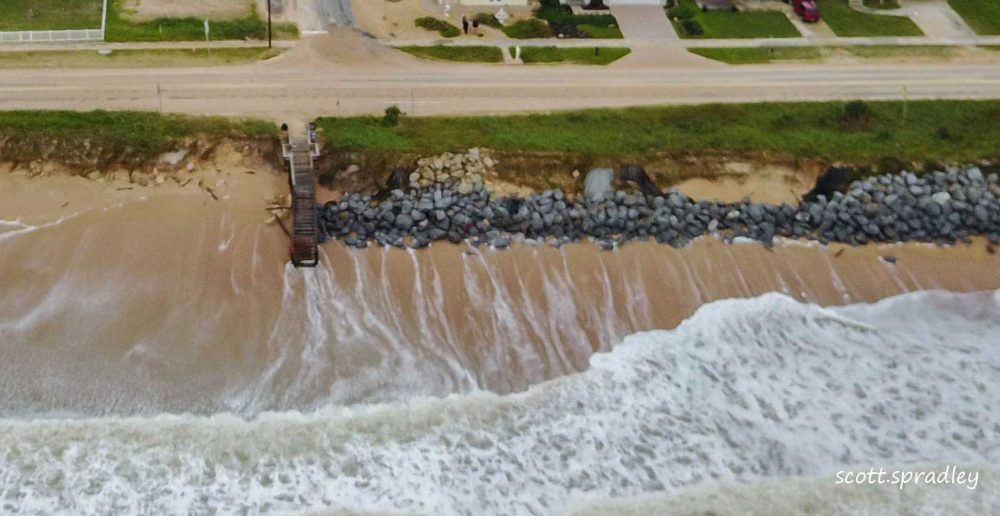 The next image, leading this post up top, presents a pretty shocking view of the neighborhood, with the Atlantic in the background. The flooding is substantial. Those are roads, not canals, that you see in this image.




Finally, I have included an image of my street in which you see the flooded street. And the drone was kind enough to take a snapshot of me. As soon as the batteries recharge, I will send the drone out for more images and another report.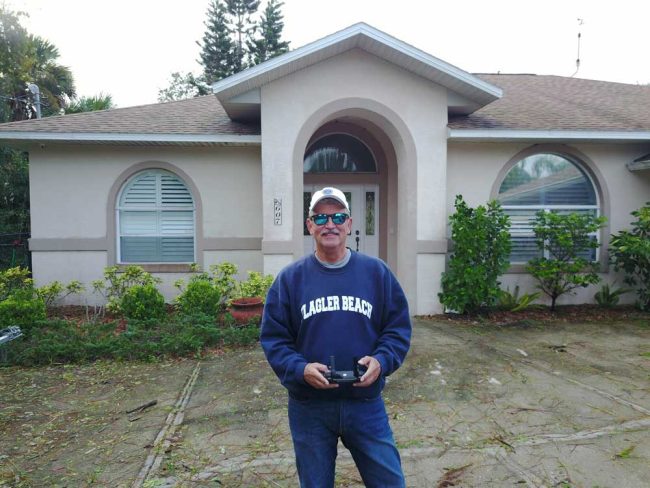 Before Ian, After Ian
Thursday, 9 p.m.–The theme of this post is "Before & After." I will show and describe several pairs of images from my trusty Nikon, with one image in each pair displaying its subject before the arrival of Tropical Storm Ian, and one image displaying the same subject after Ian arrived.
It has been a long day here on the barrier island. I awoke at 3:30 a.m. primarily to check on the canal water level out back since it was high tide then. Seeing it was very high, I just stayed up waiting for daylight to go to the beach to see what Ian delivered overnight to Flagler Beach. What I observed was that the seas were churning mightily.




So the first before and after set of images, at the top of the post, was taken from the same spot on the South 23rd Street walkover, where I relax and take pictures in the mornings at sunrise. The first image was from a week ago, with a delightful dawn view of the beach, ocean and sky. The second image, taken today, also contains a view of the sky and of the ocean, but no beach. What a stark contrast. Hopefully the beach will return after Ian departs.
As the day rolled on, I ventured to my law office on South 5th Street, across from the Flagler Beach Pier. The second set of before and after images was taken from the same spot, at the South 5th Street walkover, where I have taken morning pictures for 10 years now, on those mornings that I go to work early and observe from there, rather than South 23rd Street near my home.
The first image was taken yesterday and shows the growling surf, with the Flagler Beach Pier standing at attention in the background. The second image was taken early this afternoon, and evidences the devastation to the Flagler Beach Pier caused by Ian. I still can't get over the fury of the waves, which in the second image, tower over the already stricken pier. Such a sad sight for us all:

After leaving downtown Flagler Beach and returning home, I again returned to my dock to check on the water level in the canal. To my disappointment, the water levels increased and continue to rise as I write this post. The third set of before and after images was taken from the same spot on my dock.




The first was a few weeks ago when the canal was at a normal level. The second image was taken this afternoon, and the rise in water level is clearly displayed. It simply should not be that high: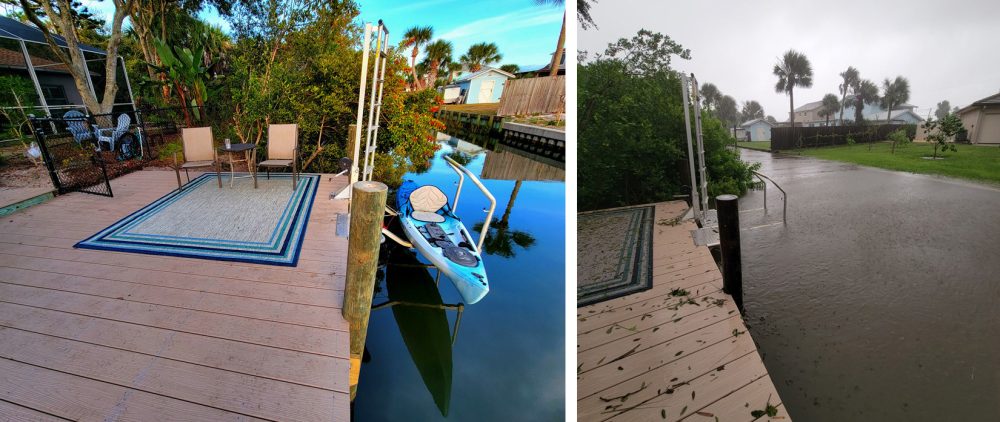 And what happens if it continues to rise? Well, I'm going to just leave it there and hope that dawn tomorrow will see a return to normalcy following the departure, with finality, of Ian.
Still unknown at this point is the condition of the beach after today's steady howling winds, whether the intracoastal waterway will flood any residences as it did during Irma, whether A1A is intact, and whether the Flagler Beach Pier sustained additional damage beyond that which was recorded today. All of this is enough for one day. I will again be observing and reporting early tomorrow, hopefully with answers to these unresolved issues. Until then…
Cheers and be safe,
Scott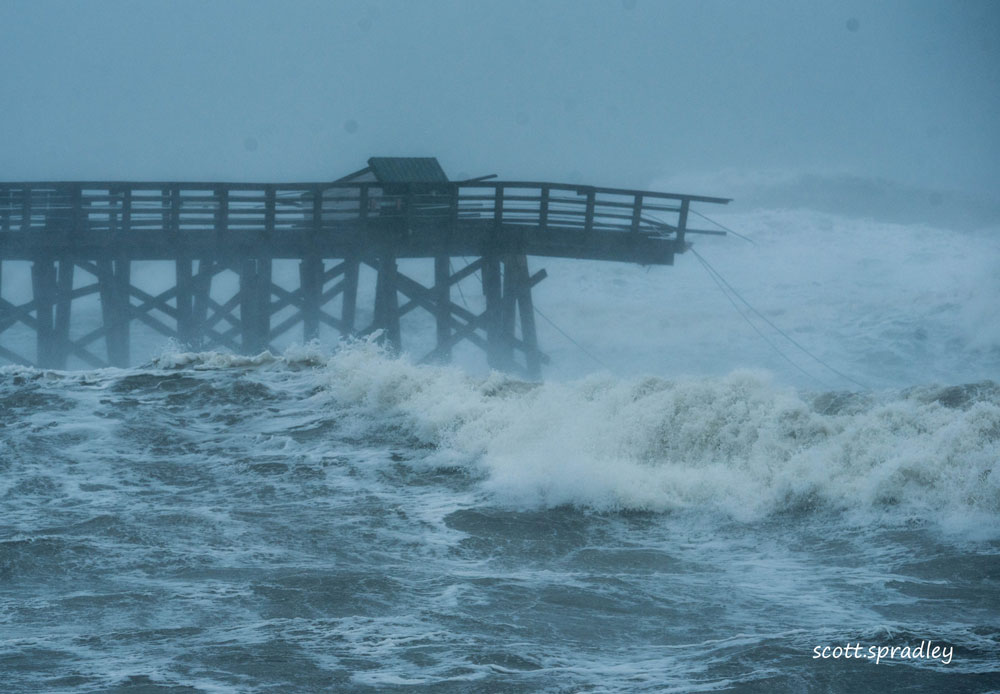 Pier Heartbreak
Thursday, 3:00 p.m. — As heartbreaking as it is to many, the destruction to the end section of the Flagler Beach pier was inevitable on many levels. First, the pier is scheduled for demolition and replacement by a concrete version of itself, beginning next year. Second, it is simply the case that Mother Nature is undefeated.
And with a history of builds, rebuilds, and significant repairs, it was too much to ask that the pier withstand yet another sustained blow–this time from a large, at times violent storm which has been hammering away all day long.  This isn't the end, either. According to reports, we are in for another 6 or so hours of 40 mile an hour winds. Who knows what will be left of the pier at that point. I will keep you post. Until then, Scott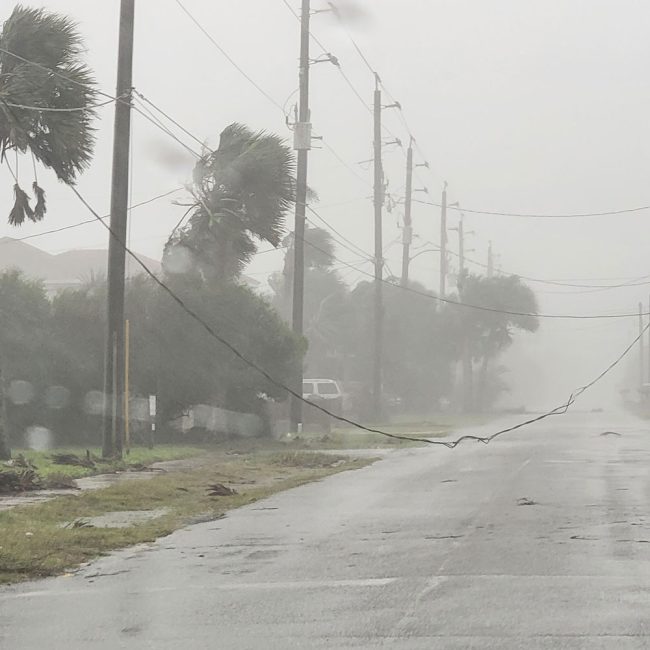 Waves Break Over A1A, Downed Power Lines
Thursday, 11:25 a.m.– The weather on the island is quickly deteriorating which has led to critically dangerous conditions on the island side of Flagler Beach.
I attempted to return to my office a few minutes ago by way of A1A. I was stunned to sea waves breaking into the dunes and into the northbound lane of A1A. This was occurring on A1A from South 16th Street to, at least, South 14th Street. Consequently, the northbound lane of A1A is littered with rocks of varying sizes, including rather large ones.  I did not venture past South 14th Street, but instead came straight home using Flagler Avenue.
With the high winds scheduled to continue until midnight, I expect this situation will get worse, with a possible reprieve coming when low tide occurs at approximately 4:30 p.m.  That's a long time from now. A1A will be tested between now and then. Moreover, the interior roads (Central, Daytona and Flagler) are all subject to down lines, whether power or cable. I reported those that I saw.
Finally, the water level behind my house (South 23rd Street area) continues to rise and has nearly breached the seawall. Likewise, the roads in the area are beginning to flood. I have heard from several neighbors who would be unable to leave their homes by car, even if there was a need to. With that said, my next trip to the office will be after the storm departs. I still have power at my house, but many neighbors are reporting that they do not. I may walk to the beach in a while, if conditions are safe and will report what I see. Until then…
Cheers and be Safe, Scott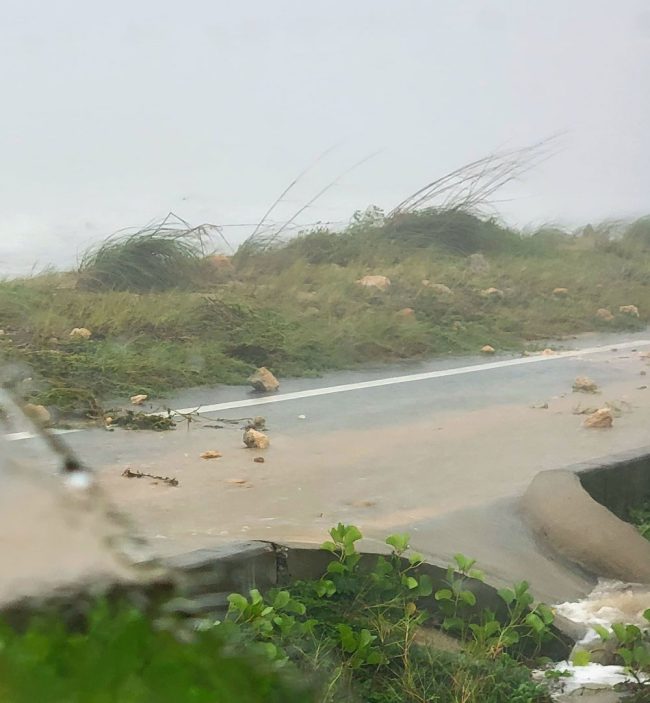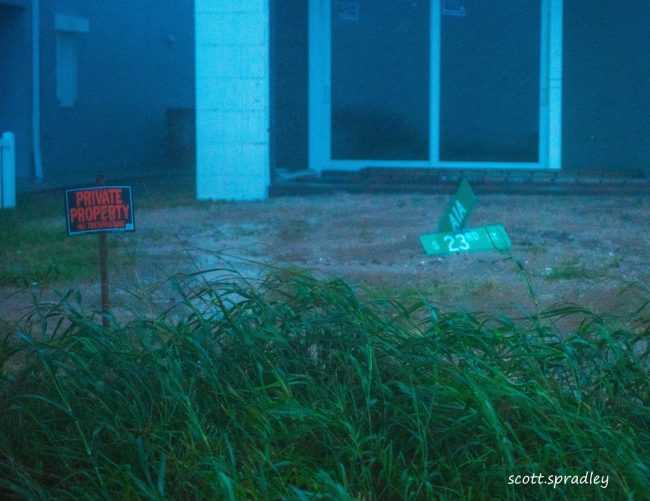 Ferocious Conditions in Flagler Beach
Thursday, 9:20 a.m. — One word: Ferocious.  That describes the current conditions on the island side of Flagler Beach. And it is expected to stay that way until after midnight tonight.
The 1.5-mile journey from my house on the southside of town to my office on South 5th Street was fraught with car-rattling bursts of wind and with pelting rain that felt like small stones when I stepped outside. There was also a road-straddling power line that I reported to the City and FPL (South Central between 23rd and 24th). My advice: Stay inside. The good news is, most apparently are.
The only vehicles I saw on my journey to the office and back were Flagler Beach police cars and a couple of neighboring business owners, including my man Scott Fox at Tortugas, who were all checking on their facilities, as was I. As far as conditions: wow. The ocean is in full storm mode as evidenced by the image of the Flagler Beach Pier shown below.  The roads are beginning to flood.
I also made a quick visit to the South 23rd Street walkover, where I take my daily photographs of sunrise (no sunrise visible today) and instead of a foreground of beach, there was only a lens full of ocean.  Speaking of South 23rd Street, I noticed the street sign was missing, and after a hasty search, I found it in a neighboring yard. Apparently, the sign can't read signs.  More information, including up to date weather and canal water levels will be described in the next post. I need to dry off! Until then…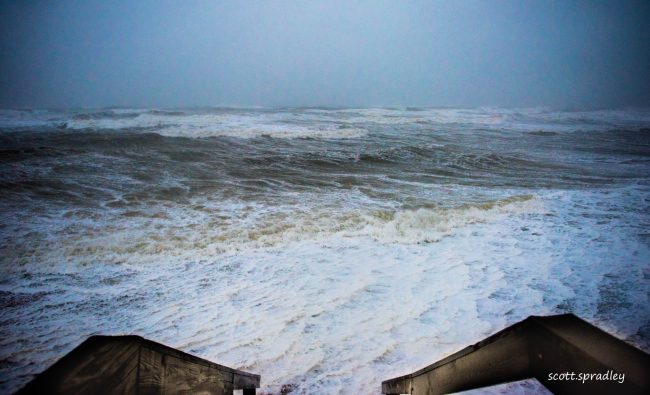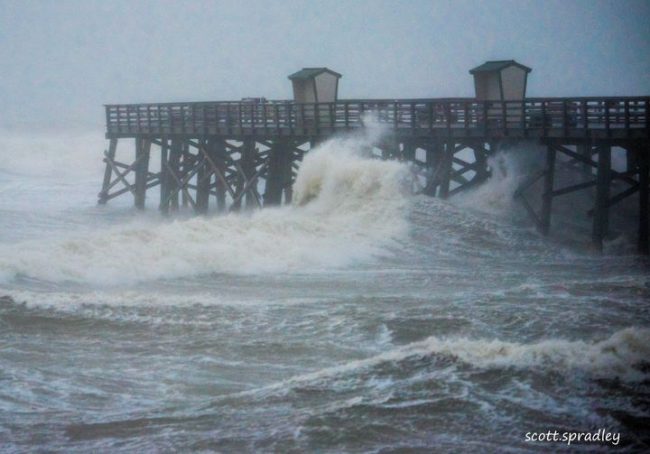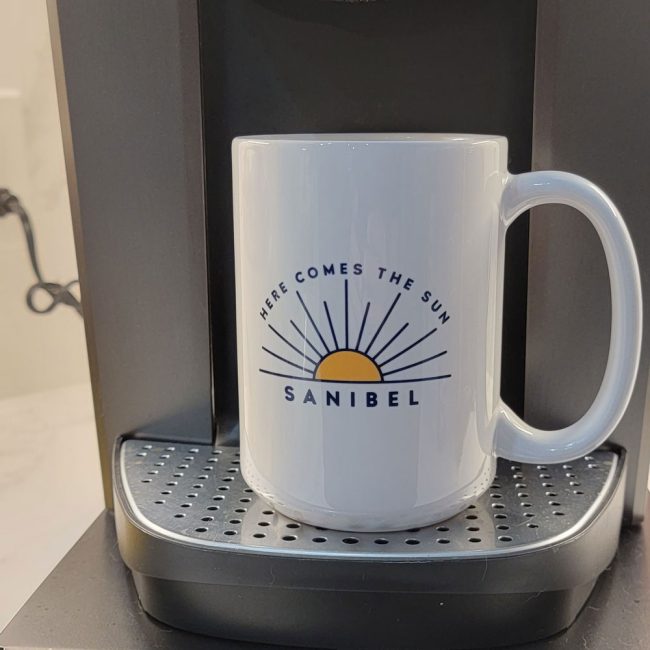 Rising Waters, Lowering Expectations
Thursday, September 29, 5:07 a.m.– As I write this, it's 4:30 a.m., still dark, and the wind originating from Hurricane Ian continues to climb in speed. I wanted to give a brief update as I wait for first light and my first venture outside.
Gusts at my house are 44 miles per hour and up. Sustained winds are currently at 26 miles per hour.  I still have power but I expect that to change as the day progresses. Flagler Beach is in for a day of sustained winds approaching 50 miles per hour, and I don't have a level of optimism that power will be able to withstand that, without interruption. I am taking advantage of having power to get in a last load of wash and a last load for the dishwasher. I don't want to put that kind of load on the generator, should I need it later (and I expect I will need it).
Outside the house is a steady roar from the wind. That will increase as the day develops. Out back, the water level in the canal is nearly at the top of the sea wall. My neighbor's dock walkway across the canal is under water already. I will monitor the canal water level closely as flood conditions are ripe and likely to worsen. My roommates, Ellie the schnauzer and Daisy the greyhound, know that something is amiss. I have long sensed that animals, particularly dogs, have an innate reaction to changes in barometric pressure. These guys won't take a treat this morning, so I know they are aware that something is up.
I have my first storm related glitch to report. While the wind sensors, barometric pressure sensors and humidity sensors of my personal weather station are in full operation, my rain gauge sensor is in the middle of an outage. So while the reported rainfall is zero, it isn't. I'll see about getting that fixed as soon as I wade through the manual and will instead insert rainfall totals manually, using levels reported by neighboring stations.
Finally, I dread seeing the photos and videos that are sure to make the airwaves after daylight from Fort Myers and the surrounding areas. The devastation there, particularly on the barrier islands of Captiva and Sanibel, is sure to be horrific.  Sanibel is an annual destination for family vacation, so I am sure I will be saddened by the state of affairs there and hope there were no serious injuries. As for Flagler Beach, I hope to make my way to the Beach in an hour, if I can safely do so, and will report what I see. In the meantime….
Cheers, and be Safe,
Scott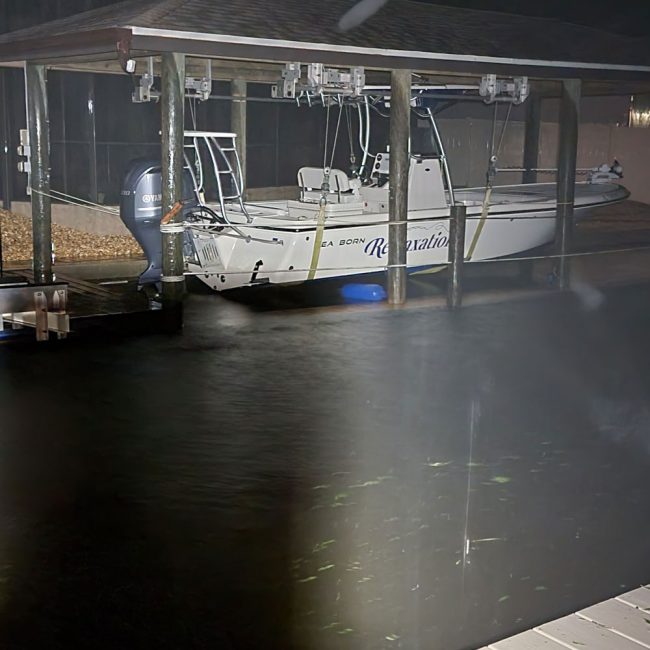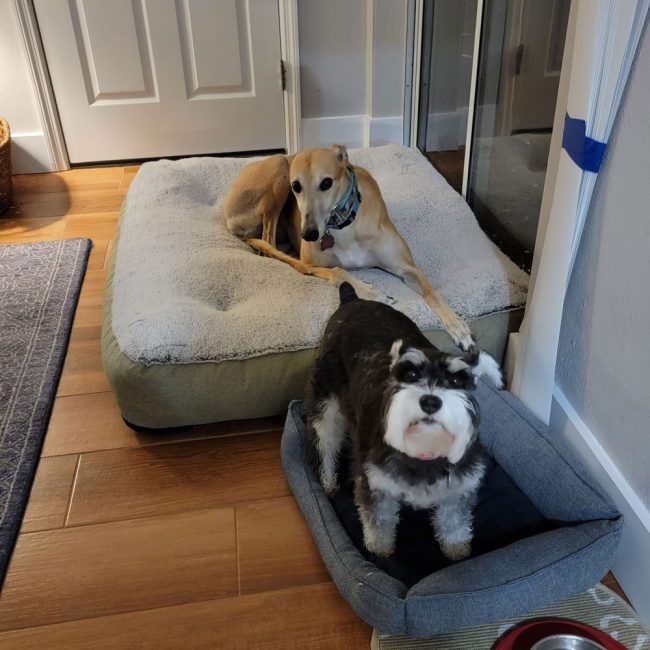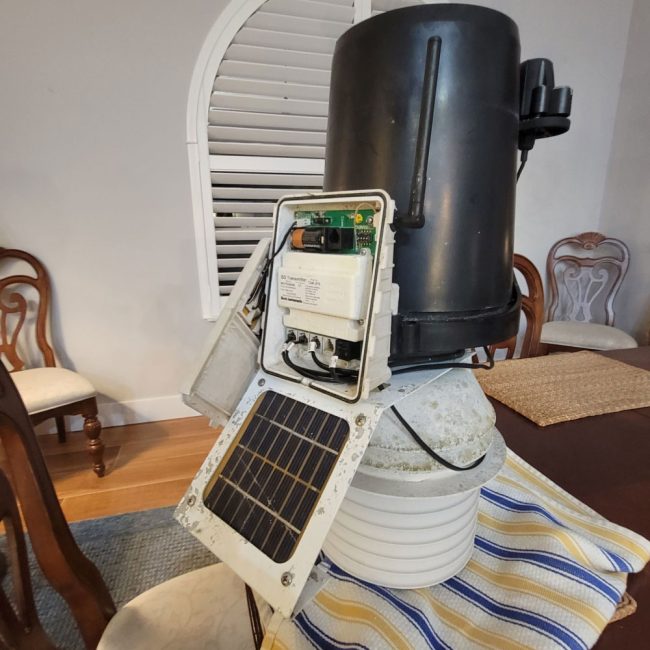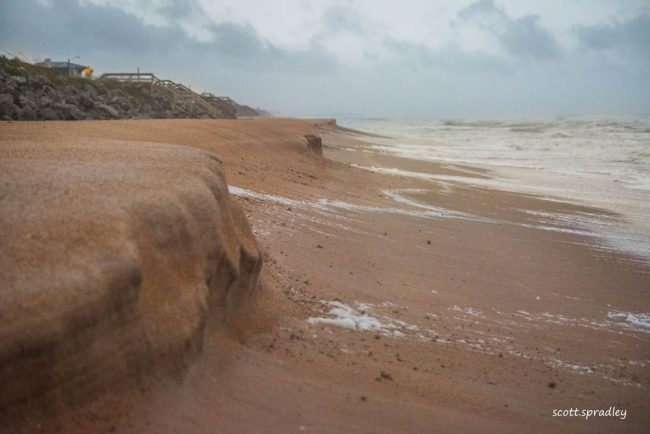 Ian's Tropical-Force Wings Are Here. So Is Erosion.
Wednesday, 8:25 p.m.– It's nearly dark on the first full day of the effect of Hurricane Ian. Notably, Ian is now a land based storm, as it continues its trek Northeast toward Flagler Beach. As of this writing, it remains unknown the exact time of the storm's ultimate arrival, or its strength when it does arrive.
Having just left the Beach at South 23rd Street, however, I am here to tell you that the tropical winds driven by Ian are here. I clocked gusts of 42 miles per hour and the sustained winds were not much below that at sea level. Moreover, the ocean is in full storm mode, as it is impossible to discern a wave having a form lasting more than a second or two.
Back here at the house, the large pine trees in my neighborhood shield me from the brunt of the winds I experienced on the beach, even though I am but a few blocks from the sand. Currently, there is a sustained wind of 21 miles per hour, with gusts not much more than that. It is amazing what a few tall trees can do if in the right location.
I am here to report a few developments: Storm erosion is pronounced on the beach, even though tropical winds arrived just a handful of hours ago. As you can see in the photo above, the ocean has carved the sand into a series of sharp angled protrusions, turning the beach into a split levelled affair–at least for the time being. I am anxious to see and then report the condition of the beach at dawn Thursday, which will mark a full 24 hours since the effects of Hurricane Ian first began here.




In addition to beach erosion, the water level in the canal behind my house, and in turn, the water level of the Intracoastal Waterway, is on the rise. I was admittedly let down when the level after high tide this afternoon continued to rise, instead of falling, as I had hoped. The scenario is eerily similar to the lead up to Hurricane Irma in 2017, which we all know was a disaster for many Flagler Beach homeowners and renters near the ICW at the time.
As for me, my house (which I bought just a few months earlier) was the only house on my street that did not flood, but it was close. I spent the day after Irma cruising the neighborhood in my kayak (see before and during photos below). Hopefully a repeat performance of that is not in store for me.
By dawn tomorrow, we should have an idea of what flood potential there will be at the hands of Hurricane Ian.  Since high tide on the ICW in our area is at 4:01 a.m. tomorrow, I will rise early, and report soon after that. Until then…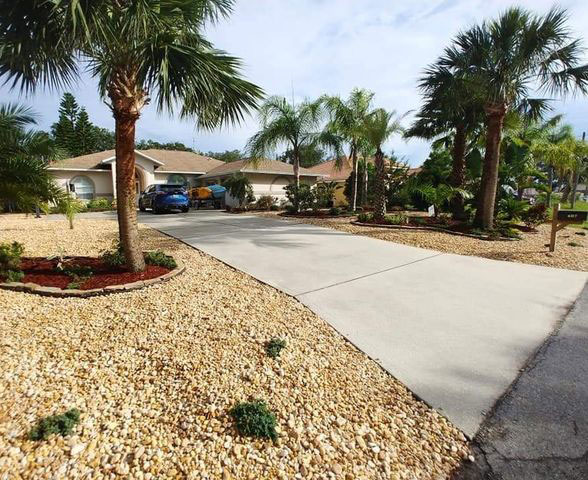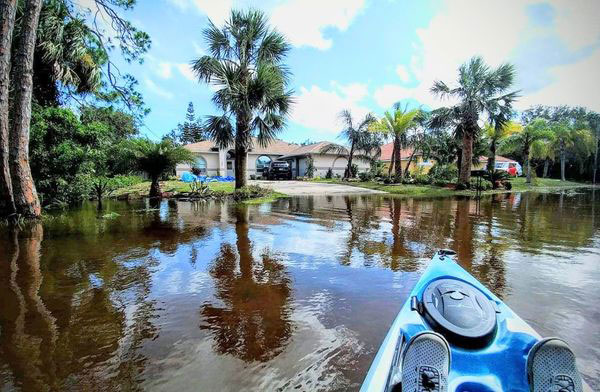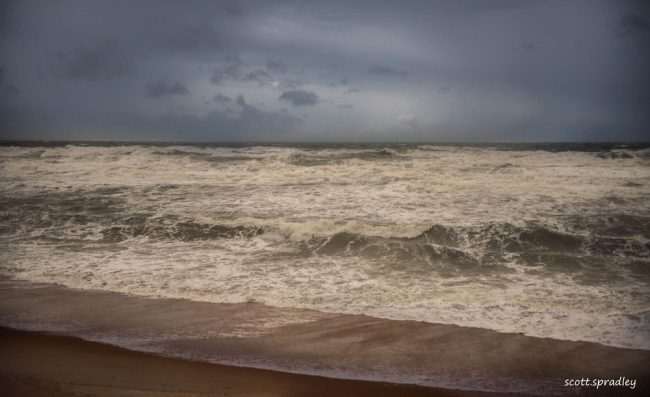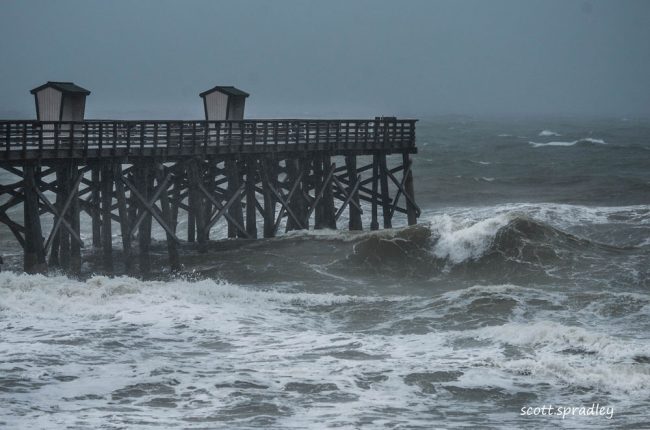 First Churns
Wednesday, 3:35 p.m.– Even though Hurricane Ian is 2 full days away from Flagler Beach, its calling card has arrived. Since late morning, rain bands have become more and more prevalent.  Wind speed is picking up steadily, and with it, gusts are on the rise. As I write this, current sustained winds are 22 miles per hour, with a gust or two registering at 33 miles per hour. My method of measuring weather conditions is a personal weather station at my home.
Wind instruments are on the roof, and instruments measuring rainfall, barometric pressure, humidity and solar radiation, are located on my dock. The raw data from both sets of instruments is transmitted wirelessly to a console in my home, connected to my PC. From there, the data is processed and uploaded to the National Weather Service, Wunderground.com, WeatherBug, and a few other places. Here is a link to the weather station, known as Station South Flagler Beach, KFLFLAGL24: https://www.wunderground.com/dashboard/pws/KFLFLAGL24. Feel free to follow along as the storm approaches, arrives and then departs.
Since my last post, I made a visit to my law office on South 5th Street, following which I crossed A1A to check out surf conditions by the Flagler Beach Pier.  The surf is noticeably rougher than it was this morning.  A peek into a washing machine in suds cycle comes to mind.  While looking over the agitated surf, I also took a few images of the beach itself so that I can do a before and after comparison following the arrival and departure of Hurricane Ian.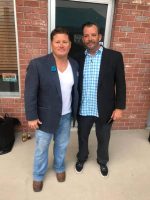 Finally, I would be remiss if I did not comment on the silver lining to the dark cloud, so to speak, as the community braces for Ian to make its full presence here.  That silver lining is the proactive residents who bend over backwards to help out those of us in need in times of difficulty, which a hurricane event definitely is. None are more visible than local businessmen Scott Fox and Paul Chestnut, both colleagues and good friends of mine who showed up at my house with a full crew and a truck full of sand bags, to help me make final hurricane preparations. These guys made a name for themselves during prior hurricanes in Flagler Beach with countless days spent volunteering their time and energy so that others can get by. Yesterday, today and tomorrow, Scott and Paul are continuing their trek through town, delivering sand bags and doing whatever is asked of them to help out fellow residents with preparations. Bravo, men. With that, I am getting ready for another journey to the beach to check on and then report current and developing conditions.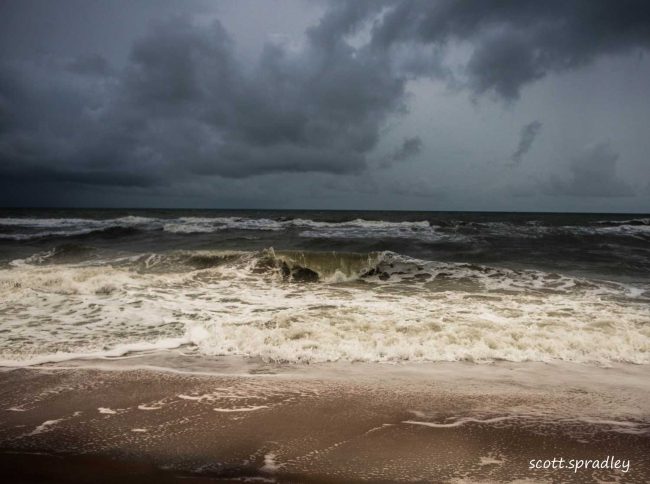 Wednesday, 11:50 a.m.–This morning started like all mornings at South Flagler Beach. I was on the Beach before dawn, enjoying the serenity of the moment and waiting for a photo op with Mother Nature. Due to the effects preceding the arrival of Hurricane Ian in a couple of days, the sun did not participate in the visible sunrise. But I did capture an image of the churning ocean as the first effects of Ian have arrived.
Over the next few days, I will document the arrival of Hurricane Ian with my narrative, with my photos, with weather data from the Personal Weather Station at my South Flagler Beach house, and with drone photographs and videos of the area following the departure of Hurricane Ian.
I will also document beach erosion at South 23rd Street, which is my destination each morning. I hope the drone photos will suggest minimal damage and disruption of the neighborhood and surrounding area. More to come.