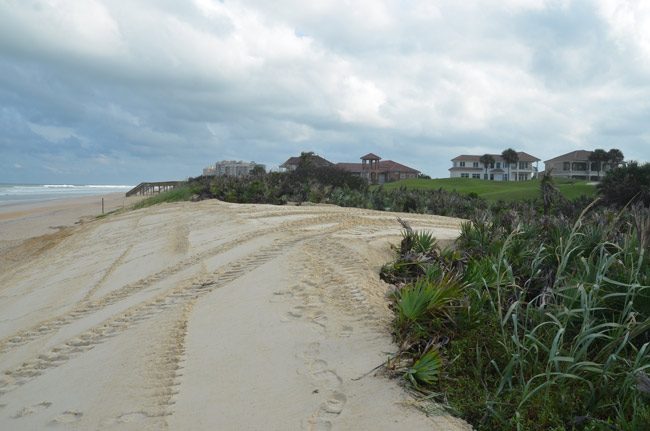 Your free access to many beaches in Flagler County is not so free anymore. A new law that easily passed both of Florida's legislative chambers and that Gov. Rick Scott signed in March bars local governments from unilaterally enacting ordinances that protect the public's "customary" use of beaches in front of private property.
Starting July 1, governments that want to adopt such ordinances must go through a laborious process and essentially have a legal action involving every beachfront private property owner, proving to a judge that the public has customarily used every one of those parts of the beach for a long time.
Flagler County has no such ordinance. It wants to protect customary use but doesn't want to go through obstacles that could be insurmountable. Fortunately for counties like Flagler, the new law leaves a window open until July 1 for them more simply to pass a customary-use ordinance that asserts the right and preserves the status quo. County Attorney Al Hadeed gave Flagler County Commissioners a brief seminar on just how to do that, though the commissioners themselves won't have to do much. Hadeed's office is drafting the new ordinance. It will be before commissioners in May, with two public hearings. Meanwhile, the county is asking residents who like their beaches to write emails to the county administration. The emails will be made part of the record showing that long customary use of beaches.
Without that new ordinance, beach-front property owners could theoretically put up fences or no-trespassing signs, something that has not happened in Flagler, and that the county doesn't want to see happen. But the proposed ordinance isn't designed only to preserve "customary use." It will also help the county secure more state and federal funding for beach protection in the future, Hadeed said.
There's little enthusiasm for the new law in Flagler government. It "muddies up the water on beach ownership," Commission Chairman Greg Hansen said. "It does some very bad things potentially and there's a lot of counties out there it's going to impact, that aren't aware of it," says County Administrator Craig Coffey. Nassau, Indian River, Collier and Pinellas counties, among others, are considering ordinances similar to Flagler's before the July 1 deadline. St. Johns, Walton and Volusia Counties already had ordinances barring the fencing off of beach property.
Customarily, the public in Florida has always had the right to access any portion of the beach, including beach in front of private property, as long as the public used the so-called mean high-tide waterline. (That waterline is always in flux, the average being set on a moving 19-year average). Another way to put it is that the public could always use the "wet" portion of the sand in front of private property. The dry portion belongs to that private property owner. But in general, the public has used many more portions than the wet sands, and the customary arrangement has caused little to no trouble, at least in Flagler.
It's been more of a problem in Walton County, whose broad beaches have led more property owners to claim them as exclusively their own. But instead of passing a bill specific to Walton, the Legislature passed a bill that applies across Florida, precipitating the current response by local governments.
"This is an item that we feel as staff we need to act quickly on," Coffey said at a workshop with the commission today, citing the July 1 deadline. "We need a consensus to bring you something to deliberate and act upon." The commission gave that consensus.
Hadeed said one of the compelling factors behind the ordinance is the county's ongoing beach-rebuilding effort, a $25 million project rebuilding 12 miles of dunes washed out by hurricanes Matthew and Irma. The dunes' function is to protect the beach, ensure an economically viable economy that depends on the beach, and protect inland properties from flooding. Private property owners are benefiting, but at public expense. Public benefit was a common denominator, given the use of public dollars—but with the support of beachside residents. The implication is that in return, private property owners should embrace customary use of beachfront property sands.
Should property owners wall off their portion of beach, it's doubtful the public would then embrace the spending of tax dollars and the involvement of county staff "to give somebody a private beach. I just don't see it," Hadeed said. With that absence of fences and no-trespassing signs, "we are able to preserve the rural character of our beach, we do not have an overly developed beach as may exist in other counties, and this was a choice that was intentionally made in Flagler County."
Still, the ordinance will merely "preserve the status quo," Hadeed said. "'There's not going to be any substantive change except we may have greater ability to have state and federal funds because now we have legal connection to those dunes."
The administration will work with Flagler Beach, Beverly Beach and Marineland either to adopt the same county ordinance or to adopt one of their own. Coffey said he'll also need to hire a consultant along the way as part of the preparation of the ordinance. "We can thank our legislature for this cost," he said.