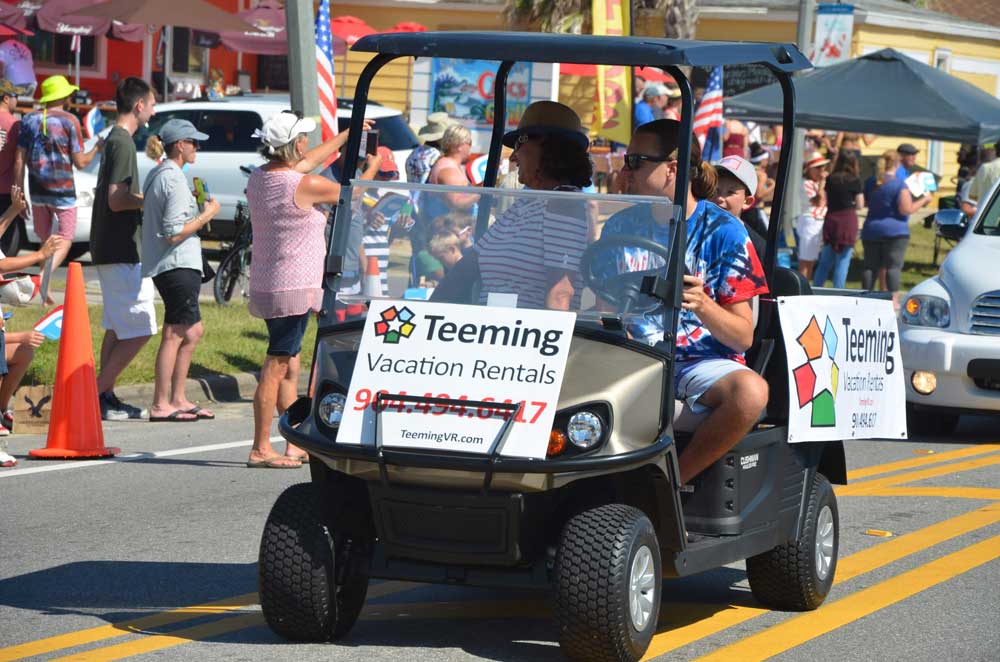 It's the last nine years' clock-work: no sooner does the Florida Legislature convene than bills to reduce local governments' regulatory power over vacation rentals begin moving in committees. For nine years, regulations in Flagler County have survived unscathed even as the vacation-rental industry continues to grow in popularity and clout. Each year, local officials fear that era of local control may be over.
Lawmakers' attempted regulatory changes this year are different in the details but not in the main. This year three of the most significant proposed changes these: one would lift the occupancy limit on vacation rentals. Currently in Flagler, the limit is for two people per room, 10 per house. Lifting the limit would open the way for "party houses," as local officials describe it.
Another would reduce the registration fee counties and cities may charge for vacation rentals to $50 per individual rental, or to $100 for "collective licensing." For example, if a company has 75 vacation rentals under one umbrella, it could register them all for $100, even though all 75 units would still have to be inspected.
Flagler County currently charges $400 for an initial registration and inspection for each individual unit. It charges $200 for the annual renewal, and $50 for a transfer or modification.
A third–a repeat from previous versions–appears to give local governments more authority to control parking, noise and such things as garbage requirements. But the bill states that while local governments may regulate those factors, they may not do so differently than they do private homes, which all but blunts regulation aimed at vacation rentals.




Other changes would shift oversight responsibilities to the state's Department of Business and professional Regulation, the state agency that oversees hotels and motels. But the agency is overworked and understaffed.
Some of the changes strengthen local authority, such as giving local governments the ability to impose a fine for failure to register a vacation rental.
Senate Bill 714 is sponsored by Sen. Nick DiCeglie, a St. Petersburg Republican. The bill has its first hearing today before the Regulated Industries Committee, one of just three bills to be debated. (The bill's House companion is HB 833. See an analysis of the senate bill here.)
"They're trying to go after us again, but we'll see what happens. We'll be up in tally next week doing our yearly swing up there, as usual that's one of the things we'll be looking at," Flagler County Commissioner Dave Sullivan said today. "There are a lot of things that are anti-local control. This is one of them."
What's not clear to local officials is how many of those bills restricting local control have the backing of Rep. Paul Renner, the House Speaker, and Sen. Travis Hutson, both of whom are in their last term. Hutson has previously supported lessening vacation-rental regulations. "We had an update briefing yesterday in our working session in our workshop and we didn't have an answer on that yet," Sullivan said.




Flagler County has just over 1,300 locations that would be categorized as short0-term rentals. The number includes hotels, motels, bed and breakfast facilities, campgrounds, as well as what's customarily known as vacation rentals–the homes dedicated for those accommodations, or the rooms within homes reserved for paying gusts.
Out of that 1,300 figure, more than 1,200 are vacation rentals as customarily understood, so it's a sizeable business in Flagler County. Any legislative reform would have consequences locally. Of the 1,200-some vacation rentals, 453 were single-family homes dedicated to the business, as of last October; 687 were condos or town houses, 27 were individual rooms within homes, and 18 were duplexes, according to a quarterly report prepared by the Flagler County Tax Collector's office.
The short-term rentals generate Flagler County's $4 million in annual tourism-tax revenue. That revenue in turn pays for marketing the county to tourists, it funds capital improvement grants for the county's tourism infrastructure and cultural venues, and it pays for beach protection.
In the state, there are 4,700 licensed hotels and motels among the 63,700 public lodging establishments that rate as short-term rentals; there are over 19,000 apartments used as vacation rentals, 12,716 condos, and 26,700 stand-alone houses used for the purpose.
The battle lines aren't what they were nine years ago.
Back then, when Flagler County's vacation-rental regulations became a model for many other communities, the voices of mom-and-pop home-owners looking to leverage their properties as vacation homes carried emotional force and resonated with property rights advocates. It did so especially when homeowners were battling to keep their homes from foreclosure. As the market has recovered and the vacation-rental industry's corporate version has become more dominant, the individual homeowner has receded. But the industry has made up in popularity what it lost in emotional punch.
Flagler County before the pandemic would fight the proposed de-regulations in person in Tallahassee. The more Flagler's two representatives–Hutson and Renner-0-have gained in prominence at the Legislature, the less aggressive has the county's strategy been, as if to avoid confrontations or retribution from the two lawmakers. Flagler now relies on organizations such as the Florida League of Cities and the state county association to fight the battles.




On Monday, Tara Taggart Chilton, the legislative advocate for the Florida League of Cities, sent a two-page list of concerns about the senate bill to DiCeglie, applauding some additional accountability measures but urging reconsideration of the bill's reduction of home rule.
"Almost every negative secondary impact seen in residential neighborhoods from short-term rentals
stems from occupancy," Chilton wrote of the provision that would lift occupancy limits. "The number of people staying in a vacation rental directly impacts the amount of noise, trash produced, and the number of cars in the driveway, on the street, or in the yard." She suggested that if local governments are prohibited from setting occupancy limits, the state should set a standard.
Chilton is also critical of the registration fee limits. " We recommend allowing local governments to charge what it costs for them to administer the program," she wrote. "Additionally, collective registration is not defined in the bill, and it is unclear how many properties would be eligible for collective registration. DBPR currently allows for state collective licensing for up to 75 houses or units at various locations."

sb714-vacation-rentals

Reader Interactions