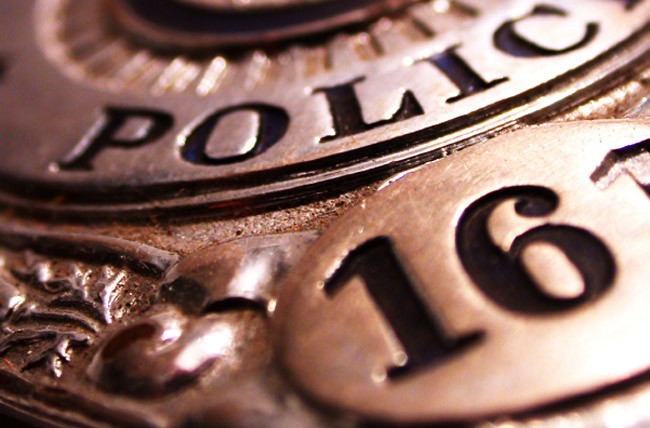 Update: The Bunnell City Commission Monday evening (April 13) voted unanimously to deny David Barbee's request for an ID card, a weapon and a badge. Commissioner Elbert Tucker made the motion. It was seconded by Commissioner Bill Baxley and passed 5-0.
David Barbee was a police officer with the Bunnell Police Department for 20 months until June 2011, and for several years with the Flagler County Sheriff's Office before that. He resigned from the sheriff's office  after 10 years' service in 2008, within days of the completion of an internal affairs investigation that found him to have falsified training records in a class he was teaching off duty, calling his behavior "conduct unbecoming."
In 2011, he was injured, he says, "while chasing known drug dealers," required a knee replacement and surgeries as a result to injuries to his shoulder, back and knee. (In formal documentation seeking out compensation for his termination after the incident, Barbee described the matter as "an accident arising out of and in the course of my employment.")
Barbee, 42, went on disability then left the department, and last November was awarded total medical disability. He lives in Palm Coast.
Barbee and the city have not had a friendly time of it. He was actually "separated"–or fired–from his job on June 28, 2011. He alleges that it was wrongful termination. He filed suit, then agreed to a settlement in 2013 worth $40,000. The following year he got another settlement through a worker's compensation claim. That one was worth $150,000. In both settlements, Barbee agreed to hold the city harmless. "I will not be able to come back and seek additional benefits," he agreed in the settlement and release. "I understand that regardless of what may happen to me in the future, this settlement is final and this release cannot be appealed or later set aside."
Yet he's been appealing to the city for further benefits.
Since last year he's been requesting from both the Sheriff's Office and the Bunnell Police Department to be issued his badge, shield and retirement ID. He also requested his firearm from Bunnell. Both departments have denied him the requests. Bunnell's administration cited policy and prior practices.
"When an employee of the city resigns, is discharged or leaves the service of the city for any reason," the city's policy states, "he/she shall surrender all city-owned property and equipment." The city administration says Barbee is not eligible  to receive either his firearm or badge, and that in any case, the police department "doesn't have his specific firearm or badge."
Barbee, the administration says, did not retire from the city—just as he did not retire from the sheriff's office—and is not currently receiving city retirement benefits. But it's not that clear cut, and Barbee is upset that the city is not honoring his request.
He appeared before city commissioners in early March in the public comment portion of the meeting to plead his case—and to accuse the city manager, Larry Williams, of having denied him the chance to have his item placed on the commission agenda for a fuller discussion. "I was trying to go through the proper channels," Barbee said, only to be "denied."
---
A case that "may wind up in a lawsuit," according to the Bunnell city manager.
---
"I believe this is a great injustice not only to myself, my family, but law enforcement officers nationwide," he said, summarizing his service for the city as a training officer and road supervisor, and his decorations. "I am no longer able to work in any field," he said, claiming that he was also being denied his retirement benefits.
"I'm actually not familiar with that allegation that he's been denied retirement," Wade Vose, the city attorney, said at the time, as did Williams. But the attorney recommended that if commissioners wished, they could place the item on a subsequent meeting's agenda, because the city charter had been amended a year ago to ensure against last-minute agenda changes, except in exigent circumstances. Led by Commissioner Elbert Tucker, the commission agreed to do just that.
"We'll get to see what the problem is and perhaps come to a conclusion," Tucker said, but not before Williams spoke in his own defense. "In all my other dealings in any other police department," Williams said, "when an officer retires, that's when those items are given. Our current policy and procedures are that these are the possessions of the city and every director is required to have all those possessions returned to the city."
Tucker stopped him. "The information that you have is not the information I'm aware of," he said. "The discussion needs to stop and we need to put it on the agenda."
So it was, for tonight's agenda, when the matter may be resolved. Reached by phone Monday afternoon, Williams said Vose, the attorney, would call the reporter to answer questions as "this may wind up in a lawsuit," Williams said.
Vose did not call. But on April 2, he sent a memo to commissioners summarizing the situation from the city's perspective.
Regarding the firearm and badge issue, Vose noted in a footnote that based on city code, there is "no legal basis for an obligation to provide him with these items."
"Stated briefly, a retired law enforcement identification card is much more than just a trinket or souvenir," Vose wrote. Pursuant to a 2004 federal law, a retired law enforcement identification card and documentation that an individual has qualified at a gun range within the last 12 months in effect constitutes a Concealed Weapons Permit, he wrote. "As a result, heads of law enforcement agencies understandably go to great pains to exercise their professional law enforcement judgment in determining whether to issue a retired law enforcement identification card to an individual.
Noting that the Sheriff's Office also denied Barbee his request, Vose continued, "after review of Mr. Barbee's short record with BPD, Chief [Tom] Foster decided, in the exercise of his professional law enforcement judgment, to deny Mr. Barbee's request for issuance of a retired law enforcement identification card.      Mr. Williams subsequently reviewed Chief Foster's decision and concurred with it."
The federal law Vose referred to, he said, "does not actually impose an obligation on law enforcement agencies to issue retired law enforcement identification cards. Rather, the law only provides that if an individual has been issued a retired law enforcement identification card, and if that individual has firearms qualification documentation within the last 12 months, then that individual cannot be prosecuted for concealed carry of a firearm." In other words, the attorney concluded, "the City Commission should not feel that it is under any legal compulsion to order the issuance of a retired law enforcement identification card to Mr. Barbee."
The commission meets this evening at 7 p.m. at the Bunnell City Hall's chambers to discuss that and other matters. The meeting can be followed live here.