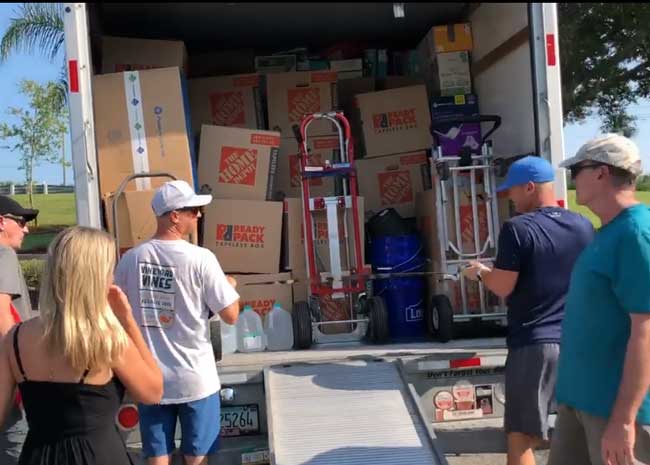 At least 50 people have died in the Bahamas, 42 of them in Abaco, the area of the islands where Hurricane Dorian stalled as a Category 5 hurricane last week. Thousands are missing in a country with a population just three times that of Flagler County. Great Abaco is a wasteland, the site of ironies piled up on tragedies, like the dozens of Haitian refugees, escapees from the 2010 earthquake on their island, boarding flights to escape the destruction of their new land. 
Flagler residents are rallying to help: Shane Bonner, the owner and operator of Channel Side in Palm Coast and a former resident of the Bahamas with numerous friends he considers family there, has been in overdrive, coordinating a relief effort that's resulted in actual shipments–as in boats filled with goods–of help to the island. He's not done. 
Friends of Flagler, the organization that's conducted fund-raising efforts to battle domestic violence and raise money for Gratitude America, among others, is partnering with Nadine King's Christmas Come True to raise cash for the Bahamas through a Saturday fund-raiser at the VFW on Old Kings Road in Palm Coast. 
Rose Leonardi, the office administrator at Coldwell Banker in St. Joe Plaza and Tom Heiser, the broker manager there, put out the word throughout St. Joe Plaza, on social media and elsewhere that they were gathering supplies and storing them up in an empty suite for eventual shipment to the islands. The effort is ongoing. 
David Ayres, the general manager at Flagler Broadcasting and WNZF, a company often at the forefront of relief efforts, is ready to put an effort together as well, pending further clarity to ensure that what relief supplies are gathered are the right ones, the ones the Bahamas need, and that they will be delivered to their destination. 
Without diminishing the worth of ongoing efforts, Ayres's caution is advisable, too: Rebecca DeLorenzo, executive director of the American Red Cross of Central Florida, said the Red Cross got word from the Federal Aviation Administration that planes attempting to land in the Bahamas, including relief planes, will be turned away at the request of the Bahamian government unless they have explicit permission to land from the Bahamian National Emergency Management Agency.  
If You Want To Help:
---
Friends of Flagler Fundraiser for the Bahamas is Saturday, Sept. 14, at the VFW at 47 Old Kings Road North. $15 donation, doors open at 7, with music, food and dancing, and a cash bar. Contact Roe at 386/931-6209.

Coldwell Banker's Rose Leonardi and and Tom Heiser are continuing the St. Joe Plaza businesses' rally for the Bahamas, gathering supplies at the Coldwell office, 211 St. Joe Plaza, 9 to 5 Monday through Friday. Call Rose or Tom at 445-5880.

Help pay for the boat and trucks coordinated by Palm Coast's Shane Bonner by contributing to boat captain's Vince Snead's GoFundMe page here.

Make a donation through the American Red Cross here.

You can also choose how to help through the Charity Navigator here.

On the other hand the government says it's limiting flights to humanitarian efforts, so relief flights may yet get through. Still, "unless they're working with a Bahamian official disaster organization, I just worry about them actually getting it there," DeLorenzo cautions. "Unless somebody has explicitly a way to get the supplies there and has somebody at the other end to receive them it's best to make donations to organizations that are already there on the ground." 
That's actually Bonner's case. The father of three now toggling innumerable wedding events at events at Channel Side (the former Yacht Club in Palm Coast) worked on both Grand Bahamas Island and Marsh Harbor for several years and is well aware of the limitations of relief efforts. "I have a lot of close friends there that I've had for a lot of years, a pretty good network of trustworthy individuals that are taking all these items and are making sure they get distributed in the proper manner," Bonner said today. 
Through social media and word of mouth he put out word that he was gathering supplies for delivery in the Bahamas just a few days ago. In the space of a few hours help poured in, what he estimated at some $50,000 in donated goods and supplies. "We received numerous generators, chainsaws, tools, tents, tarps, first aid supplies, diapers, formula, hygiene supplies, medical supplies, flashlights, batteries, food, water," he wrote on his Facebook page, "in a large enough quantity that it filled a box truck….plus the passenger side of the cab." 
A lot of the supplies were gathered from people who'd stocked up for Hurricane Dorian, and saw their luck turn their way. So they decided to pass their luck on down to the islands. 
---
The Abaco Islands After Dorian: An IFRCRC Video
In an interview today Bonner said two truckloads he filled with donated goods have been driven to Jupiter, which is just 71 miles from the Bahamas, and from there a friend, Vince Snead, with West End Water Sports, who runs a big sportsfishing boat called Turn It Blue, completed three trips to the Bahamas, with a fourth ready to go, all filled with goods. At the other end, between his own and Bonner's coordination (he's hardly been off his cell phone and email) the supplies have been delivered to a trustworthy network of helpers: "We're handing the material off to people we have a 15-year relationship with," Bonner said. "We're not just handing it off to someone we don't know, we're making sure they get handed off to church leaders and business leaders there that we have a long-time relationship with."
All his efforts and his corps of helpers have been voluntary, with cash donations going straight into fuel for the trucks or the boat. Bonner is a bit weary of big organizations that collect money, with large proportions of the help ending up in overhead rather than in people's hands directly. But he's not taking the credit for the effort. Between his social media posts and his friend making the trips to the islands, "it kind of snowballed from there, it's literally a local, grassroot effort. My phone, my email, it has not stopped ringing since then," he said. 
But he, too, is cautious the way Ayers and DeLorenzo are about the approach: As successful as he's been, Bonner wants to pause just a little while to get a better sense of what, exactly, people now need on the island. Florida, for instance, is sending shiploads of water: he doesn't want that sort of effort replicated. He's getting word that islanders need nails, hammers, roofing supplies–the sort of things needed to rebuild homes and lives, especially on an island where the government hasn't exactly been too visible. So Bonner doesn;t want wasted efforts. The pause is by no means a pull back: he's thinking of getting a dedicated phone and email accounts for the effort as it heads in other directions. 
For Rose Leonardi and Tom Heiser of Coldwell Banker Real Estate, help for the Bahamas was a natural extension of other similar efforts they've led before. "We're not just about real estate, we've always been about the community, and helping in some way," Leonardi said. Walmart donated 100 boxes. They plan on sorting all the donated materials but are still figuring out the logistics of getting the goods to Sanford Airport, and from there flown to the Bahamas: they're hoping U-Haul or someone along those lines will donate the truck ride. (They can be reached at 386/445-5880.) "If anyone needs any assistance in any way, we're here to help, that's what we are about," Leonardi said. "The outpour has been unbelievable."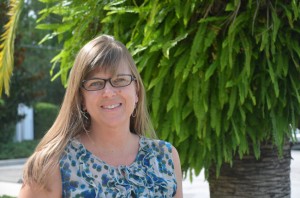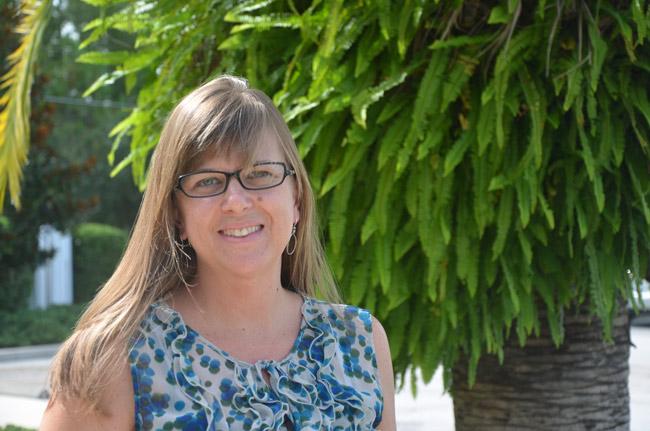 As for the Friends of Flagler, Roe Barletta teamed up with Donna Kearney and Wendy Cruikshank to get the Saturday cash-focused fund-raiser going. Doors will open at 7 p.m. at the VFW at 47 Old Kings Road in Palm Coast, with a cash bar, DJ Tito providing the music, food, dancing and a $15 donation requested. "Anything we raise I'm sure will be more than welcome,"  Barletta said. The money will be handed over to the Salvation Army. 
The Red Cross of Central Florida had mobilized its efforts, along with those of the Red Cross in South Florida, ahead of Hurricane Dorian, while the International Read Cross in Washington and the  International Federation of Red Cross and Red Crescent Societies had prepositioned supplies and 200 volunteers on the islands, DeLorenzo said. Last week the federation delivered 38 tons of supplies and made an emergency appeal for $3.2 million. The Red Cross is committing an additional $2 million. So cash donations are needed, and the heft of larger organizations can make a sizeable difference in the delivery of large quantities of goods–and expertise. "We have deployed some of our specialists to support communications assessment and planning and operational coordination," DeLorenzo said. Red Cross volunteers are trained for such things as disaster relief, just as emergency management workers are trained for managing disasters. 
"Here in Florida, our region is partnering with the South Florida region to open shelters for evacuees in the Palm Beach area," DeLorenzo said. 
But President Trump, making unsupported claims that the Bahamas is awash in "very bad people and some very bad gang members and some very, very bad drug dealers," is standing by his decision not to let storm refugees enter the United States.
For Bonner, the attention is entirely on keeping relief going, and on being grateful for the generous response from Flagler residents. "Just let everyone know how much we appreciate the community. It wasn't anything that I did, it was the community. I just quarterbacked the whole thing,"  he said. "I really do thank every one of those people."