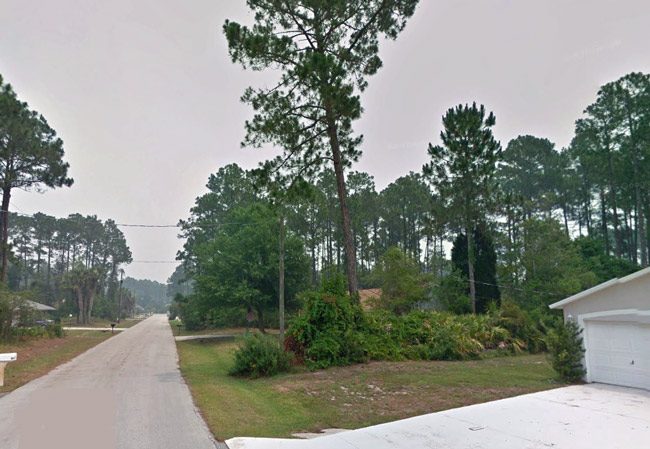 The Boulder Rock area of Palm Coast was abuzz with an emergency helicopter conducting a search from overhead and several Flagler County Sheriff's deputies searching on the ground Tuesday evening after a reported burglary at a house on Boston Lane. The burglar was not found.
The victim, a 25-year-old woman, was in the bathroom when she heard the doorbell, then a knock at the front door. When the woman left the bathroom, she saw a man standing in the middle of her house, an incident report states. The apparent intruder claimed "this was his girlfriend's residence because she used to live here," in the words the victim reported to deputies. But the woman has lived at that house since last June.
The woman then ordered the suspect to get out of the house. The man did so–through the rear-sliding glass door. He walked off on Boston Lane, toward the higher-numbered properties.
Deputies set up a perimeter in the neighborhood, a K-9 unit was brought in, and Fire Flight, Flagler County's emergency helicopter, launched to assist with the search. The house was analyzed for fingerprints. Nothing was missing from the house.
The suspect was not found. He's described as a white man, 25 to 28 years old, 6'1" to 6'2, about 180 to 190 pounds, with dirty-blond, spiky hair, wearing a silver watch, a blue polo shirt and blue jeans. He appeared confused, possibly drunk, to the woman.
The search coincidentally took place as Flagler County Sheriff Rick Staly–who that morning had gone to the scene of a shooting in the P-Section–was making a presentation to the Palm Coast City Council on the state of policing in Palm Coast. While the number of calls for police service has been increasing somewhat, he reported, arrests are down.