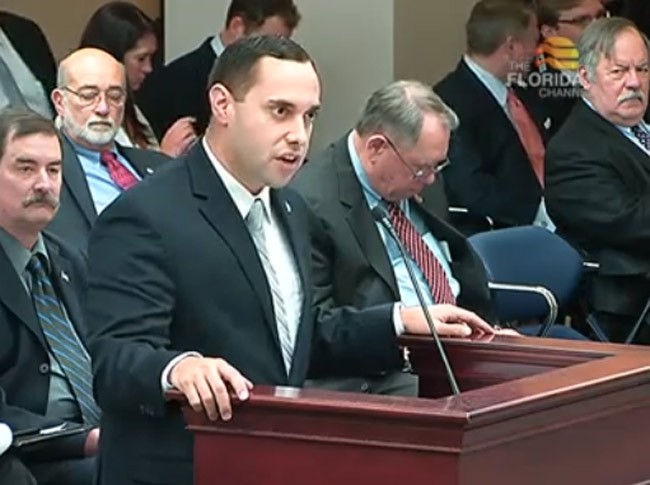 The heart of Rep. Bryan Avila's proposing to restrict the use of red-light cameras was its turn-on red provision: the bill would have ended tickets issued for such turns, except when an actual law enforcement officer issues them. Turn-on-red tickets account for the majority of red-light camera violations, Avila argues, and have little to nothing to do with safety, but rather with generating money for the state, for the private companies running right-light camera schemes and for cities and counties using them.
On March 11, Avila's bill easily cleared its first hurdle unscathed, passing the House Highway and Waterway Safety Subcommittee, 12-1.
Avila's bill (HB 7071) had less luck Tuesday. It cleared the House Transportation and Economic Development Appropriations Subcommittee, 7-3, but aside from facing a bit stiffer opposition, it also lost the turn-on-red provision: an amendment by Rep. George Moraitis Jr., the Fort Lauderdale Republican, easily won approval, reducing what's left of the bill to two matters that have l nothing to do with drivers.
As it now reads, the bill's only changes to existing law would require local governments to use certified mail, rather than first-class mail, to send out initial notices of violations. That would still be a considerable financial burden as mailing costs would increase from just under 50 cents to over $3 per violation. Governments are not allowed to pass that cost on to people being cited. The other proposed change would require local governments to use the money only on public safety programs.
Proposing his amendment, Moraitis was explicit that barring turn-on-red violations would have "a significant fiscal impact on local governments," even as governments supportive of red-light cameras—including palm Coast's—have insistently claimed that the cameras were not about the money. "Probably more than we want, there's a lot of citations for right-turn on red," Moraitis said, noting that restrictions are going "in the right direction, but maybe the original bill was just too far."
Paul Henry of the Liberty Force Network, a retired law enforcement officer and an opponent of cameras in general, said "these right-turn on red violations," he said, "are an  insignificant number of crashes in Florida. Highway safety, when they pout out their annual study, doesn't even report them because they're so insignificant." Henry said different cities set different rules on their turn-on-red violations. "There's not one red-light camera in this state that can lawfully measure speed," he said, "and you have places like Tampa that say 18 miles an hour, you've got Sarasota, 25 miles an hour, 15 miles an hour in New Port Richie." He cited several different examples.
For Palm Coast, red-light cameras have been a major point of contention for the public and the city council. But a spate of court decisions and lawsuits have forced the city to rethink its approach. The council agreed to reduce the number of cameras in town from 43 to five, and to end the current contract with American Traffic Solutions in 2017 instead of 2019. ATS is the private company that runs the system and profits—with the state—from most of the revenue.
The city administration will have to shoulder a larger share of the work to legally administer the system, even at its reduced impact.
Kathleen Peters, the Tampa Bay Republican, objected to the proposal to require cities to use certified mail for notices, calling it an unfunded mandate. She had some support on the committee, but what was left of the bill still got majority approval.
The bill's future at this point is quite uncertain as it must still clear yet another committee and does not have a clear companion in the Senate.