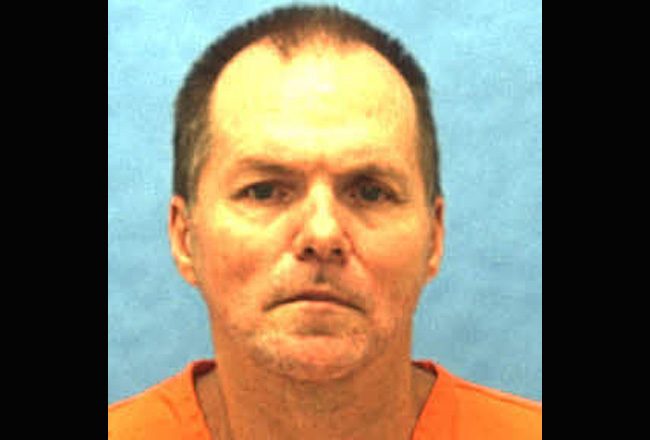 After spending nearly three decades on Death Row, convicted murderer Mark James Asay was executed Thursday evening, the state's first inmate to be put to death in more than 19 months and the first execution under a lethal injection procedure never used before in Florida or any other state.
Asay's execution at Florida State Prison was the first since a January 2016 U.S. Supreme Court decision, in a case known as Hurst v. Florida, that effectively put the state's death penalty in limbo. He also was the first white man executed for killing a black victim in Florida.
Asay was pronounced dead at 6:22 p.m., 11 minutes after corrections officials announced that the execution phase had begun.
Asay, strapped to a gurney by leather cuffs at his wrists, twitched his legs briefly during the first few minutes of the execution procedure and appeared to breath rapidly before turning ashen prior to the announcement that "the sentence of the state of Florida" was carried out.
The lack of complications with the untested lethal-injection procedure used in Asay's execution may have eased concerns about Florida's new three-drug protocol.
"The execution took place without incident," Department of Corrections spokeswoman Michelle Glady told reporters gathered in a staging area beside the prison.
When asked whether Asay's execution ended concerns about the new drug protocol, Glady referred reporters to information the department had provided earlier.
"Our objective with this is a humane and dignified process, which was done this evening," she said.
Asay was convicted in 1988 of the shooting deaths of Robert Booker, who was black, and Robert McDowell.
Asay allegedly shot Booker after calling him a racial epithet. He then killed McDowell, who was dressed as a woman, after agreeing to pay him for oral sex. According to court documents, Asay — who had white supremacist and swastika tattoos — later told a friend that McDowell had previously cheated him out of money in a drug deal.
A jury found Asay guilty of two counts of first-degree murder and recommended the death penalty with a 9-3 vote.
The Florida Supreme Court this month rejected a major appeal by Asay, including a challenge to the new lethal-injection procedure. The court more recently rejected another attempt at a reprieve, after justices acknowledged the court had been mistaken for more than two decades about McDowell's race.
The U.S. Supreme Court on Thursday denied a requested stay of execution.
Thursday's execution made Asay the 24th Death Row prisoner put to death since Gov. Rick Scott took office in 2011. Scott has ordered more executions than any Florida governor since the death penalty was reinstated in 1976.
While prosecutors portrayed Asay as a white supremacist, the condemned killer denied that he was a racist in a lengthy interview with a Jacksonville television station just days before his execution.
Asay said he got the tattoos while locked up in Texas.
"I was 19 years old, forced to survive in a hostile prison environment, and I got these tattoos in that environment so that I could blend in so that I could be safe in that environment. They are not representative at all of who I am, but they are tattoos, and they're not easily removed. They're easy to put on but they're not easy to remove, and so I've had to live with them. I have covered them up. I had a swastika on my elbow; I covered that up. I had an SWP on my arm; I burned it off. I've removed every racial tattoo I had, except for the ones that I can't reach," he told WJXT anchor Tom Wills.
When asked if he was a white supremacist, Asay was adamant.
"Never have been. I've had African-American friends all my life. But I've had to live in very hostile environments, and I've had to manage the best I could. While it's a poor choice, it's a choice I made, and I can't undo it," he said.
Asay, 53, woke up Thursday around 4:30 a.m. "calm and in good spirits," Department of Corrections spokeswoman Michelle Glady told the media during a briefing late Thursday afternoon.
Asay's last meal consisted of fried pork chops, fried ham, French fries, vanilla swirl ice cream and a can of Coke, Glady said. Asay later visited with family members before meeting with his spiritual adviser, she said.
In the interview with the Jacksonville television station, Asay admitted to killing McDowell but maintained his innocence in the murder of Booker.
Asay told Wills he was very drunk when he shot McDowell in downtown Jacksonville.
"That just happened as I was having a meltdown apparently. That's all I can say. I knew Robert McDowell as Rene. I had previous encounters with him, and we were sociable, and he did take money from me one time. I had said, in my mind, `When I see him, I'm going to kick his ass.' But I never intended to murder him. It just happened," Asay said.
Asay was the first Florida Death Row inmate executed with the new lethal-injection protocol that's been the focus of a tangled legal battle.
In the new protocol, Florida substituted etomidate for midazolam as the critical first drug, used to sedate prisoners before injecting them with a paralytic and then a drug used to stop prisoners' hearts.
Asay's lawyer, Marty McClain, failed to convince a Duval County judge that the new protocol is unconstitutional because etomidate can cause pain after being injected and can result in "myoclonus," or involuntary movements, such as twitches or jerks.
Most capital cases involve complicated and lengthy appeals.
But Asay's case was even more tangled than most:
— Asay spent a decade on Death Row without legal representation, a violation of state law.
— Dozens of boxes of records related to his case were destroyed after being left in a rat- and roach-infested shed.
— One of his previous defense lawyers was the subject of an investigation by the Florida Supreme Court, after a federal judge chided her for shoddy work.
— McClain maintained that Attorney General Pam Bondi's office hoodwinked him into agreeing to a delay by the U.S. Supreme Court, making it more difficult for Asay to have a review by the high court.
— The Florida Supreme Court recently issued a rare mea culpa, acknowledging that it had for more than 20 years mistakenly believed that McDowell was black.
— Department of Corrections officials changed the lethal-injection protocol a year after Scott initially signed Asay's death warrant in 2016.
–Dara Kam, News Service of Florida