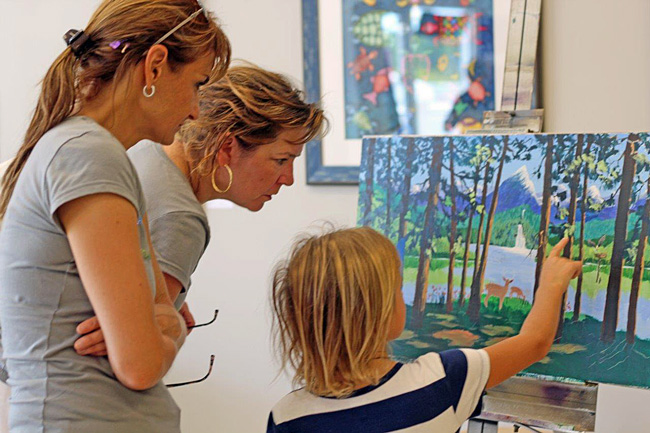 It is impossible to measure how a musical note, a brush stroke in a painting, a verse or a sentence in a novel, the movement of a dancer or a moment on stage might affect a young person. It is just as certain that epiphanies are innate to art's power to change the way someone sees the world or understands herself. Art isn't a luxury. It's an essential part of every young person's intellectual and emotional development–assuming young people are exposed to it. Often, they're not.
That's not a problem in Flagler County, where the school district years ago incorporated the arts at the core of its mission, making no difference between the arts and other essentials such as reading and math. It took Congress a little longer to make the same commitment, though Congress did it in words only.
In July 2010, the House of Representatives passed House Resolution #275 designating the second week of September—this year, September 14-20—as National Arts in Education Week. The idea was to recognize the role of the arts, whether dance, music, theater, media arts, literature, design, or visual arts, in student edification, turning students into motivated and creatively thinking individuals.
Last year Flagler County concertedly recognized Arts in Education, showcasing for the first time over the course of a week the numerous programs that enrich the area's cultural landscape. Lisa McDevitt, the Flagler Auditorium's director, orchestrated the event. She's doing it again this year. "It's really important and we're very fortunate that our schools and communities support the arts because in a lot of places they don't," McDevitt says. "We have wonderful art programs in our schools: Our fine art programs are great, our students are very talented and we have the string programs—they have an awesome stage to grow up on, so we wanted to raise awareness of the arts in our schools and in our community."
A number of sources outside of the usual art advocates, such as the Partnership for 21st Century Skills, believe that students involved in the arts have a greater capacity for success than their counterparts without this exposure, particularly when it comes to innovation or entrepreneurship.
The first event this year is pegged "Arts on Wheels." On Sunday it took participants to five community stops: Ocean Arts and Books, Flagler Beach Museum, the Flagler County Art League, J.J Graham's newly reinvented gallery—the Salvo Art Project, at Nature Scapes in Bunnell–and  Bunnell's Historical Society. Participants had three hours on Sunday to make the rounds. At each stop, an individual participant or a team drew a card and–replicating a Poker hand—got a check on their contest form for the number and suit of the card drawn. When that participant returned to the auditorium, whoever had the strongest "hand" won something. There was also a scavenger hunt and cookout at the auditorium afterwards.
The Flagler Playhouse and City Repertory Theater would've been a stop as well but the playhouse is currently under construction and City Rep had a performance of "Avenue Q," its fourth season's debut, scheduled.
Last year, for Arts in Education Week, McDevitt hosted an arts-in-school night as well as a community night, both events together bringing in a few hundred people. Monday night, the Auditorium is featuring a Spotlight on Arts, a free event.
"My biggest slogan that I use on everything, that I've been using since day one, is that an investment in the arts is an investment in your community," McDevitt says.
In addition to giving a locale a sense of place and attracting people from other areas, the United States Bureau of Economic Analysis released these numbers in 2011: arts education, when speaking about post-secondary fine-arts schools, departments of fine arts and performing arts, and academic performing arts centers, added $7.6-billion to the national G.D.P. The same year, the industry of arts education employed 17,900 workers whose salaries and wages totaled $5.9 billion. Also, whenever someone spends just one dollar on arts education, somewhere else in the economy, 56 cents is generated. Yet additional data shows that arts and humanity majors are in steady decline, though that may have a lot to do with the job market: jobs in the arts don't pay well.
But communities with a dearth of cultural programs can feel arid and hollow. THat's certainly not the case this week in Palm Coast and Flagler.
The Art League's "Going Green" show, along with City Repertory Theater's "Avenue Q" the day before, opened the gate this year for Arts in Education. For the Art League, it was a continuation of an educational programming trend that has seen more than a few shows centered around the environment, according to Ann Delucia, president.
Art organizations often have a show centered around a color each year, and the league is among them. In the past, they've had a "Seeing Red" themed show and also one just called, "Blue," also a reprise.
"For this one, we were thinking what does the color green really mean?" DeLucia says: The basic idea was to spark an inquiry examining "how we're treating the world around us," though other interpretations were also encouraged–one artist, for example, interpreted the theme to be about money.
Most art league members aren't the type of students that McDevitt is talking about. "It's really community education," says DeLucia. "Through the alliance, we've been trying to plan programs that all of us can participate in. We can be students at any age," she says, referring to recently formed alliance of Flagler County art organizations." DeLucia was referring to the Arts Alliance, a group created last year to better coordinate the works of local arts groups.
"We can't compete with the schools," DeLucia says. "They have great art programs here," so they purposely go after another market. According to DeLucia, it's easier to do programs for kids when they're able to secure grants, but otherwise, once they start charging, in order to recompense teachers, it becomes much more difficult. "So this is an opportunity for us to branch out and reach people where they are," DeLucia says.
On Friday, participants can take guided tours of the Gargiulo Art Foundation's art collection at  Daytona State College. The foundation's collection was started at the college in 2000. There are over 100 pieces of diverse work from local and Florida artists gifted by the foundation, says Arlene Volpe, partner of Tom Gargiulo, the foundation's founder. Gargiulo recently suffered serious injuries when he was struck by a vehicle while riding his bike, so the Foundation's participation almost didn't happen.
"We've been wanting to do this for such a long time. I'm sure that some of the artists will be able to help us to put it together," says Volpe. It's the first time the Foundation has actively participated in Arts in Education Week. "Having the heavy participation that I'm seeing in the advertising, when I started seeing that, that's really what we're looking for—good press coverage."
The Foundation has art in almost every building at the college's Palm Coast campus, with the exception of the labs. Among the works are prints, watercolors, and sculptures. Most of the featured artists are Foundation Artists of the Year, Volpe says. Every half hour or so, visitors will have a knowledgeable guide do a walk-through. The Foundation also has a collection at the Flagler County Library, started after the foundation ran out of room at the college.
"We want Palm Coast to be known for the art and culture that we have here," Volpe says. "It isn't just a community for golf and tennis players, all the sports that we are very happy to have here. It needs to also be about the culture that we have—the art and culture that we have."
To learn more about Arts in Education offerings in Flagler this week, see the listings at the Auditorium or see the line-up below.

Planned Events:
September 13, 14, 19, 20, 21 – Avenue Q, Presented by City Repertory Theatre
September 13th – 2nd Saturday, "Going Green" ART SHOW Flagler County Art League, at City Marketplace 6pm-9pm Free Event
September 14th – ARTS ON WHEELS – A ride for the Arts Kickoff Celebration at the Flagler Auditorium – FREE Kid Zone sponsored by the Sheriffs P.A.L. Registration begins at 11:30 am, first wheel out 1pm, last wheel back 4pm – Cookout to follow.                                                      Click here to download a Registration Form                   Pay Registration Fee Online Here
September 14th – City of Palm Coast SENIOR GAMES BALLROOM DANCING at Flagler Auditorium 2pm-5pm. FREE EVENT
September 15th – SPOTLIGHT ON ARTS in Flagler County Schools at Flagler Auditorium 7pm. FREE EVENT.
September 18th – POETRY SLAM/OPEN MIC at Flagler Beachfront Winery, Presented by thePalm Coast Arts Foundation, 6pm-8pm. FREE EVENT!
September 19th – GUIDED TOURS of Daytona State College Original art collection, Presented by Gargiulo Art Foundation, Music & Refreshments, FREE EVENT
September 20th – Anything Goes Annual COSTUME GALA, Presented by Flagler Beach Museum, Halifax Plantation, 6pm, $75/nonmembers & $65/members.
September 20, 21 – Arts and Crafts Festival, Gallery of Local Art, Flagler Beach, 10am-4pm, FREE EVENT
September 21st – SEONA McDOWELL performs "Australia, the Land Down Under", Presented by the Palm Coast Arts Foundation at European Village – Center Stage 2 Shows, 2pm & 3pm FREE EVENT
September 21st – Plein Air Paint Out, presented by Ocean Books & Art, Flagler Beach, 10am-3pm FREE EVENT