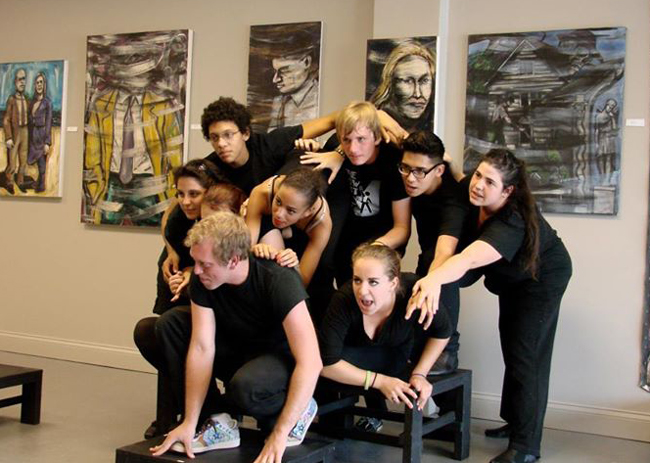 The Palm Coast City Council's generosity toward the arts is still quite far from where it was in 2007, when the city—much less culturally diverse then—budgeted $40,000. On Tuesday, the council approved $25,000 in grants for the 2013-14 cultural season, dividing the pot among 11 applicants. None received more than $2,370.
The $25,000 is a slight increase over the total awards in each of the previous two years, when the city budgeted just $20,000. But the uptick in generosity comes with stricter conditions and added demands on the cultural organizations. Palm Coast Mayor Jon Netts described the new criteria as "a little less arbitrary and capricious." They do appear less arbitrary, but also somewhat more capricious.
Eligible organizations must provide their cultural programs in Palm Coast proper. That means the Flagler Playhouse, the overwhelming majority of whose audiences are from Palm Coast, is not eligible. Nor is the Florida Agricultural Museum, which previously won such awards, now that the city has turned the museum over to the county.
Eligible organizations must be non-profit, which excludes such venues as Hollingsworth Gallery, central though its Second Saturday gallery openings have been to the city's cultural scene. (Hollingsworth Gallery is sandwiched between the city's offices at City Marketplace.) Grant recipients are also required to spend at least 10 percent of their award on advertising—and to credit the city in all promotional materials. And recipients will have to participate in at least one of the city's special events during the year.
"Nobody had anything negative to say about it," Luanne Santangelo, the city's parks and recreation director, said about that particular provision. "The groups that have been participating when we did our meeting prior to, appreciated the opportunity actually to be a part of some of our events because it gave them more exposure as well. Then we try to let them know it doesn't have to be that you come and perform necessarily, like the Arts Foundation, their mission is basically to raise funds for their purposes." (The Palm Coast Arts Foundation's main event is the annual Picnics and Pops concert with the Jacksonville Symphony Orchestra, held in Town Center in May.  This year's concert was rained out.) "But they can come in and maybe bring in a face painter to an event, or do an activity with the kids and promote their organization at the same time as being a part of the event and offering something for everybody to do."
Only 11 organizations applied, resulting in 11 grants.
City Council member Bill Lewis has tried year after year to raise the budget for cultural arts grants, and when the council discussed the recommended grants for this year at a workshop last week, he thought the budget had been raised to $30,000. City Manager Jim Landon corrected him.
"No," Landon said. "That was the debate. It was $20,000 last year. There was a proposal for $30,000 and the compromise in the budget that was approved was $25,000."
"Lost again," Lewis said.
The grant re4cipients and their awards are listed below, with comparisons to previous years.


Palm Coast Arts and Cultural Grants, 2014
Organization

Event

Grant Eligibility

2014 Grant

2013 Grant

2012 Grant

African American Cultural Society
AACS Annual Cultural Arts Series, December 2012-September 2013

$2,800
$2,212
$1,875

$1,470

Choral Arts Society
Concert Series:
Dec. 2012, May and July 2013
May 4 7 6, 2012
July 4, 2011
$3,000
$2,370
$1,250

$1,470

City Repertory Theatre
Plays
$3,000
$2,370
Did not apply
Did not apply
Community Chorus of Palm Coast
Concert Series
January 15, 2012
May 20, 2012
$3,000
$2,370
$1,875

$2,450


Flagler Auditorium
2012-13 Season
$3,000
$2,370
Did not apply
$1,470

Flagler County Art League
Celebration of Arts Week
$2,880
$2,275
$3,125
$2,205


Flagler Agricultural Museum
Hot Foods and Spicy Blues Festival
$5,000
$3,125
$2,450


Flagler Playhouse*
2013-14 Season
Did not apply
Did not apply
Did not apply
Denied
Gargiulo Art Foundation Inc.
Poetry/Bicycle Event
$2,823
$2,230
$3,125
$2,450

Palm Coast Arts Foundation
Picnic and Pops
Jacksonville Symphony Orchestra
$3,000
$2,370
$1,875
$1,470

Palm Coast United Methodist Church
2012-2013 Concert Series
$3,000
$2,370
$1,875
$1,470

Philippine American Association of Palm Coast
Cultural Performance Program
$2,144
$1,693.67
Did not apply
Did not apply
Trinity Presbyterian Church
Mosaic of Art and Music
$3,000
$2,370
$1,875
$1,470

Totals:
$31,647
$25,000
$20,000
$19,845
(*) Most of the Flagler Playhouse's audiences are from Palm Coast, but because the theater is located in Bunnell, Palm Coast deems it ineligible for a grant. The grant applications can be viewed here.