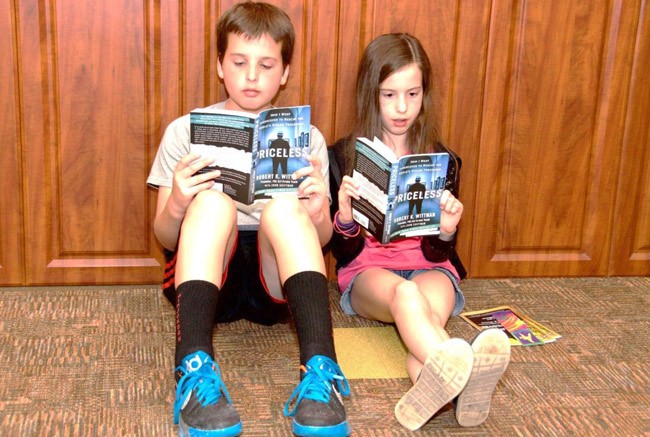 For a while there Ann DeLucia and her Flagler County Art League colleagues were quite nervous. They'd booked the 1,000-seat Flagler Auditorium for a kind of event never attempted before in the county: basically, a lecture on art.
But Robert Wittman wasn't your average lecturer Tuesday evening. The founder of the FBI's art-crime division, he'd spent a career chasing after art thieves and recovering some of the world's greatest art from the underground. He tells his tales in a best-selling book, "Priceless," and tells them like a unique sort of raconteur in his lectures around the country. Still, that doesn't mean he could command a big audience in Flagler County.
But he did. Advance sales had totaled about 250 tickets (the selling price was $20 for a regular ticket, $65 for a ticket that included the VIP reception). But as Wittman's 7 p.m. presentation approached, people started streaming in, and the show had to be delayed a few minutes as they kept coming in, with some 400 people filling a majority of seats in the lower section of the auditorium.
By then the event's costs, including Wittman's speaking fee, had been covered through a $5,000 gift from Realtor David Alfin and a combined $5,500 in grants from Palm Coast and county government. So ticket receipts could go straight into the art league's fund-raising budget.
The event netted about $11,500, DeLucia said, making it the art league's largest and most successful fund-raiser in the non-profit organization's 36-year history.
"Well, the community is ready for somebody like this, for a program like that. We were pretty bold to put it into such a large space," DeLucia said. "There's just a lot of need for the community to be served with the arts. Wee really need to think five, 10 years where we could be."
The evening wasn't without competition: it took place as the school board and the Palm Coast City Council were meeting, and just as polls were closing in a special election for two seats at the Legislature.
Citing the multi-billion dollar value of the business of art — including commercial and fine art — in the United States, as a league news release described the event, Wittman impressed his audience with the importance of protecting the world's cultural heritage and recovering those pieces which have been lost or stolen. Earlier in the day, the Flagler County Art League sponsored a special presentation to the students of Palm Coast High School, focusing on career opportunities in this multi-billion dollar business.
"The kids were very, very engaged. When they were leaving there was a lot of, 'boy, this is the most interesting thing we've heard all year,'" DeLucia said.
The question, of course, is what's next for the league. "We did this whole thing with six people," DeLucia said. There'll be a little recovery time, then the idea mill will get going again. "We're thinking other stuff, but who knows."