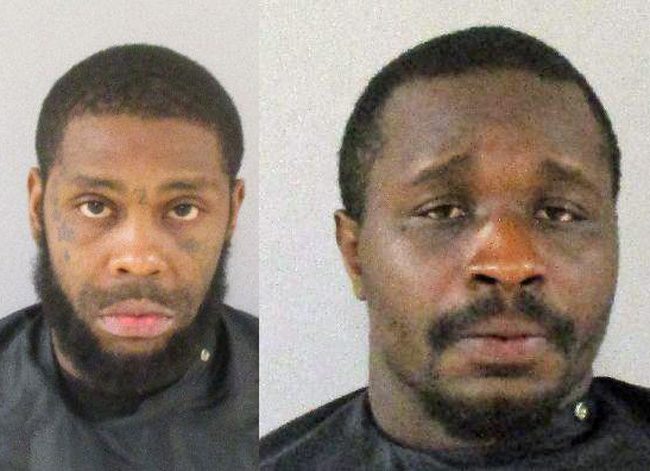 Late Wednesday night, two camouflage-masked men entered the 7-Eleven convenience store at 170 North Nova Road in Ormond Beach, one of them pointing a gun at the store clerk, the other carrying a duffle bag.
"Where's the money?" one of them yelled at the 41-year-old clerk.
Scared, the clerk froze. The armed man pointed the gun at him, according to the arrest report, and ordered him to open the cash register and put the money into the duffle bag. The clerk followed instructions. The two assailants then ran out. An unknown Publix employee then entered the store a minute later and told the clerk he'd seen the two men get into what he thought was a white Ford Escape (but that authorities say was a 2008 Mazda Tribute), drive out of the Publix parking lot, and head north on Nova Road.
By the time Jamier R. Scott and Darryl Duffy, both of them 29, both of them from Palatka, were finally stopped and arrested, they'd involved Ormond Beach police, the Volusia County Sheriff's Office, the Flagler County Sheriff's Office, the Bunnell Police Department and an emergency helicopter in a two-county car and foot chase that ended with stop sticks and a K-9 tracking down and immobilizing one of the suspects with a bite.
The chase had begun in Volusia when a Volusia sheriff's detective in an unmarked car spotted the Mazda and later clocked it at speeds of 100 mph on U.S. 1, into Flagler.
"It is apparent that the suspect vehicle had no regard for their own safety or that of the motoring public," a Flagler sheriff's arrest report for Duffy states.
Several sheriff's units joined the chase. In Bunnell, Bunnell Police Cpl. Bagwell deployed stop sticks but the Mazda sped through, allegedly at 80 mph through Bunnell's downtown, until it reached the intersection of U.S. 1 and State Road 100, where Flagler Sheriff's deputy Wray deployed another set of stop sticks as three Volusia deputies' units followed. The Mazda's tires struck the stop sticks and continued on, with other Flagler units joining the chase.
As the Mazda reached the turn onto westbound State Road 100 (in the direction of Palatka), the tires started shredding, the car started slowing, and finally, it stopped off of the Bimini bar long enough for Scott to jump out. Volusia deputies set K-9 units on the alleged assailants. The Mazda drove on another 100 feet, stopped, and Duffy jumped out and ran off, again with deputies in pursuit. They were both soon apprehended.
The two men were charged with armed robbery in Volusia. Duffy was charged in Flagler with Fleeing with Disregard of Safety to Persons or Property, Resisting Arrest without Violence, and Driving with a Suspended License. Scott was charged with Resisting Arrest without Violence.
"It was a busy night in Flagler County but our team did an excellent job of maintaining the safety of the community while taking dangerous felons off the streets.
We are glad to assist our neighboring law enforcement agencies," Sheriff Rick Staly was quoted as saying in a release issued by his agency.
He was referring to a pair of incidents that night. The second also entailed the deployment of stop sticks, bringing Ricky Dean Franklin, 40, to a halt as he drove a vehicle that had been reported stolen in North Carolina. Franklin was arrested and charged with Grand Theft of a Motor Vehicle, Driving While License Suspended- 3rd or subsequent conviction, and Possession of Marijuana less than 20 grams. He was taken to the county jail and held on $5,000 bond.
It's not Duffy's first arrest in Flagler. He's been arrested locally several times going back to 2011, twice on fleeing and eluding charges.