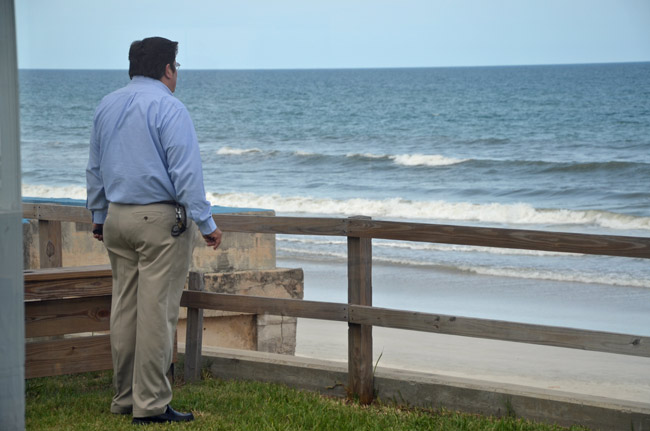 In October 2009, the Bunnell City Commission hired Armando Martinez as its city manager for $90,000. He's now making $102,400, but says he's never gotten a raise since he became manager. Thursday evening, he was up for a merit pay increase that would have brought his salary to $104,470, a 16 percent increase from his base pay.
A 2-2 vote of the commission meant that the motion to give him the 2 percent merit increase failed. "I tell him all the time that Mr. Martinez is overpaid," Commissioner John Rogers said, siding with Commissioner Elbert Tucker in opposing the merit increase.
Mayor Catherine Robinson and Commissioner Daisy Henry voted for the raise, but it wasn't enough: a tie vote means a failed motion. Vice Mayor Jenny Crain-Brady was absent: had she not been, she likely would have voted to support the raise, as she has been a staunch supporter of Martinez in the past. It's quite possible that commissioners favoring the raise will bring up the matter again at a subsequent meeting, when they're assured of a majority.
But the discussion over Martinez's pay—the latest in a series of such discussions in the last few years—again laid bare a fault line on the commission that opposes Tucker and Rogers against the remainder of the commission, and that points to how Martinez's fate hangs in the balance, with elections coming early next year, when three seats are up—Tucker's, Henry's and Robinson's. One of the leading candidates for the election, Bill Baxley, was in the audience Thursday evening, as he has been at most meetings since well before running for a commission seat at the previous election and failing to win a seat by 19 votes. He's not been a fan of Martinez's, and spoke skeptically of the merit raise Thursday evening.
"If my memory serves me correctly, I would almost be positive that I heard Mr. Martinez say he'd be willing to recuse himself from it," Baxley said of the merit raise, referring to a previous meeting's discussion.
"Yes," Martinez said. "What happens was, when the issue came and was brought up by Mr. Tucker, about my name being on the list, what I said was, if my name being on the list would exclude you from approving the merit list, then go ahead and move it off the list but I think the board chose to pass it as was, with my name still on the list."
The difference between Martinez's base pay, when he was originally hired, and its current status bears explaining.
His original $90,000 salary was for his duties as city manager. But he was also given the title of public safety director. Before becoming manager, Martinez was briefly Bunnell's police chief. As a cop, +he was granted hazardous pay, even as manager, since he had the title of public safety director. That gave him an additional $6,000 a year, raising his pay to $96,000.
In late 2010, questions were raised about Martinez's right to be a public officer in two different jobs at the same time. The Florida Constitution forbids such a status. To his chagrin, Martinez had to drop his cop's title (and his gun-carrying). He no longer merited hazard pay. But the commission decided not to eliminate that hazard pay, and even gave him a minor bump. In effect, he got a $7,500 raise in January 2011, though Martinez and his supporters on the commission do not see that as a raise.
"I've never gotten a raise since I became city manager." Martinez said Thursday, "and I wouldn't have accepted one because my staff never got one."
Tucker didn't buy the argument. "The director of public safety position is really what you're doing as a city manager, so you just got a little more money for being the director of public safety," Tucker said.
"I do believe that I contribute to that public safety, and you can ask the fire chief or you can ask the police chief," Martinez protested, "that whenever we have anything as the Halloween event or any particular issue or parade or something like that, I'm involved and they run their plans by me and I give my two cents. Sometimes they come up with a better planned idea than I do, but I contribute to that with my years of experience."
Tucker: "You really do the same thing as a city manager as our director of public safety would do had we hired one separately from you."
Martinez: "No, because I don't think that anybody that doesn't have the experience that I have, doesn't have the qualifications to stand at the same level with the chief of police and talk in the same terms that he understands as to when it comes to planning and recruiting and internal cases and police unions and a lot of the issues that come up. I think that I am a sounding board and a support mechanism to him that you couldn't have had here before."
Then came the 5 percent "cost of living" increase all Bunnell employees got this year. It wasn't exclusively a cost of living increase. Three percent of it was to compensate for the 3 percent that employees must now pay into the state's public retirement system, by order of the Legislature (money most employees may get back should a lawsuit disputing that mandate go employees' way). Two percent was a cost of living raise.
That brought Martinez's pay to $102,438.
He was then evaluated. The evaluations could have been filled out by all commissioners, but only the mayor filled it out. She gave him a glowing review. "I did the legwork to do the evaluation. You all get to make the decision whether or not you want to give the merit increase," Robinson said.
That 2 percent additional, merit raise was what was under discussion Thursday, and what Tucker and Rogers resisted.
"This is a huge amount of money for an employee," Tucker said, referring to the 5 percent raise he'd already received. "You're doing a good job, there's no doubt about that. A $5,000 increase in his salary, it actually comes out, with all the benefits, to 10.1 percent increase in his salary, or the money we have to pay out for him just for the $5,000 increase over the last year's money."
The city's finance director corrected Tucker, in that the calculation Tucker was presenting included the merit amount, not just the cost of living amount. But Tucker's point was made: a salary increase at the top end of the sale is disproportionately higher than a salary increase for the rank and file.
Two people—Bunnell developer Mark Langello and Perry Mitrano, the city's solid waste director, in an unusual pitch on behalf of his boss, who'd  approve Mitrano's merit raise—spoke to the commission in support of Martinez's raise.
And Martinez made his own pitch. "It's very important for me to tell you that in the amount of years that I have been here, I've never, ever asked for anything without the employees being compensated first," Martinez said, a statement that, given the commission's $7,500 gift last year, was only half true. "Whatever I am getting now is no different than whatever the other employees are eligible for. As a matter of fact when this issue came up, I tried to really stay away from it, but my position is that what I am entitled to is for consideration."
Robinson thought the 2-2 vote meant that Martinez's raise had carried. Sid Nowell, the city attorney, corrected her. Martinez's pay remains, for now, at $102,438, a 13.8 percent increase over his starting base pay—still well above the sort of increases most workers, if employed, have enjoyed over the past four years.