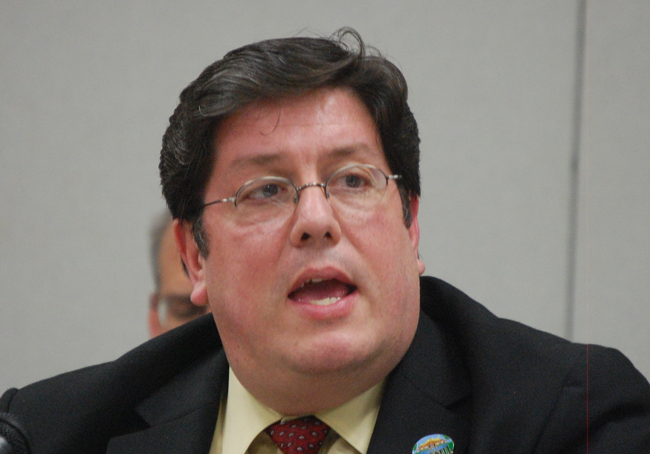 Bunnell City Manager Armando Martinez will no longer be a law enforcement officer, as he had been for the last two years as city manager—a contractual arrangement that enabled him to earn an extra $7,500 on top of his base $90,000 salary. But Martinez is keeping the extra $7,500 a year.
The Florida Constitution forbids government employees from being public officers in two different jobs at the same time. An article in the News-Journal earlier this month pointed out what appeared to be Martinez's—or the city's—constitutional violation, compelling City Attorney Sid Nowell to explore the issue. Martinez argued at the time that he was a police officer but not a public officer.
Skirting the constitutional language, Nowell and Martinez insisted that there was no law forbidding  the dual positions, but both conceded that they were on legally safer ground if Martinez gave up his shield and became a civilian. Nowell said Attorney General's opinions made clear that the two jobs were incompatible within the purview of a single employee. "My bottom line is, if someone challenged and questioned whether or not the city manager position constituted a public officer, more likely than not, that would be the determination," Nowell said. "I spoke to Mr. Martinez and I said, I couldn't in could faith advise him that as a city manager he was not a public officer."
On Monday, the Bunnell City Commission accepted Martinez's resignation as a police officer. But the commission increased his base salary by $7,500, essentially nullifying that saving to the city. (The city will realize an eventual saving of some $5,000 that it would no longer have to pay in workers' compensation costs attached to Martinez's former law enforcement designation.)
"I don't want the city and I don't want me to be in the gray," Martinez said. "I want us and I want me to be in the black and white. So even though it isn't law, and it's not challenged, why stay on the gray?" He said that because of his service to the city, and the work he'd done through the Bunnell Police Department, he asked the city to roll over his $7,500 pay to his regular salary. Earlier in the meeting, Martinez and Police Chief Arthur Jones had choreographed an elaborate award ceremony for several Bunnell police officers for various acts of valor while on duty. The ceremony softened Martinez's request to the commission, even though there never was a doubt that he would not lose the $7,500. The commission voted 4-1 in favor of the new package, with Commissioner Elbert Tucker in dissent.
One commissioner's biggest concern was that there would be one less armed man in the room. Civilians are not allowed to carry guns in public buildings. Police officers are. Martinez carried his. "That's what I have a problem with because I just don't understand why people would pursue this and the end result would be disarming you," Jenny Crain-Brady told him. "I just flat have a problem with that."
She then asked: "Does that mean we will always have a law enforcement officer at our meetings, armed?" Crain-Brady asked.
"Yes," Martinez said.
But there had almost always been an armed law enforcement officer at the meetings: the chief of police himself, who makes a point of being at most meetings. Jones is often overshadowed by Martinez, who's commonly believed to call most of the shots in the police department. Martinez will preserve his dual title: city manager and director of public safety. He, too, had misgivings about giving up his gun, at least temporarily. (He may seek to be a reserve officer somewhere, to maintain his certification.)
"I'll just feel naked without my gun for a while," Martinez said, "but I'll need a permit or something."
"Not something," Nowell corrected, eliminating still more shades of gray. "You need a permit."