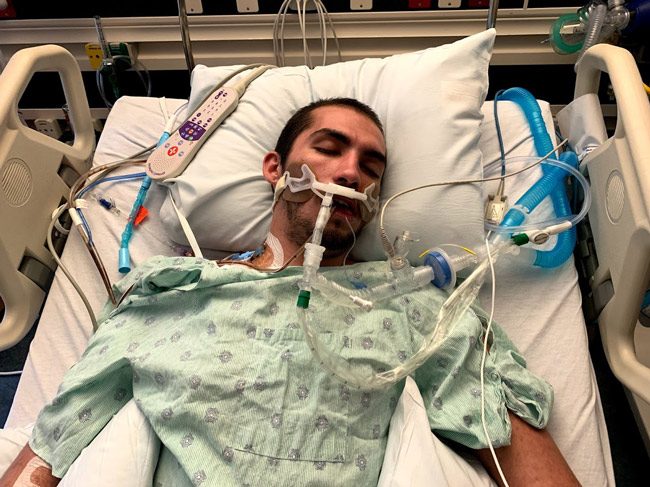 Note: Anthony Fennick's family has set up a GoFundMe page here.

But for the breathing machine and the blood pressure medication keeping his heart pumping, Anthony Fennick is lifeless. He's in a room at AdventHealth Palm Coast's intensive care unit. There's no beeping, no rhythmic clattering from a ventilator, just a faint whir laboring for his lung's sake, innumerable tubes and wires and an IV in and out of so much of him, and Anthony as if asleep, his hands upturned at his side.
The two sheriff's deputies who had been guarding him have been dismissed, as guarding him was pointless: Fennick, 23, has been brain dead almost since an ambulance brought him to the hospital from the Flagler County jail late Monday night, after days of high fever at the jail, and on Monday,  vomiting and having a "medical episode," in the sheriff"s office's description. It was, in fact, a seizure.
By then it was too late. He'd been complaining of high fevers for four or five days and deteriorating over those five days, his mother, who'd speak to him daily by phone, says. Medical staff would treat him with ibuprofen and tell him he couldn't see a doctor until Tuesday. Monday was the night of his "episode." He had a second seizure at the hospital, where he went into respiratory and cardiac arrest. His heart was revived after nine minutes. But the man who'd been Anthony Fennick was gone.
"I know he's here and I know you can hug him," a doctor told his mother Erika Williams, she recalled today, "but I just want you to know that if there was any kind of hope I wouldn't take that away from you. But he's technically been gone since Monday night."
It's still not known why. A scan showed Fennick had swelling in the brain. A spinal tap for meningitis was negative. A toxicology screen for opiates, THC, cocaine, methamphetamines "came out zero," his mother says. Negative for flu and sexually transmitted diseases as well. Nothing contagious (which had apparently worried inmates.)
"He came in healthy," Carlos Trivino, Fennick's uncle, says of Fennick's last booking at the county jail, on Dec. 28, when Circuit Judge Terence Perkins yanked him out of drug court for failing a urine test. It was positive for cocaine. He'd made it successfully through a year and a half of drug court until then. He was to be in jail until May. "So something happened there," meaning at the jail, Trivino said. So far, no one can say what. Trivino says it's worse than neglect.
Saturday morning, the breathing machine will be turned off. There will be an actual time of death. The only reason it hasn't happened yet is because Fennick's family implored the hospital's administration to delay the inevitable a few days so family members could gather.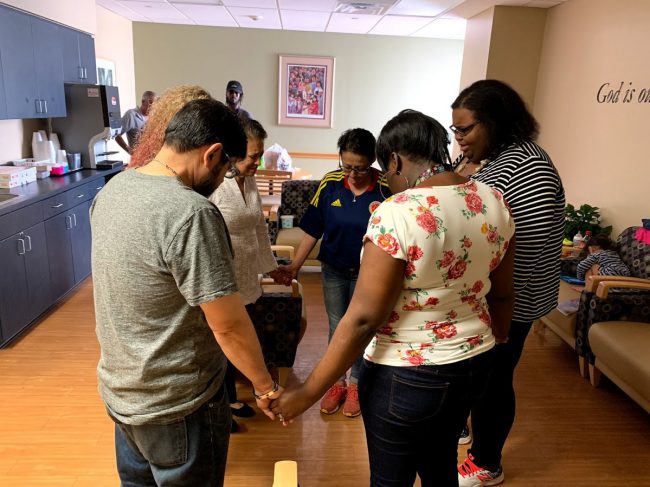 So they have, among them Trivino and his wife Shannon from North Carolina, Trivino's brother arriving from Colorado early this evening, Anthony's grandparents from Palm Coast joining what has amounted to a vigil to Anthony's now-time-certain departure, with Khalief Gray, Anthony's friend from Drug Court, shuttling other Drug Court friends in and out. They all stream through the ICU's waiting room or take turns at Anthony's bedside, leaving it to a giant teddy bear (one of several gifts from hospital staff) to keep a permanent eye on him from the foot of his bed. "We've literally had to do traffic control, that's how many people came to see him," his mother says.
Three senior sheriff's officials have dropped by as well: Chief Steve Brandt, who's in charge of investigations, Chief Mark Strobridge, the sheriff's right-hand man, and Chief Paul Bovino, currently the acting sheriff, as Rick Staly is in Dubai at a SWAT training competition with eight Flagler deputies. Brandt and Bovino have known Fennick and his family for years, seeing him grow up.
In the waiting room, Erika's husband Dan cares for Anthony's two-and-a-half-year-old daughter Eva when she's not on her iPad. At times small groups huddle and pray, someone will step out for a moment to take a call (better cell reception), and always, at one point or another, the subject of Anthony's catastrophic degradation from healthy young man to fevered to dazed to brain dead mystery returns. Family members examine the question from any  angle that could shed light on what could possibly have kept the health care providers at the jail from responding to Anthony's complaints more prudently, and judging on what Fennick had told his parents, less offhandedly.
That's when Erika Williams isn't trying to figure out how she will handle Saturday morning.
The sheriff's office for its part is releasing minimal information: it sought to have the Florida Department of Law Enforcement investigate, but FDLE turned down the request, saying the incident did not meet outside-agency criteria, according to Strobridge. The case is being investigated by sheriff's detectives Gabe Fuentes and Annie Conrad.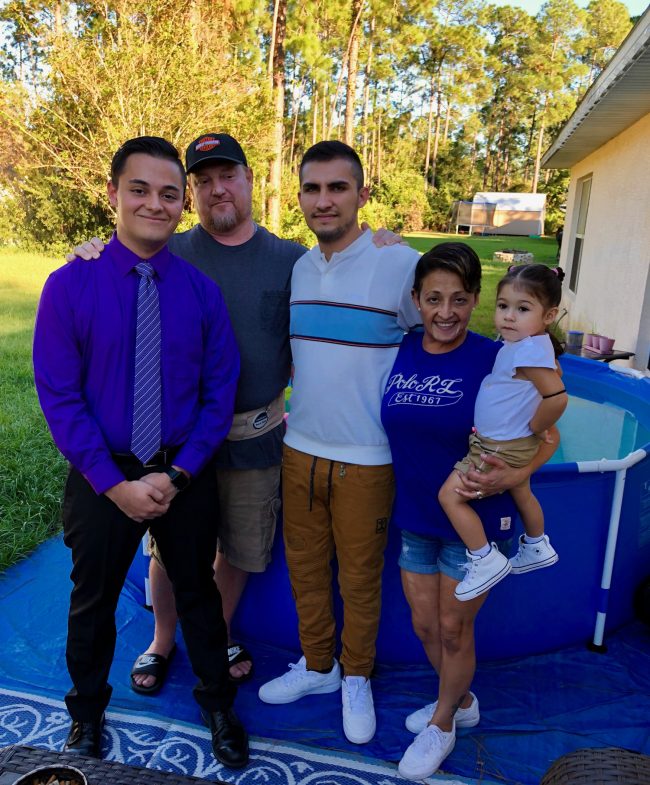 An incident report states that FDLE nevertheless was willing to examine Fennick at the hospital–to check for any signs of physical trauma. That initial incident report reveals that Fennick had been vomiting when he was taken out of the facility at 10:30 p.m. Monday. A second, more detailed report was released late Friday. But it was entirely blacked out but for stray, irrelevant lines.
The sheriff contracts with Armor Correctional Health to provide inmate health care, with 24-hour care at the jail. Erika Williams says nursing staff were dismissive of her son's concerns other than giving him ibuprofen and an antibiotic, though they wouldn't tell him what kind of an antibiotic it was, or how many days he'd be taking it. It's not clear whether they asked him whether he was allergic to anything. (Two nurses have reportedly been removed from their duties at the jail.)
What bothers Williams most isn't that her son developed a health issue, maybe even a freakish health issue–say, something that developed from one day to the next and quickly got worse without staffers reacting fast enough to address it. No, what bothers her is that she knew, he knew, and she says staffers knew that something had started going wrong with his high fevers either the Tuesday or Wednesday before that fateful Monday. "Nothing can destroy me more than this," Williams says. She describes her phone conversations with him. "The thing that hurts me is that I personally heard his voice telling me twice a day for those five days of every symptom and every ache and every pain and every response he got when he asked for assistance. I literally listened to my son, how he was deteriorating for five days and he was dying, that's the part that I can never forgive somebody."
The phone calls were recorded. They are being examined by detectives, along with video which his parents say will show their son's deteriorating condition down to his inability to get his jumpsuit on that Monday, he was so dazed. Fennick's father says it was in his son's voice: "Toward the end you can hear him say, 'I've got to go, I've got to go, I can't stand up here.'" The calls had gotten shorter and shorter, and earlier and earlier, as if tracing Fennick's declining strength. He'd usually call a last time as close to 10:30 p.m. as possible, as close to lock-down as possible. But he started needing to sleep sooner.
His mother last heard from him Monday at 2:20 p.m., what would prove to be the very last time she'd hear Anthony's voice.
Even then, she could not recognize it. "His voice was so weak," she said. He'd woken up beet red, with a rash. "I told him, 'don't worry, I got you, baby,' I promised him nothing was going to happen to him," she said this afternoon in the ICU waiting room.
She breaks down for what seems like the thousandth time. Moments later she's at her son's bedside, hugging him, stroking his hair, her words caressing his immobility, shaping what she calls his "big head," with her palms, touching his earlobes. "This is my baby," she says. "See what I mean about that coconut head? We always made fun of his head, he always had a strong head, strong bone structure." She cries, hugs her son's head, strokes his arm. He has a few days' beard growth. "He wasn't a bad person, he made stupid mistakes," his mother says through tears.
"I don't know what to do, I don't know where to turn, I don't know where to start," she says of what she will have to do Saturday morning. She's been thinking about his clothes, thinking about putting together some music he likes, thinking about the candlelight vigil getting organized beach-side in a few days.
And there is an irony, a terrible irony in her son's death Saturday morning and what is to follow. As if it weren't enough that she couldn't comprehend losing him with such brutal suddenness, she can comprehend all too well what is to happen to him in the next days: Erika Williams was in the military. She did countless autopsies in the morgue in Richmond, Va. "I know what's going to happen, my baby is going to be leaving here in a body bag, he's going to be put in a dark freezer, and stored there 'till they do the autopsy on Monday. I know exactly, stage by stage," she says. "I know what's going to happen to my baby, and that's in the back of my mind." His "gorgeous bone structure," she says, going so far as describing what she knew would be done: and that's what he will be enduring. "So I don't know, I don't know how to prepare myself."
But she finds ways. She speaks of her other son, who's called Dan like his father: he's 17, graduating soon from Flagler Palm Coast High School and its fire academy. She speaks of the way both her sons idolized each other, how Anthony will have died without regret at least when it came to Dan: their love and affection for each other never ebbed. At least in that regard, she says, "I know Anthony died at peace."