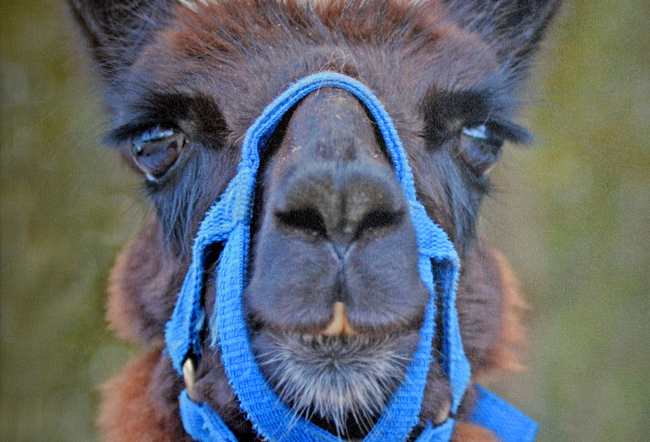 Art shows are coming and going with such rapidity now at the Flagler County Art League and neighboring Hollingsworth gallery that it's sometimes difficult to keep up with them. The art league's two-month-long gallery summer sale felt as if it had lasted two weeks, and its September moody and mellow "Blue on Blue" show was here and gone like a crisp Indian summer memory.
Last Saturday, the art league opened its newest show, "Animal Kingdom," a wide open proposition that has a menagerie feel, with some 66 pieces entered and running the gamut from the elegant and artistic to the intimate and crafty. Animal lovers—a majority of people—will easily take to the show, even if there are a few pieces that appear to be simple family pet portraits or collages that hang more comfortably in a classroom or on a dresser at home than in a public art gallery.
"The level of the show has really come up over the years—presentation, framing, everything," the artist Tom Anastasio, who judged the show, said. He did find quite a few gems.
"All the first, second, third, top-tier winners, were all in line for best in show, and I think that if it wasn't for a point system that I use, it would be very hard to arrive at that among that group of pieces," Anastasio said. Take his deconstruction of "Mother's Love," the large—and close the largest of the show–Richard Hausen painting that won best of show: a horse snuggling with her foal in a field of rich greens against a bluish background that suggests disappearing calm.
"In this painting I think there's a certain amount of feeling that the artist was able to get, there's a spirit that is coming through, both in the form and in the way he depicted the nature of the mare and the foal. That's there, it just grabs you. He went beyond the photograph type of thing that you might get in what you'd call a snapshot type thing, to get the feeling. So he's used a minimal format in his color scheme. He's used a primary and secondary approach to his color, and he's simplified the field, so that allows the white [of the horses] to show over the blue and the green. And then he's blent in, he's used the psychology in painting that goes back to Homeresque ideas," as in Winslow Homer, who could combine the warmest colors to suggest anything from serenity to dread. Anastasio pushes the references much further back: "This is really a Renaissance painting that never came to an end. He's using a lot of Renaissance understanding, sfumato, chiaroscuro. He has it controlled so well—and I'm not trying to make more of this painting—but I think that's what lends to the spirit of what's happening in the souls of these horses."
With artist Bill Shoemaker and his "Yellow Crowned Night Herron," the evocation is of the artistry of John James Audubon, whose studied illustrations of birds are classics in the genre. With "Dual Racers," Kathleen Warren photoshops illusion upon illusion to re-imagine a chariot racing as if in and out of the artist's consciousness (and conversely, in and out of the image's realist photography).
The unevenness of the show is explained by the fact that anybody who entered was displayed. "That's why you see the quality we have here, it's not like J.J.," the art league's Bob Carlsen says, referring to J.J. Graham of Hollingsworth gallery, there every exhibit is a critical of one or more artists' works. "We're not selecting pieces of a particular artist and doing that. This is the difference between our organizations." But the art league is developing enough with a number of artists that it's hoping to that point, at least with some of its shows. Two shows in the next half year will be juried, including a photography show.
For now, the animals have it—and true to the show's title, there is an homage to Disney's Animal Kingdom. It's a photograph by Carlsen of the "Tree of Life," the enormous tree and focal point of the theme park, itself an illusion of lushness that the photograph amplifies with its own tricks.
Below are the show's winners in all categories.

The Animal Kingdom Show, Judged by Tom Anastasio
| Award | Title | Artist |
| --- | --- | --- |
| Best of Show | "Mother's Love" | Richard Hausen |
| 1st Place in Show | "Dual Racers" | Kathleen Warren |
| 2nd Place in Show | "Resting" | Bea Walter |
| 3rd Place in Show | "Yellow Crowned Night Herron" | Bill Shoemaker |
| 1st Place, Photography | "The Tree of Life" | Bob Carlsen |
| 1st Place, Watercolor | "Just the Two of Us" | Judy Barnewolt-Jones |
| 1st Place, Colored pencil/drawing | "Chat Time" | Mary Lee |
| 1st Place, Mixed Media | "Got an Eye On You" | Michael Gleason |
| 1st Place, Oil | "Angeles Horsey" | Richard Hausen |
| 1st Place, Acrylic | "Savannah and Friends" | Karen Neville |
| 1st Place, Pastel | "Tea Time" | Michael Gleason |
| 1st Place, Sculpture | "Sealife" | Margit Force |
| Honorable Mention | "Preening" | Bob Carlsen |
| Honorable Mention | "Bronze Blur" | Chris Weigl |
| Honorable Mention | "Miller's Pond" | Phyllis Moor |
| Honorable Mention | "Eyes of the Wolf" | Margit Force |
| Honorable Mention | "Curves" | Kathleen Warren |
| Honorable Mention | "Dress Rehearsal" | Bill Shoemaker |
| Honorable Mention | "Who's That in My Forest" | Stephanie Salkin |