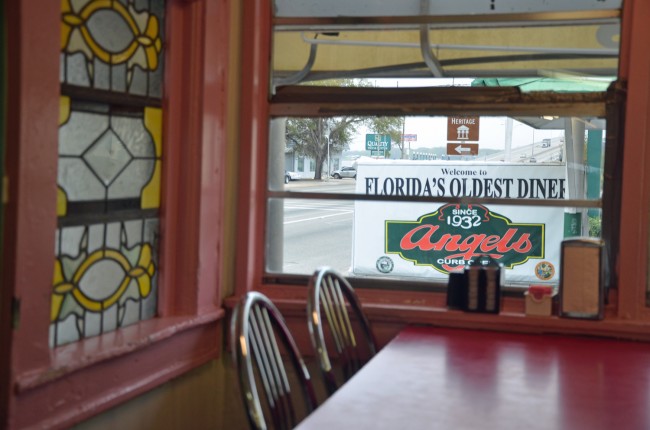 Who says cancer doesn't have its perks?
We were making the drive to Gainesville this morning for what was to be the fourth time in seven days–not for treatment, not yet, but for what passes for treatment foreplay, that endlessly touchy-scanny period that preps you for the actual nuking—when, almost past Palatka, we got a call from Shands that sounded more like a call from a central Soviet republic 50 years ago: the cat-scan machine was broken. UPS wasn't delivering the part until later today, if then. My scan had to be rescheduled to Thursday.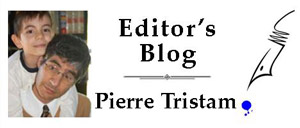 Fast over: I could now eat. Cheryl had scanned a diner somewhere in Palatka's lost time on our previous travels through Putnam County's cubic zirconium of a town. I Googled diner and Palatka, and in minutes we had our elbows on faded-pink formica at Angel's Diner. The awninged rail car with curbside service calls itself Florida's oldest diner, there allegedly since 1932, which would have had it open in the depth of Hoover's Great Depression, with furniture that hasn't changed and prices that haven't increased much since: where else can you get two eggs, two pancakes, two strips of bacon, two cups of coffee, home fries and an armed cop at the next table, all for about $5.
The tasty contrasts were everywhere. Stained glass in an otherwise aluminum rail car. Newspaper boxes lining the old structure outside, to give the décor a touch of pre-historicity. Dust as old as Hoover's ghost but eggs fresher than the cackle of free-roaming hens (or so we were happy to assume). The diner serves frog legs, an oddly French touch for such a cracker burg. We passed on the legs. The diner also serves something called pusalow, a jig of chocolate milk and vanilla syrup that must be the local variation on milk shakes. My son had noticed the legs, but not the pusalow, so we could pass on that, too.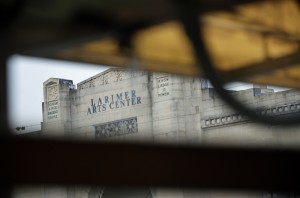 Across the street we could see the stately building of the Larimer Arts Center, the diner's senior by two years and the work of architect Henry Klutho. Two engraved quotes on either side of the stonework marquee have, in their juxtaposition, made the building more famous than its vaguely art deco style: Francis Bacon's "Knowledge Is Power" to the right, and just in case you thought you were in a Cartesian time-warp, the more reactionary and entirely Putnam-like "Ignorance Breeds Crime" to the left. That explained the cop at the next table.
Bacon (the philosopher, not his eponymous yumminess now on our plates) must not have the upper hand in Palatka, seat to a county where the population is smaller than Flagler's, except in its jail: the 231-bed facility exceeds Flagler's jail by 70, but manages to remain full, because Newton's fourth law is immutable: have the beds and they'll fill up, thus filling up the local sheriff's coffers with extra dough. Naturally, Putnam just last week approved spending $15.6 million to build an additional 448-bed expansion. They should edit that engraving on the Larimer for accuracy's sake: Ignorance breeds beds. Too bad Flagler County is following Putnam's lead with its own entirely unnecessary, if slightly less promiscuous, jail orgy. Criminals' conspiracies always pale compared to those of politicians, cops and judges leering the public trough.
The diner was nearly empty when we walked in. It was full by the time we left, like our stomachs, and the stares we drew were relatively few. They must be used to strangers in what amounts to one of the town's chief attractions, along with its 164-year-old Episcopal church, the obligatory confederate monument in front of the courthouse, and the St. Johns River's mile-wide languor, which elbows Palatka a toast's throw from Angel's. We'd found ourselves the perfect post-radiation relay, assuming Shands' nuclear gadgets don't keep going Chernobyl on our tumors.

Pierre Tristam is FlaglerLive's editor. Reach him by email here or follow him on Twitter.