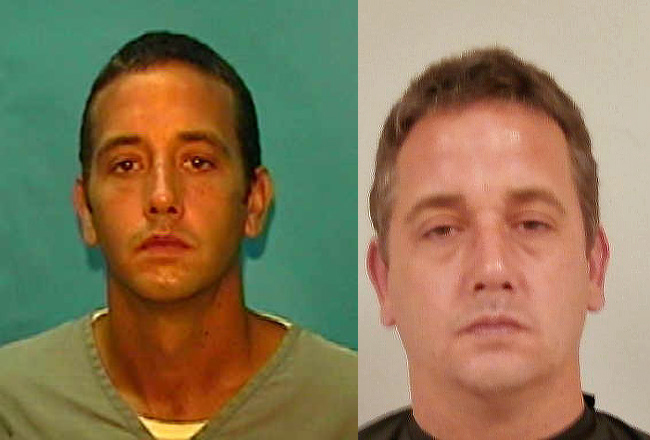 It was an unusual move for a sitting sheriff. But there was Flagler County Sheriff Jim Manfre Monday, addressing Circuit Court Judge J. David Walsh after a felon had entered a no-contest plea, and asking the judge to impose a lengthy prison term.
The felon was Andrew Rulon, 41, of 17 Lakeview Lane in Palm Coast. Walsh imposed an eight-year prison sentence followed by seven years of drug-offender probation on burglary and drug charges.
A sheriff would not normally appear at the sentencing of what seems like an ordinary felon getting an ordinary sentence.
But there's history between Manfre and Rulon, and a little bit of geography. Almost 10 years ago, Rulon was convicted on charges of assault and armed robbery. Manfre was sheriff at the time, finishing his first stint in that position. His detectives investigated the case. In 2005, just after Manfre left office, Rulon was sentenced to seven years in state prison, with credit for time served, but was released in October 2010.
Just after 10 p.m. last April 25, Rulon, was arrested again. He was hiding in the woods in the area of Beechwood Lane and Lupi Court, northeast from the intersection of Palm Coast Parkway and Belle Terre Parkway. Moments earlier, 911 had received a report of a burglary at Safe Haven Veterinary Hospital at 30 Lupi Court, where a window had been shattered. When Rulon consented to a search, deputies found eight syringes filled with a non-narcotic fluid and an intravenous pack marked "For Veterinary Use Only." But Rulon refused to answer questions. The items found on Rulon were matched to those missing from the veterinary hospital.
The syringes and the pack were valued at $2.24. The window was valued at $300.
Rulon's Toyota was in a nearby parking lot. A large concrete bunny rabbit and wheelbarrow lawn ornament were in the back seat of the Toyota, which was unlocked, with Rulon's wallet and driver's license under the steering wheel, in a cubby. The bunny rabbit was stolen from from a yard on Farragut Drive on April 22. It was valued at over $100.
Rulon posted bail on $8,000 bond and was released after his April arrest, but re-arrested two weeks later when a deputy noticed Rulon driving his Toyota erratically down Colbert Lane and on State Road 100. When a deputy stopped him, Rulon claimed he'd been arguing with his girlfriend over the phone. But his eyes were watery and bloodshot, according to his arrest report. His speech was slurred. His car smelled of alcohol.
He was found to be in possession of small amounts of crack cocaine. Deputies had planned to test him for drunk driving, but the cocaine discovery trumped that attempt, and Rulon was booked at the Flagler County jail.
"It is unfortunate that the defendant in this case chose to victimize residents of the Grand Haven community," Manfre said at the sentencing on Monday, in comments reported in a Seventh Judicial Circuit news release. "The sentencing of the defendant to eight years in prison, followed by a long term of drug offender probation is testament to the strength of our Neighborhood Watch program in that community. The local group was able to keep residents informed about the defendant and following his arrest, they continued to make sure they were active participants during his prosecution and ultimate sentencing."
Manfre is a resident of Grand Haven.