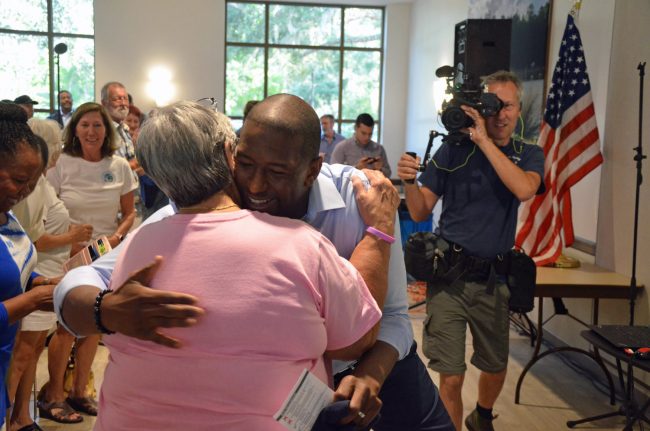 Before the first partisan word is spoken by or about either Andrew Gillum, the Democratic nominee for Florida governor, or Ron DeSantis, the Republican nominee and former congressman representing Flagler County and the rest of the 6th Congressional District, one difference between the two candidates is as indisputable as it is stark. It has nothing to do with politics, ideology, Trump, Obama, red or blue.
Gillum, the Tallahassee mayor since 2014, hadn't taken more than a few steps outside the Palm Coast Community Center when he got there in late afternoon Sunday before he started hugging supporters, posing with them for selfie after selfie as if he had no other care in the world, talking to them like everyone's prodigal son as he made his way to a hall filled with nearly 400 cheering voices.
It was his first trip as a candidate to Flagler. But in those few minutes, Gillum had a seemingly genuine rapport with local voters that DeSantis never managed in six years as Flagler's congressman, going back to the evening of his coming out as a candidate at a February 2012 campaign event at this same community center's older version: Back then, running against five Republicans in that year's primary, DeSantis stood against a wall, inexpressive, waiting his turn to speak. He switched it on then. And then off.
With rare exceptions, his six years since have been similarly peripheral to the district or its people, exhibiting the same off-and-on relationship, never fostering the sort of constituent services John Mica, his GOP predecessor, was famous for.
Somebody must've told Gillum.
"Now I've got to tell you, I've got a particular amount of joy about this," Gillum told the Community Center crowd about running against DeSantis, "because the person I'm running against on the Republican side I believe happens to be your member of Congress." Boos cascaded across the room. "Well, the more I get to know him, the more I understand exactly what you all mean." But that would prove to be one of only a few direct hits against DeSantis–as if to make him a no-show even in Gillum's campaign speeches.
Landing Gillum for a barbecue was Flagler Democratic Party leader Stephanie Capehart's latest coup: After drawing about 100 people for a "March For Our Lives" demonstration along Palm Coast Parkway in the wake of the Parkland school massacre, she drew Judy Mount, the vice chair of the state Democratic Party for a rally featuring other local Democrats in Flagler Beach. On Sunday, the barbecue featured Nancy Soderberg, the Democrat running for the congressional seat DeSantis gave up, Sean Shaw, the former state House member running for attorney general, and Gillum, along with the rare Democrats running locally (John Tipton and Jack Howell, for two open Palm Coast council seats, and Adam Morley for the House seat held by Paul Renner.)
"When I took over this position earlier this year, the most common statement I heard about Democrats in Flagler County is, Where are they?" Capehart said. "And if today is any indication of things to come, we have more energy, more volunteers, more people willing to engage and stay engaged, and I'm hoping that they'll not only get engaged now through this race, but through 2020. That's my goal."
Gillum's presence was a draw, of course. But no one had expected it to be that much of a draw. To Flagler County Republicans, big crowds are routine. They control a one-party county since Democrats lost their registration advantage after 2008, and lost it big. But no Democratic event had drawn that many people under the same roof in at least two decades, if not more: the crowd lapped him up with constellations of cell phones held aloft and set to video. Dozens lined the walls, the seats being all full.
"Rumor had it there were no Democrats here," Gillum said. "They were wrong."
Jim Manfre, the former two-time Flagler County sheriff (he won in 2000 and again in 2012) had been speaking with John Tipton at one point in the afternoon: "John," he told the relative newcomer to Palm Coast, "you just happened to see the best day in Flagler County's history since I've run in 20 years. This is it. I've never had this much enthusiasm, and people just having a cause."
Manfre's daughter Catherine had volunteered for the Hillary Clinton campaign in the district two years ago. "We couldn't get that number of people out to save our lives until she came here to Daytona, we couldn't. People either didn't think it was going to happen," Catherine Manfre said of Donald Trump's election, "or they just didn't care."
"We need younger candidates like Andrew, we need these candidates that have different ideas and are unafraid to be unashamedly progressive," she said.
Ralph Lightfoot, who headed the local Democratic Party before Capehart and is still immersed in the organization, said the enthusiasm has translated into more volunteers knocking on doors in the streets. The state Democratic Party hands out monthly $1,000 grants to counties that score high on door-knocking. Flagler won the small-county division two months in a row, Lightfoot said.
The higher energy, he said, "I attribute it to Donald Trump, the greatest motivator in the world. Negative motivation, I mean, people want to get rid of him. We're trying to win the House. We must absolutely win the House, but that's the primary factor."
He then spoke in terms almost identical to those spoken at the last massive rally in Palm Coast–in 2010, by the then quite active Flagler County Tea Party, though back then instead of "Trump," demonstrators said "Obama." Instead of "fascism," they said "socialism." Everything else they said paralleled Lightfoot's words.
"People are disenchanted because democracy is under attack, and if we don't do something we could lose the whole country if people don't rise up and do something," Lightfoot said. "We could lose democracy to fascism. If Trump had his way, based on what you see, he wants to be a dictator, and if we don't rise up, the Republicans aren't doing anything to combat the guy, so our only recourse is to win the House, win the Senate, and then we can make some changes." (The tea party movement helped Republicans retake the U.S. House in 2010.) "But I've never seen anything in Flagler like it is now. You know how we were six years ago. We started with negative seven dollars, and now we're up to 20 grand in the bank, so it's a big difference. "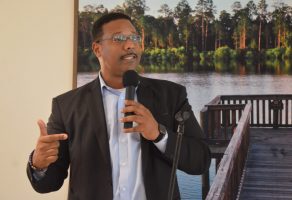 Hardly anyone had known or seen Sean Shaw, the candidate for attorney general, when he took the stage just before Gillum and after Soderberg and the local candidates had spoken–and after everyone had consumed the afternoon's barbecue and the tables were rolled out to make way for chairs in rows to accommodate two rooms combined for the main event.
The Attorney General's office under his leadership, Shaw said, would do a 180 for gun control, a woman's right to choose, protecting the environment and public education. It would be "the most action-oriented office," Shaw said, unafraid to project himself as an activist attorney general. "Pam Bondi acts like she's the general counsel for the Republican Party," he said of the current attorney general.
"The first lawsuit I will drop is Florida's participation in the lawsuit against Obamacare," he said to applause. (Florida is party to litigation against the Affordable Care Act, including, currently, a lawsuit that attempts to end insurance coverage for pre-existing conditions.) "The second lawsuit I will join is against the president, because I also don't believe that you should personally profit from the president, and the third one is the detention center policy lawsuit." He added, "This is a scene that requires aggression."
Shaw, too, remarked about the throng. "Look at this room. This is not normal. This is not normal, Democrats, we have to take advantage of this," Shaw said. "This same room is happening in every county I go to."
He was followed by the Blue Note Quartet, a group of singers who put a few well-known tunes to politicized lyrics–well-meaning if cringe-inducing riffs on "Living it up in GOP America" and "there ain't no cure for the health care blues."
It was the bridge to Gillum, who was just then arriving outside–and marveling over Anita Moeder's black Mini-Cooper convertible, converted into a Gillum-mobile as well: she'd stencilled "Andrew Gillum for Governor" in large white letters on both sides of the car, drawing Gillum's attention before and after the event, when he hopped in for a few pictures. "This commitment here is a whole other level," he told Moeder. "I want to see this in the inauguration parade."
He wasn't exaggerating, at least not about the parade: two polls released last week had him widening his margin over DeSantis, by nine and five points. No poll has had him behind since polling started in August.
To the crowd, Gillum spoke for Soderberg, for renewable energy, for higher teacher pay, for the Affordable Care Act: "When we win this race you're actually going to have a governor who actually believes that we ought to treat health care as a right and not a privilege," he said, and to make Medicaid available to 800,000 Floridians currently denied it.
He rode the crowd's enthusiasms to new highs: "When we win this race–not if, not if, but when we win this race–the NRA has another thing coming for them," he said, words unheard out loud in gun-addled Flagler in years. "This is not anti Second Amendment. This is simply saying that if you want to carry the power of God on your waistband, you at least should have a background check. Shouldn't be an extreme thing to ask for. It is saying that, you know what, if you're a domestic violence abuser, you shouldn't have access to a gun where you can take out the life of your loved one. It is simply saying that if you want to shoot a gun that can fire all 60 bullets in 60 seconds that you ought to join the military." (Gillum was off by a zero: the U.S. military's M-16 assault rifle can fire at a rate of 800 rounds per minute, the the AK-47 at a rate of 600 rounds. The Las Vegas massacre shooter retrofitted a semiautomatic weapon with a "bump stock" that gave him firepower at over 500 rounds per minute.)
And while Gillum echoed Michelle Obama's advice–"when they go low we go high"–he said a different standard applies to the Democratic ranks in front of him: "When they go low you've got to go to the mat." He later elaborated in a brief interview that Democrats should be past tolerating division based on skin color: "Unfortunately," Gillum said, "my opponent began this race in the gutter, His comment was not lost on me, and frankly his comment was not lost on others, a few days after he made those comments, neo-Nazis were phone-banking into the state of Florida, using race and parodies of me, or claiming to be me, as a way to basically call my race into question, and to use it as a way to score political points."
Gillum was referring to DeSantis's comment in a Fox News interview shortly after Gillum's victory that Florida should build on Rick Scott's record. "The last thing we need to do is to monkey this up by trying to embrace a socialist agenda with huge tax increases, and bankrupting the state," DeSantis said.
"I certainly felt that he was using a page from the Trump manual of campaigning, which is to divide based off of differences like race," Gillum said, speaking with a trio of reporters after the rally. "He's a Yale and a Harvard graduate, language is certainly not lost on him. He could have used plenty of ways to explain what he wanted to get across. I think he used his words strategically, and I think he used them as a bullhorn to a certain group of people. What I wanted him to know is that that would not be acceptable in this race."
But speaking to the crowd Gillum had words about reaching across ideological chasms, too, when his humor showed most. "I know y'all in Flagler County. I know y'all got friends that you recreate with and you hang out with who may not believe like we believe." The room grumbled. Flagler Republicans have an advantage of 8,000 more Republican registrations than Democrats, out of a total of 82,000 registered. "Well, let me tell you, we've got to talk to 'em. We've got to tell them to vote their own interests."
He was his own example: "I'm going to go everywhere. I'm going to talk to everybody. I even campaigned at the Villages," he said to howls of recognition about Florida's redoubt of wealthy retirees whose golden oldies rhyme with Barry Goldwater and John Welch's Birchers. "I went to the Villages y'all for a meet and greet, thinking I might meet 50 or 100 people, when I got there the room was teeming with over 500 retirees." An elderly white gentleman at that meet and greet then stood up and told him he'd help him to the governorship with a $20 donation.
"Now, I thought, you know, we're at the Villages, surely you got more than $20," Gillum continued. "I didn't say it y'all, but I thought it. And then he turned to the rest of the room and says, if anybody else believes that Gillum ought to be governor, I want you to give him., $5, $10, or $20, so he turned it into a fundraiser. When we left that meet-and-greet, now turned impromptu fundraiser, we walked out of there raising nearly $6,000. The point of that is, we've got to talk to everybody. We've got to stop treating the race for governor as if it's the electoral college. You don't win one county and lose another, pick up one and lose another. You win by getting one more vote than the next person, and that one vote may come throughout anywhere, throughout the length and breadth of this state."
He even packed an auditorium in Palatka.
Soon after that it was back to the hugging and embraces and "I love you's" as Gillum made his way back out.
Will any of this translate to votes come Nov. 6? "We absolutely, honestly believe we're going to elect two councilmen, and for sure we absolutely believe we're going to elect Gillum and Nelson. That's our firm, firm belief," Mike Cocchiola, the pugilist, ever-candid leader of the Flagler Democratic Club, said.
And Soderberg? "Yes, her race is going to be harder though. I forgot about Nancy and I forgot about–" he paused, looking for the name. Someone reminded him: Adam, as in Adam Morley, the Florida House candidate on his third run for that seat. "Adam," Cocchiola said. "I mean, we expect to elect all of our candidates. Some have tougher races than others, but certainly Nancy's race is a very important race, council races are very important races, but we know in Florida we have got to capture the governor's seat and the senate if we're going to turn America back toward the light instead of the darkness. Simply going to have to do that."
Note: The New York Times, in a reference to Gillum's Palm Coast rally, linked to this story in its Oct. 4 article on the DeSantis-Gillum race.