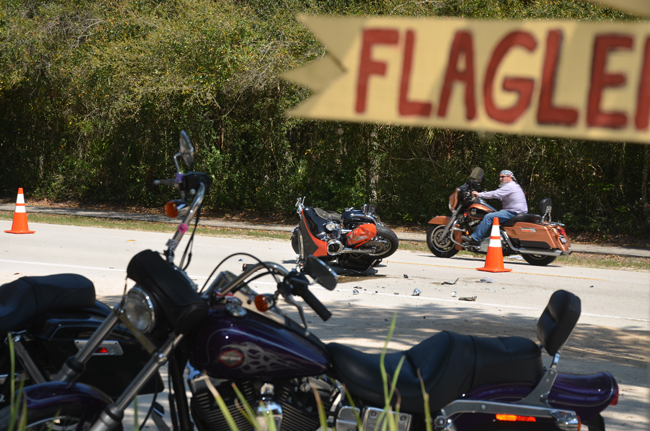 Biketoberfest 2013 officially began on Oct. 17 and will run through Sunday (Oct. 20). At 8:20 p.m. Friday (Oct. 18), Flagler County registered its first serious wreck of the event, in a location where vehicle-versus-bike wrecks are disturbingly routine: The intersection of U.S. 1 and Matanzas Woods Parkway, and not just during the year's two major bike events.
Allen Brice Shepard, 32, of St. Augustine, was traveling north on U.S. 1. on a 2002 Suzuki motorcycle. Samantha Goodridge, 44, of Apopka, was at the wheel of a 2008 Honda van. According to the Florida Highway Patrol, Goodridge was going west on Matanzas Woods, which ends at U.S. 1. Goodridge made a complete stop at the intersection's stop sign. But she then began to maneuver across the northbound lanes to make a left turn and go south.
Somehow, she did not see Shepard on his bike, riding north. It is the same story driver after driver tells authorities in such wrecks at that intersection, even though U.S. 1 is a straight road at that point, with long lines of sight unimpeded by vegetation in both directions. The weather was dry Friday evening, and a nearly full moon had already risen by the time of the wreck.
Goodridge, the FHP's investigation found, violated Shepard's right of way. Shepard was unable to take evasive action. His motorcycle struck the left-rear of the Honda. Volusia County's Air One, the emergency helicopter, was called in, evacuating Shepard to Halifax hospital's trauma unit.
Alcohol was not involved either with Goodridge or Shepard, FHP found. Shepard was wearing a helmet. Goodridge was cited with violation of right of way.
Earlier this week, the Flagler County Sheriff's Office issued an advisory to Flagler residents and drivers. Motorists, the Sheriff's Office said, should be aware of motorcyclists and share the road.
"Drivers should never drive while they are distracted," a Sheriff's release states. "Doing so could result in tragic consequences for a motorcyclist. Make sure that you allow enough room between your vehicle and a motorcycle. Motorcycles are smaller than a motor vehicle and may be hidden in a vehicles blind spot, drivers should look twice especially at intersections and when making left turns and to use your rear and side view mirrors before changing lanes.
"Motorcyclists are urged to ride responsibly making sure they use their turn signals or hand signals, obey speed limits, and position yourself in traffic lanes where you will be most visible to others on the road and never ride distracted or impaired. Riders and passengers are encouraged to wear an approved safety helmet and to make sure that they wear bright colored clothing so they can be seen by others on the roadway.
"Visitors are reminded that large events such as Biketoberfest can also attract con artists and thieves who are looking to scam tourists, steal motorcycles and other valuables. Motorcyclists should be sure to secure their bikes, trailers and other valuables at the end of the day. Do not let a crime spoil your vacation."
"We welcome bikers to Flagler County and hope that they enjoy their visit and have a safe, fun filled weekend," Sheriff Jim Manfre said.