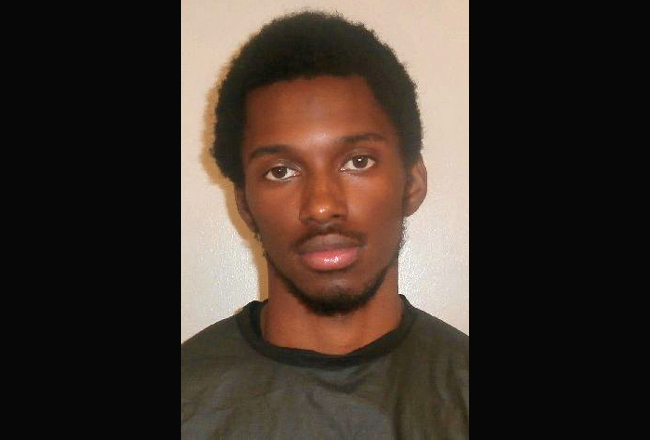 Allen Brown is an 18-year-old student at Matanzas High School. Early this morning, before the first bell at 8 a.m., during breakfast at the cafeteria, Brown reportedly walked into the cafeteria, took off his shirt, then stepped toward a student in the northeast corner of the cafeteria and, "with a closed fist," began punching the student, according to a police report.
School Resource Deputy John Landi, who has been an SRD before but was recently assigned to Matanzas, was in the cafeteria at the time when Assistant Principal Kara Minn told him of Brown walking in shirtless.
As Brown began punching the student, Landi and Bob Sawyer, the dean of students at Matanzas, ran toward the fight, according to the police report. The deputy pushed the student being allegedly pummeled away from Brown "while giving loud verbal commands to break it up," the deputy wrote in the report.
The student Brown was allegedly punching is 15.
"I attempted to secure Mr. Brown and he began resisting by pulling his hands away and not following my orders," Landi writes in the report. "At that time, Mr. Brown turned around and struck me with a closed fist on the right side of my head twice. I pushed Mr. Brown back and began to slip on the floor. At that time Mr. Brown advanced toward me with both hand[s] in the boxer's stance. While I was falling on the floor I deployed my department issued ECD X-26," Landi writes, citing the Taser's serial number, "discharging one cartridge with both probes making contact on the left torso of Mr. Brown. Mr. Brown fell to the ground where he was secured in handcuffs."
Paramedics were called to the school, removing the prongs from Brown and checking his vitals. The deputy contacted Brown's parents, notifying them of the incident. Brown was taken to Florida Hospital Flagler for medical clearance, then booked at the Flagler County jail.
"All parties involved sustained minor injuries and were treated at the scene by Flagler County Medical and Rescue personnel and released," a sheriff's news release states.
Brown is being charged with Battery, Battery on a Law Enforcement Officer and Disruption of a School Function.
It is the first case of a Taser being used on a student in Flagler County schools since a special education student was Tasered at Flagler Palm Coast High School in 2007, in an incident then-Superintendent Bill Delbrugge termed regrettable. Tasers were subsequently removed from deputies' possession. But Tasers were reinstated in 2011 after an incident at Matanzas High School in which a student head-butted an SRD, injuring him.
In September 2011, School Superintendent Janet Valentine urged the school board to enable school deputies to be armed with Tasers again. The board voted 4-1 that October to follow Valentine's recommendation.