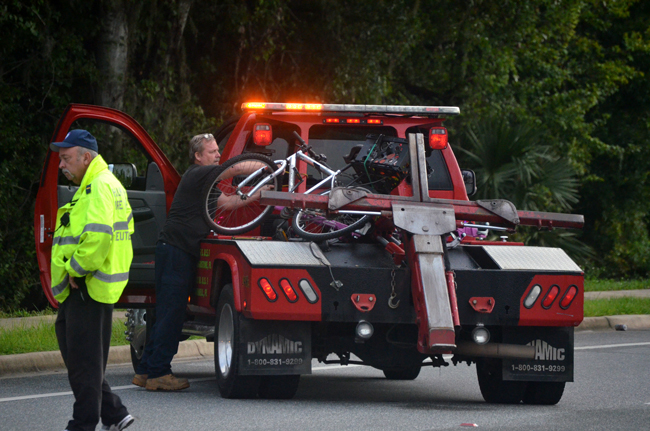 Alex Taylor of Bunnell, 54, was killed while riding his bicycle on State Road 100, right in front of the Government Services Building, in an apparent hit and run either very late last night or before sunup this morning, according to the Florida Highway Patrol.
State Road 100 westbound was closed from about 6:35 to 8:30 this morning. The victim's body was removed at about 8:20 by the medical examiner. An autopsy will be performed.
Taylor's death is the second in two days for a cyclist or motorcyclist on Flagler roads. On Monday, David Rocky, a 67-year-old Palm Coast resident, was killed while riding his motorcycle on U.S. 1, just north of the Flagler-Volusia line.
Taylor was riding west in the bicycle lane, toward downtown Bunnell, when he was struck either by a vehicle directly, or by something protruding out of a vehicle, the Florida Highway Patrol's trooper S. Howard said at the scene this morning.
"We're not really sure about pinpointing the time of the crash. We're still working on that," Howard said.
FHP is looking for leads–anyone who may have seen Taylor or any cyclist on SR 100 sometime late last night or early this morning should call 1-904-695-4115.
Taylor was wearing a light blue t-shirt and dark gray blue jeans. He was not wearing a helmet or a hat. His bicycle is a silver-white mountain bike with a black crate bungee-corded to the back.
A motorist noticed Taylor on the side of the road and notified a Flagler County Sheriff's Deputy, who was in a cruiser in the county courthouse parking lot across the street. The deputy was notified at 6:22 a.m. It would have been difficult to see anything amiss, in the dark, from the courthouse parking lot.
Taylor was partially in the grass curb and in the bike lane. The bicycle was mostly in the bike lane, after the accident. The highway patrol is "making that assumption"–that it was a hit and run. Howard said. He added that it is possible for a vehicle carrying or trailing something, like lawn mowing equipment, to have that equipment hit someone and not sense it in the cab of the car. It was not yet possible Tuesday morning to determine how precisely Taylor was struck, as he had many abrasions. An autopsy was to be performed this morning.