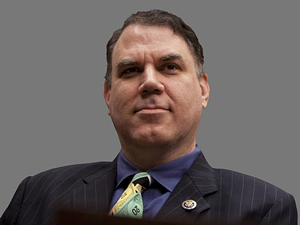 Back in March the phone rang at the Washington home of Alan Grayson, the Democratic congressman from Orlando and one of Congress' more liberal voices. Grayson's 5-year-old son pushed the speaker button. This is what he heard: "If you vote for healthcare, I'll kill you." The boy then went to his mother and said: "Mommy, there's a lady on the phone who said she's going to kill me."
The fanatics are at it again.
Dan Gainor is a Republican operative and one of the people behind the "Media Research Center," the reactionary echo of Media Matters. Gainor who refers to himself as a "professional loudmouth" on his Twitter page. On July 20 he offered a reward for anyone who'd assault Grayson, scratching: "I'll give $100 to first Rep. who punches smary idiot Alan Grayson in nose [sic.]. He's a caricature of a congressman." Gainor, in other words, is offering $100 for anyone to commit a felony on a congressman, putting up less than bail money in exchange.
The following day, Grayson got another death threat.
"After Fox News spewed its usual clownish hatred about me yesterday, my office received a call," Grayson wrote on his Huffinton Post blog. "The caller told our receptionist — a young intern — that "10 people are going to kill the Congressman within 24 hours." We gave the information to the Capitol Police; they are investigating."
He went on:
Fox. You'd think that they would have learned their lesson after Dr. George Tiller was killed. And they did learn a lesson: a lesson in killing.

And why? Because I told the truth: the truth that by stalling on unemployment insurance, right-wingers revealed themselves to be heartless, selfish wretches, who have been taking food out of the mouths of children.

[…] First threatened assault. Then threatened murder. Do you see how they ratchet up the bullying, and try to cow us?
Grayson also quotes Yeats ("Things fall apart; the centre cannot hold"), though mostly to make a pitch for his campaign.
Fox has been loudly and relentlessly lambasting the Department of Justice for not pursuing a dubious allegation of threats of violence by the New Black Panther Party in Philadelphia on Election Day in 2008. Not a word on the posted incitement to violence against Grayson.