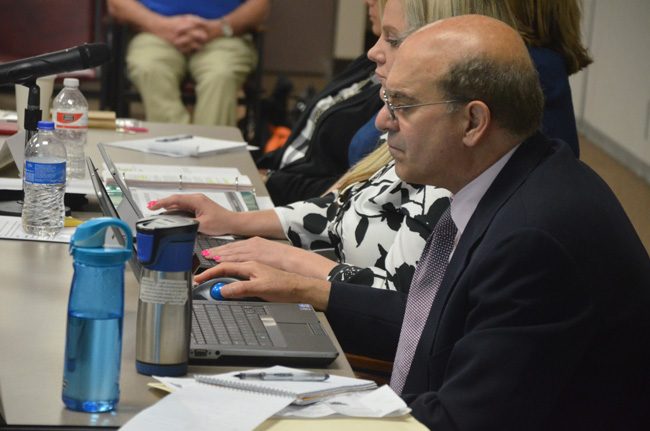 Irony in government is like nitrogen in the atmosphere: inert, unspoken, everywhere. So it was when the Florida Association of County Attorneys awarded Flagler County Attorney Al Hadeed the 2016-2017 Ethics in Government Award earlier this month, not long after Hadeed spent about two years he'll never get back battling a couple of dozen ethics and other related complaints against the county commissioners he serves.
The complaints were for the most part frivolous, cooked up by overzealous spaghetti strategists who thought the more complaints they threw at county government officials the likelier some of them would stick. Like a broken clock that proves correct twice a day, a couple of them did, costing a commissioner plenty of money and an election. The rest did not. The vigilantes even filed two angel-haired complaints against Hadeed with the Florida Bar Association. Also frivolous.
Hadeed had no idea he'd been nominated for the ethics award. He was at a continuing education conference hosted by the county attorneys' association, having lunch with colleagues, when his name was called out. "I was still eating when they announced the award," Hadeed said. "I said, 'Are they talking about me?' It came as a surprise. Obviously I'm very humbled by it, I didn't expect it."
He may have caught the attention of the association when he gave Continuing Legal Education lectures to the Florida City and County Management Association this year, or when he lectured on ethics to the Florida Municipal Attorneys Association in 2016. Just as likely, the association's collective memory played a role: Hadeed's influence on Florida law has been no small thing going back to the mid-1970s and 80s, when his involvement in ethics law started with his collecting signatures on petitions to put the Sunshine Amendment in the Florida Constitution (voters approved the amendment in 1976, overwhelmingly). He then moved on to filing briefs or making arguments before appellate and Supreme Court judges on cases that made electoral and ethics history.
Hadeed wrote a friend of the court brief to the Fifth Circuit Court of Appeal after the ethics amendment drew a lawsuit from parties who claimed it violated the state's privacy law. The court upheld the amendment. But the Secretary of State refused to implement it. Common Cause and the longtime Chairman of the University of Florida's Department of Political Science sued. Hadeed represented them, arguing the case before the Florida Supreme Court. "I petitioned and eventually obtained an order that compelled the secretary of state to implement the law," he said.
In the early 1980s, legislators tried to weaken the state's seminal Sunshine Law by pitching a constitutional amendment that would have allowed them to lobby immediately after leaving the Legislature. The ballot language they devised was craftily misleading as it went about repealing a portion of the Sunshine Law while making it appear, to voters, something other than it was. Former Governor Reubin Askew, Common Cause of Florida and the Florida League of Women Voters sued. Hadeed represented them.
The case was unfolding within weeks of the election, forcing Hadeed essentially to do what courts rarely allow: bypass the appellate process and go straight to the Supreme Court, which heard the case after ballots had been printed. Yet it ruled in favor of Hadeed's side and, in a Florida first, ordered the measure stricken from all ballots. It didn't end there: "It led to the reform legislation to have proposed ballot measures tested first by the Supreme Court before it goes on the ballot to make sure it complies with constitutional and election measure standards," Hadeed said, echoing Justice Ben Overton's explicit suggestion in his concurring opinion from the case at the time: "To avoid future situations in which this Court may again have to exercise this extraordinary power of striking an amendment from the ballot due to misleading ballot language, the legislature and this Court should devise a process whereby misleading language can be challenged and corrected in sufficient time to allow a vote on the proposal."
Compared to all that, Hadeed's more recent battles against ethics vigilantes pale as a legal challenge, though it's not likely the vigilantes were aware of the legal mind they were taking on. His day to day work on behalf of the commission doesn't vibrate to the same pitch of Supreme Court arguments, but it continues to solidify, if not make, new law, as was the case with Flagler County's battle to regain a measure of regulatory control over vacation rentals. Hadeed and commissioners successfully argued before the Legislature to win passage of a law restoring that control in 2014. Hadeed wrote the local ordinance reflecting that new authority. The ordinance became a template for local governments across the state. But legislators continue to seek to take back the power they relinquished in 2014. That fight is ongoing.
So Hadeed may have been surprised by the award when he heard it announced at that state association's lunch, though he could not have been surprised by Association President Patrick McCormack's reference to Hadeed's "outstanding work and expertise in fostering proper ethics and rules of professional conduct in local government law." Or to how Seminole County Attorney Brian Applegate said that Hadeed "has set the standard in not only conducting himself with high ethical principles, but in defending his client and its representatives with passion and conviction. He is a leader among Florida County Attorneys in many areas of the law."
Hadeed, a county release announcing the award states, is responsible for all legal issues presented for consideration by county commissioners, such as ordinances, resolutions, contracts, bidding, and inter-local agreements. (The release, oddly, featured not a single quote from Hadeed.) He offers legal advice to all the county's appointed boards and councils and to constitutional officers who request it.
How did Hadeed celebrate, after the county commission ceremonially marked the award at a meeting last week? "I went straight home after the meeting," Hadeed said. "That's very rare. Normally I stay after the meeting because I try to do things, work that was generated by the meeting or backlog items."