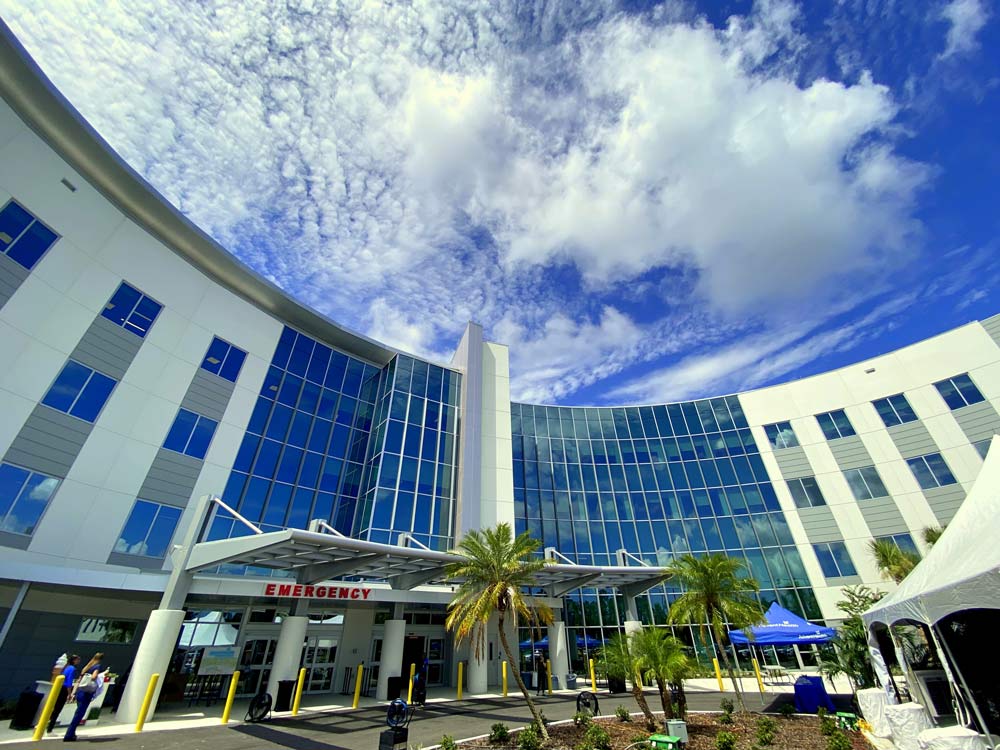 The new AdventHealth Palm Coast Parkway hospital will open its doors to patients on Aug. 2, but the facility has already passed a major stress test.
"This has been years in the making going all the way back to 2019 when we started our planning and site selection," said Wally De Aquino, president and CEO of AdventHealth Palm Coast Parkway, during a media tour of the new hospital on Tuesday. "We eventually broke ground in September 2021, and what a time in history to start a project like this. While the entire country and world were dealing with a pandemic, staffing challenges and inflation, we pressed forward.




The hospital, located between Palm Coast Parkway NE and Palm Coast Parkway SW, just west of Belle Terre Parkway, will hold a community open house from 1-4 p.m. Wednesday at the campus, whose official address is 1 AdventHealth Way. Dubbed "Picnic on the Parkway," the free open house will feature hospital tours, food, music, giveaways and other activities. Attendees can pre-register for the event here, but registration is not required online.
De Aquino referenced the hospital's ties to the Seventh-day Adventist Church during his opening address to the attending media: "Our mission is to expand the healing ministry of Christ into this new facility. We will express our mission by providing exceptional care and demonstrating our commitment to the well-being of the residents of Flagler County." It was in that context that he said: "Today we thank God for the blessings that allow us to be here today, and to have a strong health system that stayed committed to this community even during such difficult times."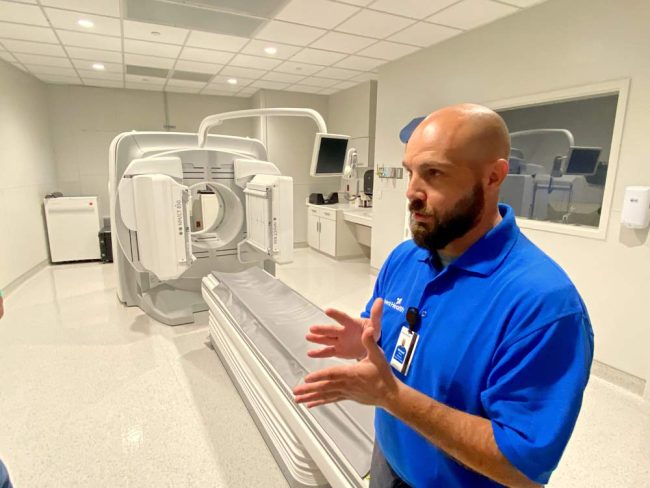 The 158,000-sqaure-foot facility, which cost $167 million (including a medical building dedicated earlier this month), includes 100 inpatient beds, which will double the inpatient capacity for Flagler County when added to AdventHealth Palm Coast, the hospital that recently marked its 20th anniversary at its campus on S.R. 100 just west of I-95.
The emergency department at Palm Coast Parkway houses 24 beds and includes a helicopter landing pad, and will "almost double" the county's capacity for emergency services, De Aquino said.




"The community has grown a lot over the past few years," he said in response to a question about ER wait times. "One of the things we did to make sure that goes a little bit smoother is we actually installed a CT (computed tomography scan) and an x-ray inside the emergency room, so we can care for those patients much quicker."
The hospital is "fully staffed up for our opening with more than 350 team members to care for patients," said Audrey Gregory, president and CEO of AdventHealth Central Florida Division – North Region, which includes operations in Flagler, Lake and Volusia counties. "That includes our critical team, noncritical team and physicians. We will continue to recruit physicians and team members as we continue to grow."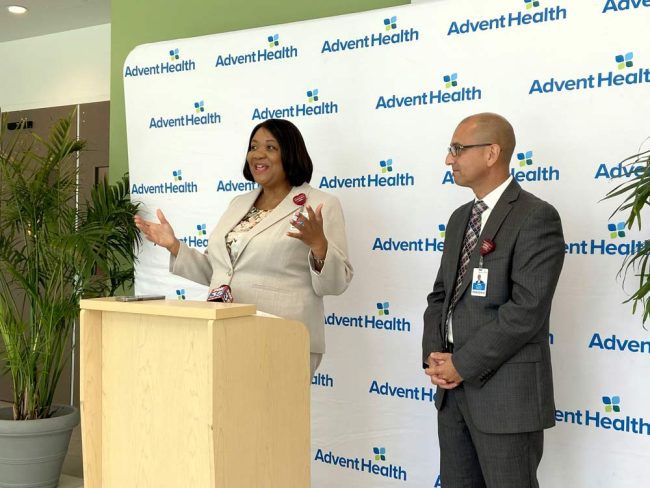 Services offered by the new facility and the S.R. 100 campus will be mostly the same, De Aquino said. "The big difference is we are recruiting more physicians to our community, specialists who will be using this facility to provide more access for our community – for example, urology and general surgeons."
Doctors at either hospital can choose to work at both, he added.
The new hospital will have staffing for 58 to 60 patients upon opening, De Aquino said. "We do expect during the winter that this might increase as we have snowbirds down here. We are anticipating that we are probably going to be at 80% capacity by the end of next year."
Gregory said Flagler County "is one of the fastest-growing counties in Florida." The Palm Coast Parkway site was chosen because AdventHealth is "committed to going where the community is, so as Flagler County grew in this direction, we wanted to make sure we are providing access at that point."




"We continue to look at growth and planning," De Aquino said. "We already own two pieces of land north of here in Flagler County. The current hospital at 100 is also an opportunity for us to expand because we are sitting on 100 acres there. So we are ready for growth."
"It's really not about just growing hospitals," Gregory said. "It's really making sure we have access to different kinds of services. In the fall of this year we will be breaking ground on our Palm Coast campus to build a cancer center. We want to make sure that even with our current access, that we have the right type of access for the community with the right kind of services that the community demands."
Today's tour wasn't just for media: it included contributors to the AdventHealth Palm Coast Foundation, among them Rick Belhumeur, the Flagler Beach city commissioner. "What an amazing community partner Advent Health is by investing over and over again in our community's healthcare needs," he said. "The Advent Health Foundation uses all their donations to support the community in which it is generated and I am happy to help support the Hospice House and the Diabetes Alliance through their foundation as a 20/20 member."
– Rick de Yampert for FlaglerLive