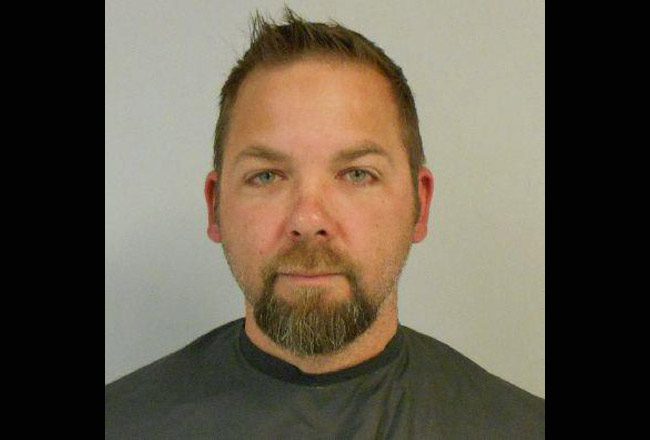 Aaron A. Whitley, a 42-year-old resident of 6 Buttonwell Lane in Palm Coast, turned himself in at the Flagler County jail Tuesday (April 25) on a second-degree felony charge of molesting a 12-year-old last November. Whitley almost immediately posted bail on $50,000 bond. (The charging information lists it as a second-degree felony, the court docket as a first-degree felony.)
The alleged victim put to use a new law enabling children to secretly record their assailant, a recording that now may play a key part in the case against Whitley.
As is the case in over 90 percent of cases involving sex crimes or improprieties against children, the victim was well known to Whitley, who was her mother's boyfriend. The day of the alleged incident, according to the arrest report, Whitley sent text messages to the girl the day of the alleged incident, starting in mid-afternoon–texts investigators seized. Whitley told the girl to immediately delete the messages after she'd receive them.
Whitley picked up the girl at her friend's house later that afternoon and took her to a store to buy candy and other items the girl wanted. The girl would later tell investigators that she considered that "unusual behavior" on Whitley's part.
Later that evening, the girl was watching television in her bedroom when Whitley went into her room, sat next to her and started rubbing her breasts under her clothes, according to the arrest affidavit. The girl got up to leave. Whitley told her he had something to tell her, and allegedly proceeded to molest her again while asking her how she was feeling. The girl fled to the bathroom to get away from him, she told investigators, and very soon after that went to her father's residence and subsequently ended all physical contact with Whitley.
Whitley continued to text the girl the evening of the alleged incident, with another text recorded just after 8 p.m., apparently after the girl had gone to her father's house, where Whitley asks the girl: "You Good?, R u ok?, Are we good."
The girl replied to let him know, according to the report, that "what had occurred was not comfortable for her and she did not want him to do that again," telling him as well that she did not want to see him again, and would only tell him what she thought by text. She tried to get an explanation from him as to why he'd touched her the way he had but Whitley, the report states, evaded the question, telling her he wanted to take her on a trip–and apologizing, saying he was "scared" and again urging her to delete messages.
It wasn't the first time he'd touched her inappropriately, the girl would later claim in an interview with the Child Protection Team, saying he'd also made sexual comments about her appearance and spoken to her about his intimate relations with her mother.
Whitley persisted in various attempts to speak with her by phone, to the point that the girl once told him she couldn't because she'd lost her voice. He made it sound as if he was concerned about her.
Eventually he did have a phone conversation with her–which the girl recorded with a friend's phone.
It is normally a third-degree felony to record someone without consent in Florida, but there are exceptions: law enforcement has had the authority to conduct such "controlled calls," as they are commonly referred to. But in 2015, the Florida Legislature–with both chambers voting unanimously–passed a law that made it lawful for anyone younger than 18 "to intercept and record an oral communication if the child is a party to the communication and has reasonable grounds to believe that recording the communication will capture a statement by another party to the communication that the other party intends to commit, is committing, or has committed an unlawful sexual act or an unlawful act of physical force or violence against the child."
The law was the result of a conviction against a sexual offender the Florida Supreme Court had overturned, because the man's victim–his stepdaughter–had secretly recorded him confirming the assaults, but at a time when Florida law considered all such recordings illegal. Therefore the recording should not have been admitted in court, the higher court ruled. But the Supreme Court also explicitly called on the Legislature to change the law, saying the case made "a compelling case" for an exception.
That's the exception that became the 2015 law, and that the girl put to use to record Whitley on Nov. 22, 2016.
In the recorded conversation, according to the affidavit, Whitley "kept on apologizing and telling [the girl] that he was scared. He mentions that things like this can change people's lives forever and that she knows what can happen because she watches those shows 'referring to Law and Order.'"
Ironically, Whitley was using almost the very same words that circuit judges in Flagler County have used in at least two recent cases when sentencing individuals to long prison terms for extremely brief acts similar to those for which Whitley is accused. But Whitley was using them to refer to himself, as opposed to the alleged victim. Judges have told the assailants in those sentencings that their brief act was what had changed their victims' lives forever.
Whitley, the charging affidavit goes on, tells the girl "that he doesn't want things to get worse for anyone and he will just back off and he will never do it again. [He] states he does not want to go to jail and he is leaving the situation in [the alleged victim's] hands.He goes on to tell [her] that he respects her and he is leaning to her [sic.] to protect him because what he did was stupid." The girl tells him she does not know that she would be able to do that.
In previous such cases where recordings that appear to incriminate the assailant are available and admissible in court, the prosecution has usually had a very strong case. But Whitley's attorney, Aaron Delgado, has already filed a motion to dismiss the case, as well as a motion to suppress. The motion to dismiss cites the State Attorney's "Information," a form of charging sheet, as "vague," "ambiguous," unsupported by facts and other such claims. The motion to suppress argues that Whitley's confessions were obtained illegally.
Such motions are not unusual in lawyers' opening salvos of a case, but absent glaring mistakes or deficiencies on the part of the State Attorney, they are seldom granted and are more akin to tactical signals by the defense to the prosecution that the case will be fought vigorously.
The charging affidavit against Whitley was signed on Jan. 4. Circuit Judge Dennis Craig signed the warrant for Whitley's arrest on April 25. Whitley's arraignment before Craig is on June 12 at 8:30 a.m.