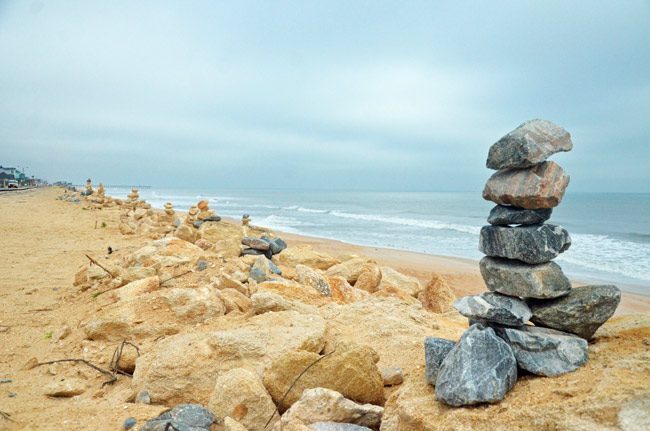 Storms this week caused some erosion damage along State Road A1A in Flagler Beach–not from the sea against the dunes, but from rainwater pushing toward the sea. City Manager Larry Newsom said the removal of rocks from dune revetments along a recently rebuilt stretch of A1A may have been at least partially to blame.
People have been using rocks of different sizes to built rock formations, some of them quite tall, along the east side of A1A at the south end of town. The rock formations have broken up the drabness and ugliness of the emergency repair works of the road but, Newsom said, may have also contributed to the recent damage.
On Thursday, Flagler Beach Police Chief Matthew Doughney got a stern letter from Alan Hyman, the director of transportation operations at District 5 of the state Department of Transportation, asking him to crack down on trespassers removing the rocks from the revetments.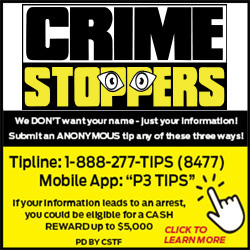 "The rocks and revetment are property of the Florida Department of Transportation, support the roadway, and removal of such could cause a potential threat to public safety or welfare," Hyman wrote. "Further the Department has not given consent to the removal." He cited a trespassing law, and asked the police chief to enforce it.
Flagler Beach City Manager Larry Newsom said residents and visitors should not worry about suddenly getting arrested. It's going to be a more congenial approach.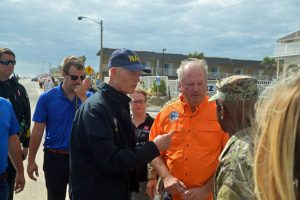 "The first thing the police will do, because I have a great police department, is walk out and say listen, you can't do that," Newsom said. "We're not going to start arresting people. We'll do what we've always done as a police department, we'll tell people, listen, stop doing it. We're not going to take an overly aggressive approach on this."
The city's police officers will have copies of the transportation department's letter (see below), so if rock enthusiasts ask why they can't build rock structures, the officers can unholster the letter. But, Newsom cautioned, officers will still have the authority to make arrests if mere persuasion doesn't work. (Trespassing is a misdemeanor.)
And people who are walking over the reventments to make their way to the beach, for lack of walkways, should not worry, even though that, too, amounts to trespassing. Newsom, who recognizes the lack of walk-overs, said the city will not make an issue of that, or bother people over it.
"If they're not moving rocks, my police department is not going to arrest people for that, but if you start moving rocks around or sand," Newsom said, it'll be a different story. The rocks "are there to protect the slopes, so now officially DOT has asked us to help them do that."
"Those rocks are there for sediment control," he added.
The rocks were put down earlier this year as part of the emergency reconstruction project of A1A, parts of which had been sheared off by Hurricane Matthew. The more permanent solution to the A1A fix will be built in about 18 months. Newsom cautioned that it's in residents' interest to help protect the rock revetments and the structure of the temporary fix, otherwise, if A1A fails again, traffic will once again be diverted onto Central Avenue, as it was for weeks after Matthew. Residents and businesses along the way did not like that.
But even Hyman concluded in his letter to the police chief (who could not be reached today): "Please be advised that you are not authorized to engage in any activity which would constitute a violation of anyone's civil rights," perhaps hinting at trepidation over First Amendment issues, "and are to follow existing legal guidance as to the methods used."

The State Department of Transportation's Letter to Chief Matt Doughney (2017)