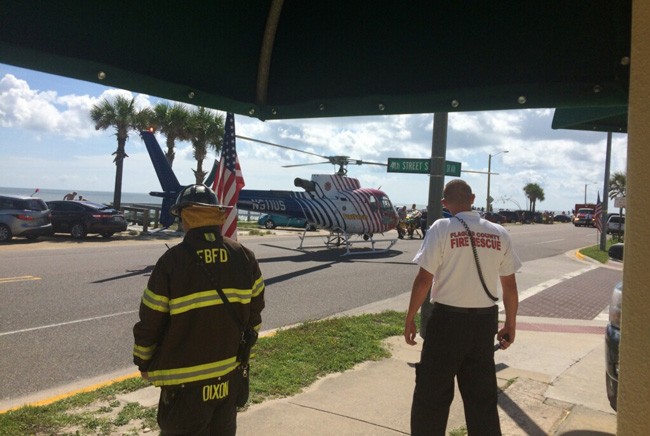 Ronald Tristani, a 71-year-old pedestrian and Palm Coast resident, was struck by a pick-up truck on State road A1A in Flagler Beach, at South 5th Street, at 10:42 this morning, and was flown out in critical condition within minutes.
Tristani suffered lacerations to the head, abrasions all over his body and a likely broken bone in one of his legs, authorities said. Flagler County Fire Flight, the county's emergency helicopter, landed on A1A to transport the victim to Halifax hospital in Daytona Beach, where the helicopter landed around 11:20 a.m.
When Tristani was first evaluated by paramedics, he had a very low so-called Glasgow Coma Scale rating of 3, which is considered critical. The patient improved subsequently but remained incoherent.
Catherine Marler Lampe, a 48-year-old resident of Tivoli Lane in St. Johns County, just south of Jacksonville, was at the wheel of a 2011 GMC Sierra that struck Tristani. She said she never saw the man. A crash report states that Lampe was attempting to make a left turn onto A1A from South 5th Street and that she had checked for traffic twice before pulling out. As she entered the intersection she thought there was another vehicle to her right, so she looked to verify that the road was clear, and when she looked back left, she saw Tristani in her path. She tried to stop but it was too late, according to the report.
The road was briefly closed, but had reopened by 11:20 a.m. Flagler County Fire Rescue, the Flagler Beach Fire Department and Flagler Beach police responded.
The following day authorities spoke with Tristani at the hospital. He said he saw the vehicle at the intersection, but did not recall seeing a turning signal flashing. He said he also waited for 30 seconds the vehicle to turn, then started crossing the street. "No witnesses came forward, and due to statements provided by both parties, it is undetermined who had the right of way in the intersection," the report concludes.
See the crash reconstruction below, from the crash report.