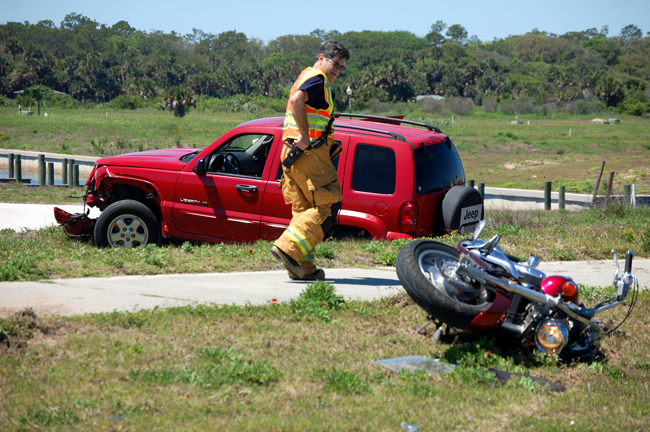 A Jeep rear-ended a motorcycle on State Road A1A in Beverly Beach just after 12:30 this afternoon, sending three people to the hospital with minor injuries and closing the roadway for almost an hour on a leisure-busy Sunday afternoon.
A coupler from Orange City was riding the motorcycle. A man from Flagler Beach was driving the Jeep. The collision took place at Osprey drive, toward the sough end of Beverly Beach, on Ocean Shore Boulevard. It's not clear what precisely led to the collision. Flagler Beach Assistant Fire Chief Shane Wood and a Florida Highway Patrol trooper said both vehicles were heading north.
The collision sent the motorcycle to the southbound shoulder and sidewalk along the road. The Jeep veered westward and slumped down a slight embankment, coming to rest at the edge of a slope, its front bumper demolished.
Two of the victims of the crash, the trooper said, were taken to the hospital with very minor injuries. The third victim's condition was not clear, but as he was being evacuated into an ambulance, he looked conscious and was briefly inspecting his silver helmet, which he kept with him.
Northbound and southbound traffic on the two-lane road was stopped for about 40 minutes. It reopened at 1:30 p.m. The Flagler Beach Fire Department, its fire police and the Flagler County Fire Department responded to the wreck. Names of the victims will be available once the highway patrol releases them.

4-Vehicle Wreck at Dunes Bridge Toll Plaza
At 1:50 p.m., a more serious wreck took place at the western end of the Hammock Dunes toll bridge, where Palm Coast Fire Department personnel had to extricate two people from a vehicle. One person was taken to Halifax Hospital in Daytona Beach, another was taken to Florida Hospital Flagler.
Three cars heading east were stopped at the toll bridge to pay their toll. Kenneth Norton, 56, of Palm Coast, driving a 2003 Dodge SUV, was driving fast toward the toll station, also heading east. He never stopped, crashing instead into the three cars in front of him. He was taken to Florida Hospital Flagler with serious injuries.
Wilma Hopler, 88, was driving a 2005 Ford Focus when she was rear-ended directly by Norton's car, which crashed her car into Jane Bradley's 2010 Chevy Equinox which, in turn, crashed the Equinox onto a 2008 Ford F-150 driven by Sherman Carroll of Palm, Coast.
Hopler was taken to Halifax Hospital with critical injuries. She was alone in her car.
Bradley, 56, who was in her car with Ken Baily, 66, both from Watertown, Mass., had minor injuries. Carroll, 69, also had minor injuries. She was in her car with Joseph Pozzuoli, 56, both from Palm Coast. He had no injuries.
Charges pending a blood test on Norton are pending, the Florida Highway Patrol says.