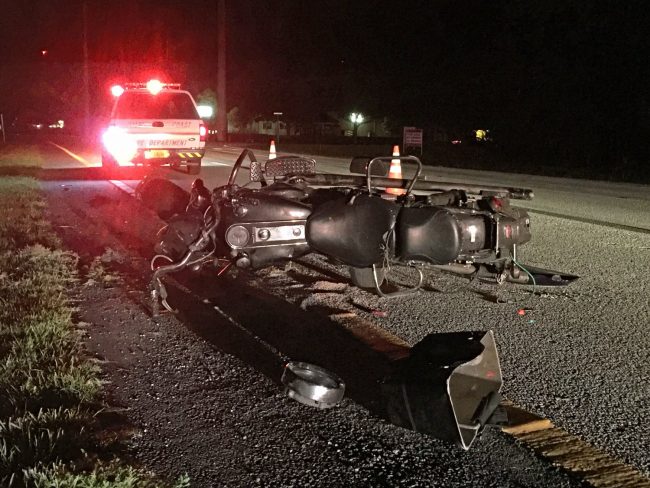 Thursday evening, Walter Forehand Jr. could be seen doing what he's been doing best for the past several years as the Hilton Garden Inn's bartender: managing a crushing rush of patrons looking to get a few drinks under their belt before contending with a political forum featuring the Republican candidates for sheriff. Forehand, his recognizable lanky blond frame dominating the bar, did it solo, like a maestro in control of a full-scale orchestra.
Late Saturday night, Forehand was trauma-evacuated by air to Halifax hospital in Daytona Beach, where he remains this morning, after wrecking as he rode his 2003 Harley Davidson motorcycle north on U.S. 1 in Palm Coast, almost immediately across from the junction with the north end of Enterprise Drive, a bit north of Whiteview Parkway. He is in serious condition.
Forehand, 57, a resident of North Oceanshore Boulevard in Flagler Beach, was traveling north on the inside lane, according to a Florida Highway Patrol investigation, when he failed to negotiate a slight curve, swerving instead onto the grassy median, where the motorcycle struck a rut, overturned, and threw Forehand off. The motorcycle tumbled across the median and ended up facing southeast across the yellow line on the southbound lanes of U.S. 1. Forehand, who was not wearing a helmet, was likely aided by the fact that he fell in the grass rather than on the pavement.
The wreck took place at 10:30 p.m., temporarily closing both sides of U.S. 1 as Air One, the emergency helicopter out of St. Augustine, landed on the highway to evacuate Forehand. The southbound lanes were later restricted to one lane as FHP carried out its investigation. The motorcycle had left a trail of debris across the media, including what appeared to be a rucksack that fell off nearer the northbound lanes.
Forehand, who's had a few minor scuffles with the law over the years, had also been the beach services director in Flagler Beach in the early 2000s, overseeing the city's lifeguards, among other responsibilities. He was at the origin of the proposal for a lifeguard tower, which the city commission did not approve building until 2011. He is the brother of William Forehand, who, with his wife Zoee, co-owns the Flagler Beach Farmer's Market. Walter Forehand is the father of Alan Forehand, a Flagler Beach firefighter.
In addition to FHP, Flagler County Fire Rescue, the Palm Coast Fire Department, the Palm Coast Fire Police and the sheriff's office responded to the wreck scene. Roger's Towing cleared the wreck at close to midnight, after which the lanes' traffic returned to normal.