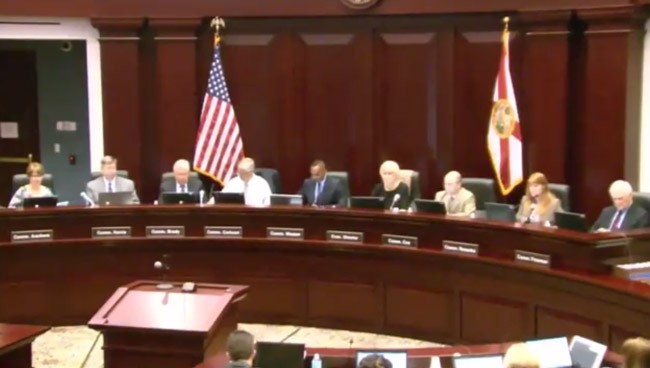 On April 15 the Florida Ethics Commission voted unanimously to fine Flagler County Sheriff Jim Manfre $6,200 and publicly censure and reprimand him in a case dating back to 2014. (Audio of the full hearing is here.) The ethics charges were filed against him by Linda Bolante, Manfre's former finance director, who is also suing him in circuit court in a wrongful termination claim.
Manfre is contesting both cases. In the ethics case, he's vowed to appeal to the state supreme court if necessary, to clear his name. Last Friday he spoke at length about the case, in more details than he had before, stressing that he broke no laws and no policies, and laying part of the blame for missteps on  Bolante, who, he said, was paid to provide him sound advice on procedures, but did not do so. In his radio appearance, which you can hear in full here and read here, Manfre made several claims about Bolante, including that she "did not even testify at the ethics commission, because her credibility was so damaged in a deposition." Bolante is represented by Robert L. McLeod II, the St. Augustine attorney, who submitted the response below to Manfre's claims, on Bolante's behalf.




It was unfortunately predictable that Flagler Sheriff Manfre made baseless statements in his most recent public effort to avoid responsibility for his own corrupt and unethical behavior.  Rather than admit to what was profoundly proven before the Florida Commission on Ethics recently, Mr. Manfre has elected instead to follow his unceasing course of mistruths and outright misrepresentation by attempting to shift the blame for his own dishonesty and ethical failures on to Linda Bolante…who had the courage and moral fiber to report his misconduct as any honest public employee should.
Moreover, when Ms. Bolante discovered the misuse of public funds and property, she was brave enough to oppose Manfre's request that she "take the hit" for him and lost her job for refusing to be as dishonest as her boss.
That said, we will not litigate this matter in the press.  However, your readers should know a few important truths:
1. The Ethics Commission rendered clear findings of fact that Mr. Manfre and no else concerning these issues, violated the law and ethical requirements of a public official.
2. Linda Bolante was ready, willing and able to testify in the Ethics hearing. She was ultimately not called because, frankly, it was not necessary because of how obvious and simple it was to demonstrate Manfre's ethical failures without her.  Proof was manifest.
3. Contrary to Manfre's public rant, Linda Bolante was crystal clear, truthful and completely credible in her deposition testimony. In stark contrast, Mr. Manfre refused to answer relevant questions and produce public documents in his deposition resulting in a Court Order compelling his testimony and production and, a public and stern chiding by the Circuit Court not to repeat the behavior.
The good citizens and the hardworking law enforcement officers of Flagler County deserve better than this from their Sheriff.  As the Ethics Commission did, perhaps the electorate of Flagler County will decide to do something about that.
Sincerely,
Robert L. McLeod II, B.C.S.
Attorney for Linda Bolante
Bolante v. Manfre