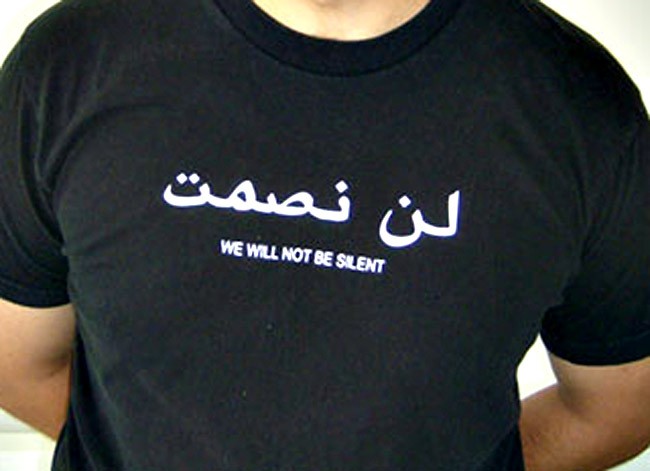 The story I'm about to tell you happened 10 years ago, but it might as well have happened two weeks ago–as in fact it did, like a reminder of America's Groundhog Day stupor in the bogus age of terror.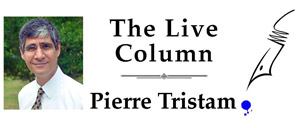 Raed Jarrar is an Iraqi-born architect and political activist who first gained fame in 2003 as one of the authors of a celebrated blog that documented the horrors of Saddam Hussein's regime and the American invasion. That's when he lived in Baghdad under threat of getting picked off by Saddam's goons or obliterated by American Tomahawks.
He then emigrated to the United States. In August 2006 he was at John F. Kennedy Airport in New York, waiting to board a Jet Blue flight home to his American wife in Oakland. He was wearing a black t-shirt with white Arabic lettering that said: "We will not be silent." The English translation appeared below the Arabic line. The line dates back to a student resistance group in Nazi Germany called the White Rose, whose antiwar leaflets pledged, "We will not be silent… we are your bad conscience," and so on.
A Transportation Security Administration goon asked Jarrar to step aside, and before long he and a Jet Blue employee were demanding that Jarrar either remove his shirt or cover it with an idiotic one labeled "All Original New York Authentic Blend." Jarrar was polite throughout, answering all sorts of inappropriate questions about his private life, and reminding his assailants of his rights. "People in the U.S.," the TSA goon told him, "they don't know anything about constitutional rights."
He was right about that, himself being Exhibit 1. He told Jarrar that the t-shirt at an airport was the equivalent of someone wearing an "I am a robber" t-shirt at a bank. With intelligence like that, the TSA goon missed his vocation as a CIA agent. Jarrar didn't want to miss his flight. He finally complied. He later sued Jet Blue through the ACLU and won a $240,000 settlement. He didn't want to settle. He wanted a precedent set against airlines. But the judge was getting impatient. Jet Blue never apologized and denied wrongdoing.
Humiliations of the sort are the white noise of America's rotting war on terror. We only hear of that fraction that turns into court cases. We don't hear–we don't want to hear–about the accusing glances, the sneers at the woman wearing her veil, the titters and muffled insults at the small group of Muslims praying for a few minutes in a corner of the terminal. Blacks and browner-skinned immigrants of course are used to being treated as subhuman threats in the clutter of white stereotype. For Arabs it's a relatively new thing, starting in the early 1980s when Ronald Reagan, after his run-ins with Muammar Qaddafi in Libya and being run out of Beirut in defeat, started adopting the Israeli slur about Palestinians as terrorists and applying it to all Arabs.
The big concentrations of Arabs in Dearborn, Mich., started feeling it first before it spread little by little to the rest of the country, then exploded after the 9/11 attacks. John Ashcroft's summarily and illegally rounded up some 1,500 Arab and Muslim migrants purely based on their race and creed, holding half of them them for months, and in many cases torturing them. It was a brief redo of the internment of Japanese during World War II, on a smaller but more brutal scale. Naturally, not one of those rounded up proved to be anywhere near a threat to national security. Not compared to John Ashcroft, anyway. His profiling approach is still the cue to those who see a suicide belt in every turban.
You'd think over time people might learn not to advertise their ignorance so proudly. But prejudice is a powerful vaccine against good sense, and it's making an overt comeback. It's the wind beneath Trump's hair. So it was at the beginning of the month when another Iraqi exile, Khairuldeen Makhzoomi, a refugee and a student at the University of California at Berkeley, was accused of talking to his father in Arabic on a cell phone and kicked off a Southwest plane after a fellow-passenger thought he was a terrorist. He, too, was heading to Oakland. ("The trouble with Oakland is that when you get there, there isn't any there there," Gertrude Stein famously said of Oakland. That was in the day when you could at least get there.)
Now, the number of people who speak Arabic worldwide is almost equivalent to the population of the United States. Some of them are in this country (I'd include myself is my Arabic hadn't become so pidgin), and some of them—at least a few, anyway—are not terrorists. When they say "I'll call you when I land, Inshallah" to their dad on a plane, they actually mean that God willing, they'll call when they land. "Inshallah," by the way, is not a specialty of Muslims. It was the dangling participle of every other sentence in my childhood's Catholic household.
You can't expect Americans who most of them barely know how to speak their own language properly to know the rudiments of Arabic. The woman who alerted authorities about Makhzoomi's conversation with his dad has her own problems. But when her stupidity leads to a police search, an interrogation, and an implied prohibition of speaking Arabic on a plane, not only do we all have a problem. We are the problem, and 15 years of prejudice big and small against Arab-Americans have taught us nothing. The only war we're winning is against our own.


Pierre Tristam is FlaglerLive's editor. Reach him by email here or follow him @PierreTristam. A version of this piece aired on WNZF.
Arabic isn't scary. In fact, inshallah is a perfect term for everyone. https://t.co/8dsOCYbwJ6 pic.twitter.com/nrNGQ5YjNX

— NYT Opinion (@nytopinion) April 24, 2016