The 2016 census of the homeless in Flagler County totaled 104 people in the annual so-called point-in-time count. Conducted in January and announced at a Public Safety Coordinating Council meeting this morning, the tally is a dramatic decline from last year's 188. But the counting method is also highly questionable:  required by the federal Department of Housing and Urban Development, it entails actual volunteers counting actual homeless individuals that they spot in a three-day survey. Numerous individuals inevitably go uncounted.
This year's count, for example, spotted not a single homeless person in Flagler Beach, prompting a surprise reaction from Barbara Revels, the county commissioner who chairs the public safety council. "Nothing in Flagler Beach—I see them all the time," Revels said. She lives and works in Flagler Beach, and takes daily walks along the beach, where she says she sees homeless individuals near the walkovers.
"Keep in mind when we did the point in time count, the weather was not our friend," Victoria Searle of the Volusia-Flagler Coalition for the Homeless said. "The group that went to Flagler Beach, they could not find anybody. I got a phone call saying there was nobody there, and this was from an individual who worked with the homeless population every day."
The last homeless man arrested in the county, last Friday, was, in fact, found by a Flagler Beach Police officer hiding under a walk-over in the 2200 block of South Ocean Shore Boulevard (A1A). The man, a 23 year old with a long arrest record locally, usually for disorderly intoxication, was charged with battery on his 67-year-old grandfather. He remains at the county jail without bond.
The count also breaks down the homeless between those who are sheltered—such as those in homeless or abuse shelters (though Flagler County has no homeless shelter as such), drug treatment programs and the like—and those unsheltered living in the streets or the woods. The total was nearly evenly divided between the two categories—56 sheltered and 48 unsheltered, with 27 sheltered individuals under 18. Only two individuals under 18 were found to be unsheltered.
But again, that's is likely an undercount.
---
A quarter of the homeless self-report a form of mental illness.
---
"I'll give you one that I got contacted about this week," Revels said. "It's a father raising six children by himself, and his daughter, senior at FPC I think, turned 18, and he said, you're an adult, out, I can't take care of you anymore. Kicked her out of the house. She was already lined up to go to Daytona State to finish her education. So everybody is trying to chip in and somebody from the school system took her home."
The count found women to account for 45 of the homeless, and men for 59, most of them white, a third of them reported as first-time homeless.
The count found 37 homeless people in Palm Coast, all of them unsheltered. Flagler County Sheriff Jim Manfre, who was at this morning's council meeting, said the homeless tend to gather in the Hammock, where it's wooded and where restaurants can be sources of rejected food. They gather around Florida Hospital Flagler, behind the surgery center, and around the library off Palm Coast Parkway.
The count found 63 homeless people in Bunnell, all but seven of them unsheltered, and just 4 homeless people in the Hammock.
One of the survey method was self-reporting, by homeless individuals themselves, of substance use, mental illness, chronic homelessness and physical disability. "They can either tell the truth, they can lie, or they can refuse to answer," Searle said. Seven people reported chronic homelessness, 22 reported some form of substance use and 26 reported mental illness.
The numbers led into a brief discussion between Manfre and Revels on how to address the issue in the most pragmatic, immediate way.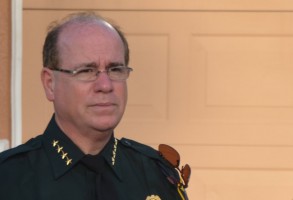 "The big issue for law enforcement is obviously we head to those calls, there's only so much we can do," Manfre said, "but certainly after hours when there's no assistance, law enforcement becomes the default social services safety net. What we had in the past, we had a grant from the attorney general's office where we had [cash] cards made up for food or for gas or for housing." The cards afforded immediate emergency assistance such as a tankful of gas or a night in a motel. But that money dried up.
More recently, "One of my deputies took $100 out of his pocket and sheltered someone," Manfre said. "Our offices have a lot on their plate, they're not wealthy, and it just seems like if we had something like that in place again, it would first of all remove an issue from the community, relieving officers of having to come out of their pocket, because it breaks their hearts when they get a call to these kinds of situations and people are just down on their luck."
"We need to look at it on a broader scope," Revels said. The way to reduce homelessness is "rapid re-housing," or getting the homeless into housing quickly. "One night at a hotel, maybe that's all they need, but maybe not, and so we need to look at the other aspects of what rapid rehousing means, where can we get those funds."
"There's some of that, there's some more economic, they've lost jobs or been displaced," Manfre said, reflecting the numbers of the recent survey, "and then there's the more, people with mental illness or alcohol issues. I'm just trying to chip away at one portion of it because the others are beyond it. There's got to be some way where we can respond to people in a humane way."
But for now there is no mechanism in place to make that happen. "I haven't even started looking into that," Revels said, suggesting, however, various ideas. "Flagler County's got housing dollars, there's foreclosure prevention money so that somebody can make a payment if they're about to lose their home if they have the ability to continue, the coalition for the homeless if you talk to her, they've got some grant funding. There's stuff out there."
Manfre said the sheriff's office could probably use money from its forfeiture funds. "We're looking at the legality of that. I just have to make sure we're able to utilize the funds that way," he said.
As for an actual homeless shelter for the county, that idea was not even mentioned today.


<![if !IE]><![endif]>