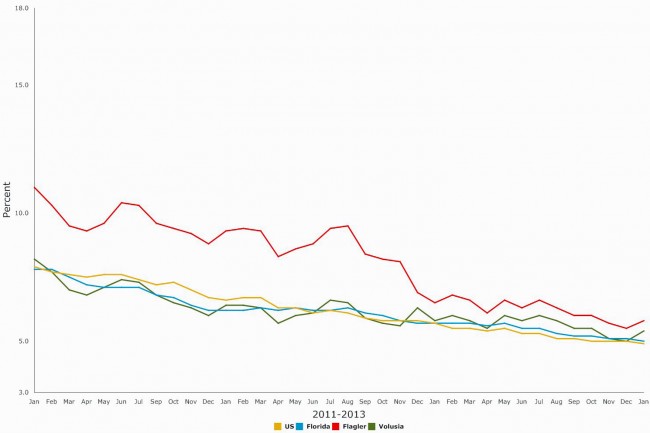 Flagler County's unemployment rate in January rose three decimal points to 5.8 percent, but remains 1.1 percentage points lower than a year ago.
The number of Flagler County residents without jobs rose by 151, while the labor force grew by 87, to 43,595, an increase of 810 compared to a year ago. In March 2010, Flagler's labor force totaled 33,144. The labor force, in other words, has increased by 10,451 workers in six years, an increase of 31 percent. At the same time, the number of Flagler County residents with jobs has increased from 27,652 in March 2010 to 41,053 in January–an increase of 13,401, or 48 percent.
That doesn't mean that the number of jobs in Flagler County proper has increased by that margin, or that the figures rep[resent full-time jobs. An individual may register one hour's worth of part-time work to be considered employed, and that individual may do so anywhere in the region (or through telecommuting jobs). As long as the individual is a resident of Flagler, it counts in favor of Flagler's employment figures. Regardless: the trends point to a much healthier labor market, with much of the Great Recession's job losses erased.
Florida's unemployment rate is flat at 5 percent, where it had been in December until the labor department revised the December rate to 5.1 percent, essentially enabling officials to claim a decimal-point decrease. There were 492,000 jobless Floridians in a labor force of 9.8 million.
The state's monthly employment report does not measure the quality of jobs, though it breaks them down by category. Statewide, Florida added 32,200 jobs, including 36,000 private-sector jobs. State and local governments lost 3,800 jobs, depressing the overall figure somewhat. Manufacturing added 1,000 jobs, retail added 3,700, administrative and waste services added 10,400, and leisure and hospitality added 12,600.
Gov. Rick Scott today was on a tour across the state to tout the new jobs.
"I am excited to announce the creation of 36,000 new jobs over the month of January," he said in a statement. "Today's announcement of more jobs created in Florida further adds to the celebration of more than one million jobs created in Florida in only five years and more than $1 billion in taxes cut over the last two years. These are incredible milestones for Florida's economic growth, and we will continue our focus on creating even more jobs and cutting even more taxes."
Hendry County had the highest unemployment rate (8.4 percent) in Florida in January 2016, followed by Sumter (7.3) and Citrus (7.2). Flagler's 5.8 percent rate places it 13th from Hendry. St. John's County has the state's second-best unemployment rate, at 3.8 percent. Monroe is best at 3.3 percent.
The February unemployment figures will be released in two weeks.


<![if !IE]><![endif]>