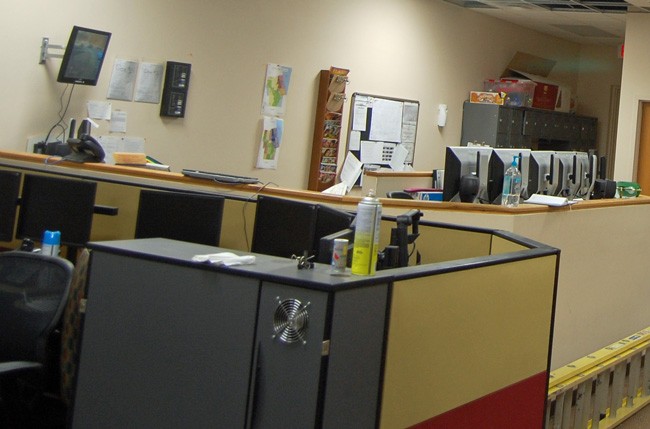 Flagler County's 911 system was down for 20 to 30 minutes Tuesday morning as technicians were working on an upgrade, and 10 calls from three local addresses went unanswered during the period, officials said, but no critical situations developed, officials said.
When such a failure takes place, calls are supposed to roll over to a non-emergency line. That did not happen, either. It's not yet clear why the 911 system failure took place, though the failure of the back-up system appears to be related to an AT&T issue, the 911 service provider technicians told Flagler officials.
Authorities determined that the system was down from 11:17 a.m. to 11:41 a.m.–24 minutes.
Around 11:30 this morning, word went out to police and fire personnel on the county's over-the-air radio system informing them that the 911 system was down until further notice, and that they should be more aware of individuals walking into fire stations or flagging down police as a consequence, since they could not get through the 911 line—which would just ring.
Don Petito, Flagler County's fire chief, confirmed the failure as did a source at the Flagler County Sheriff's Office. County spokesman Carl Laundrie said he drafted a news release after speaking with Emergency Services Director Kevin Guthrie to inform the public during the emergency, but Laundrie said the release was never disseminated because the system "was back up so quickly."
Asked why the information wasn't sent out, Laundrie said, "you're going to have to talk to administration about that," suggesting that it was an administrative decision–from either County Administrator Craig Coffey or Deputy Administrator Sally Sherman–not to send out the release. (Laundrie, clearly uncomfortable with the matter, said it was not his or Guthrie's decision not to send out the information.) Neither Coffey nor Sherman could be reached early this afternoon as both were attending an ethics seminar at Palm Coast city offices.
"It doesn't need to be a press release, it needs to be an immediate alert," Coffey said in an interview at mid-afternoon. Once the issue had been resolved, "why would I issue a press release after that?" he said. A protocol will be instituted where in a future event, an "automatic" alert will be issued, with a number for the public to call.
"We're not real sure" why the failure happened, Petito said. "The system just went down and we weren't able to receive 911 call, and we had some people working on it, the systems engineer, and it came back up." Petito was in his office when the failure happened. The 911 dispatch center—which a county agency administered by Emergency Management, not the Sheriff's Office—is in the same building. Petito immediately went across the building to the center.
"I was there when it was going on and he was handling a lot of it," Petito said, referring to Kevin Guthrie, the county's emergency services director.
Reached at his office this afternoon, Guthrie confirmed the loss.
"We experienced a 20 to 30 minute loss of our 911 system," Guthrie said. "We were in the process of a 911 upgrade so we had technicians on site, and were quickly able to recover the system. We're still trouble shooting exactly what happened but were able to determine that we had ten 911 calls from three numbers during that time frame. We've sent deputies out to verify that everything is OK at these three addresses that called us."
The dispatching of deputies to those addresses revealed that no critical emergencies had taken place. Fire Rescue receives 30 to 40 calls a day. The sheriff's office receives a much larger volume of calls in a typical day.
The sheriff's office has a back-up 911 system. It was used in July 2012 when a fire alarm went off at the Flagler County Emergency Operations Center after a small fire broke out in the flooring, triggering the release of a fire suppression system and the evacuation of the 911 dispatch center. No one was hurt, and the system continued to operate through the back-up operation. But no technical failure had affected the 911 system previously.
Flagler County's 911 system is provided by AK Associates, a St. Augustine-based company that also services the 911 systems of Duvall, St. Johns and Volusia counties, among others. Four of AK Associates' technicians were at Flagler's 911 center Tuesday, working on what Guthrie characterized as a "major upgrade" to the system, when the issue arose. They got to work on resolving it.
As for the subsequent problem—the calls not going over to the non-emergency line—Guthrie said, "It's potentially an AT&T issue, the 911 vendor said, there was a failure point in our rollover, and they are trouble shooting that with AT&T now. Not sure how and why that happened."
The system was operating normally after noon.