As reporters we're often invited to groundbreakings. They're not news. They're what the historian Daniel Boorstin called pseud-events, PR stints designed as free advertising rather than newsworthiness, which makes them particularly difficult to write about: puff doesn't translate well in words. But often we play along because certain events are worth celebrating even with a little puffery. Let me tell you about two such groundbreakings.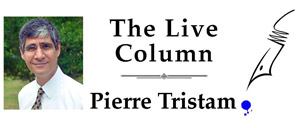 The first took place earlier this month in Town Center when the Palm Coast Arts Foundation broke ground on its new venue. It was a wonderful occasion, cheery and unpretentious. The foundation had actually gotten the land more than three years ago. It could have done a groundbreaking them.  But it hadn't yet lined up the money or the permits, and you don't do a groundbreaking until you're ready to—well, break ground. So even though the foundation took some flack, it merely planted a sign on the property and waited until it had all its papers in order and its money in hand before doing the actual groundbreaking on Feb. 11.
Days later, bulldozers were at work. You can see them there now, churning and dumping and leveling. By spring that's where the annual Jacksonville Symphony Orchestra's Picnics and Pops will be performing the foundation's annual gift to Palm Coast.
That, anyway, is the honest, the genuine way to do groundbreakings. Word matches deed. I was more than happy to report on that one. And by the way, a few days later we had a groundbreaking on a new wing down the street at Florida Hospital Flagler for 32 new beds. No sooner was the ceremony over than the hard hats went to work, building scaffolds and breaking ground for real. Florida Hospital Flagler, of course, has no choice: it answers to god, so deception is not an option.
Some companies only have to worry about county government, or worse: Rick Scott. Anything goes.
So go back three years to another groundbreaking. That one was at the Flagler County Airport. It was one of those big, contrived unveilings after the county's economic development department had peddled the prize under one of its cheesy code names ("Project Green Dream," in this case, the dream proving more accurate than intended). The company was Aveo Engineering. The promise was of 300 well-paying jobs and a manufacturing plant that would make really cool aircraft lights. Great. So great that Gov. Scott came down, every local government bigwig came out, the county's economic development folks fell all over each other congratulating themselves, and of course all of us media schmucks, about a dozen of us, came out and gave the occasion lavish coverage.
We had no reason to doubt what we were being told. Aveo CEO Christian Nielsen was projecting construction to begin swiftly, hire 50 people that year and 300 by this year. He signed a 40-year lease six a few weeks later.
But the groundbreaking was all bogus.
Aveo hadn't secured the necessary permits to build, nor had it worked out its issues with the county yet. The ceremonial groundbreaking took place. Nothing else did.
Earlier this month we reported that in fact Aveo had bailed from its lease there. The county knew about this months ago. Of course, it never announced that in one of its new releases. God forbid we'd get more than "branding" PR from our local government agencies. Aveo's irascible Nielsen, let it be known that he was still looking to build in Flagler, but that there were too many issues at the airport, and anyway he'd rather own the property than lease. Why he hadn't cared to make that known three years ago is anybody's guess.
An interview with Damien Esmond, Nielsen's more amiable right hand in Palm Coast, revealed that there'd been great friction between Aveo and Roy Sieger, the director at the airport, with Aveo blaming Sieger for various things, though considering that Sieger has single-handedly accomplished more for economic development at the airport than all of the county's rather self-aggrandizing half-million dollar economic development department—who else can turn white elephants into golden gooses in Flagler government?—I very much doubt he was the problem.
The problem is Aveo. The problem is Nielsen making bogus claims before it was time to make any claims at all, and county government, or at least portions of it, chucking off caution and controls and replacing responsibility with pandering to land a non-existent deal for the sake of a few headlines. The problem was trooping us down for a ceremonial groundbreaking, with the governor taking credit for 300 more ghost jobs he could tack on to his campaign fictions, or the county claiming that deal as the biggest feather in its cap ever since , when it was all just a PR stint that wasn't yet ready for prime time. It reminds me of how local sheriffs have on occasion played up big drug busts, especially at election time, that would turn out to be nothing more than the round-up of the usual suspect, half of whom would be back on the streets by the time the sheriff would give us his triumphant spiel in a news conference. It's rank manipulation, pure and simple.
I'm not sure the manipulation is over. Esmond last week said one reason for the delays had been the Federal Aviation Administration's permit for Aveo to start manufacturing parts in the United States. That permit had taken longer than expected, but it had just been issued. So now it was "full speed ahead" for Aveo, Esmond said. I checked with the FAA. On Feb. 24, the FAA's Arlene Salac wrote me: "Aveo Engineering's application to manufacturer aircraft parts has not been approved yet by the FAA." How unbrilliantly familiar.
Nielsen claims he's still committed to Flagler County. He just won't do it with government help or on government land. Great. Jobs are jobs–once they materialize–and a business on private land means more property tax revenue. But next time he plans to build and make good on his promises, let's hope there's a there there, and let's hope the public doesn't get played the way county government, Gov. Rick Scott and Aveo Engineering played us three years ago.


Pierre Tristam is FlaglerLive's editor. Reach him by email here or follow him @PierreTristam. A version of this piece aired on WNZF.