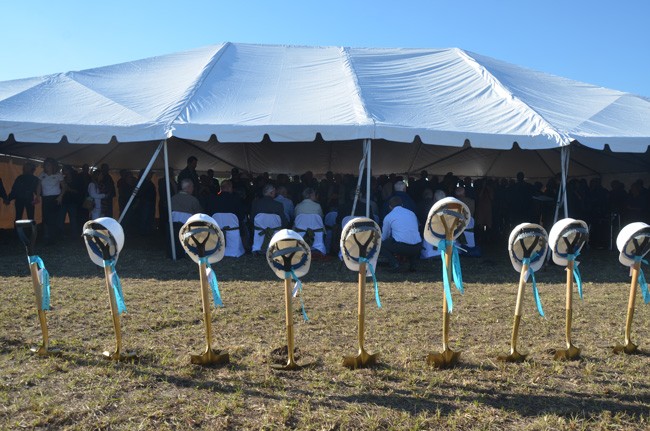 "Without music, life would be a mistake," the philosopher Friedrich Nietzsche wrote in "Twilight of the Idols." And with that quote, Palm Coast Mayor Jon Netts welcomed an unusually large crowd for a groundbreaking as some 250 idols gathered under a big tent Thursday afternoon in Town Center for the ceremonial shoveling where the Palm Coast Arts Foundation's events venue will start taking root very soon.
"Three years ago we were standing here getting the lease from the city for the site, and now we're standing here getting ready to break ground," Sam Perkovich, president of the arts foundation, said. "The first phase will be a beautiful lawn, an earthen-raised stage and landscaping and sidewalk that are required by the ADA." That is, the Americans With Disabilities Act, without which life would also be a mistake. "Shortly after that's done and maybe in time for Picnics and Pops we'll have a venue here, our office site, and we hope by this fall to have a stage, the concrete stage raised, and be working on the roof."
Picnics and Pops is the foundation's signature annual event in May, when 50 musicians of the Jacksonville Symphony Orchestra travel to Palm Coast and perform favorites from Copland, Gershwin,John Williams and the occasional pluck from classical's top-40. The event has been drawing upwards of 800 people, but until now it's been held a short distance to the west, in Town Center's Central Park (or at Destination Daytona when it rains, as was the case last year.) The new location on the south side of Central Avenue will be the foundation's own home on a 32,000 square foot spread that can accommodate up to 4,000 people in an informal setting, or 2,000 in banquet-style performances.
---
Almost a decade in the making, the Arts Foundation will have a venue of its own.
---
It won't be a concert stage just yet for this year's concert. But that's ahead. The Jacksonville Symphony is working with the foundation on just the right design for the stage, to ensure that the acoustics are as good as they can be there. The landscaping has been figured out (with help from Andy Dance, the school board member and landscape architect. "I consulted with the client on local permitting and acquiring the site development order and prepared the landscape construction drawings as required by the Land Development Code," he wrote in an email).
The grounds will be covered in Zoysia grass, an eco-friendly type of grass that grows thick and deeply green while requiring little water, less mowing than many grasses, and little to no chemicals to grow well. And in the very long run, years from now, the foundation's finished product would consist of a gran cultural center and concert venue featuring three stages. But that's assuming Palm Coast grows substantially to support not just one, but two concert venues, as the Flagler Auditorium would still be around. (Flagler Auditorium Board Chairman Richard Hamilton was among the people in attendance Thursday.)
For now, it all starts with tufts of grass.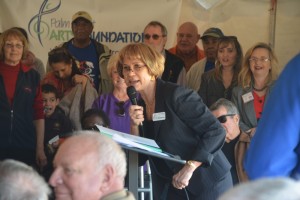 "Was it Neil Armstrong that said one small step for man, one giant step for mankind? It's that kind of a thing," Netts said shortly before the ceremony, exaggerating only a little. "It brings you home, one more thing that adds to the vast repertoire that's Palm Coast."
"I would love to see the finished product while I'm still alive. I may or may not. But…" Netts trailed off momentarily. "If I had to guess, the finished product may be different than what we envision at the moment, but that's true of so many things."
"It's been a long time coming Jon, but it's happening, baby," Joseph Ganci, a member of the foundation, told the mayor. Perkovich then gathered up the congregation under the tent, thanked the innumerable people who've contributed various efforts to the foundation's over the years, yielded her spot to Netts for his Nietzschean speech before he yielded his spot to poet Jim Harter, who spoke of shuddering earth, flying soil and gathered gawkers, and then,
The day began to glow and listen
Leaving wily whims outwitted
As flickers fluttered and uplifted
Whence came a solitary ping
(the single ding of a triangle rang out in the hush, and Harter resumed:)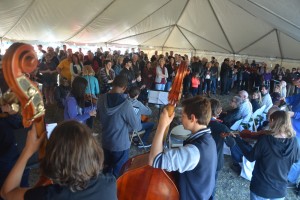 Enough to tempt a tune to spring
Hoisting a heartbeat so strong
Into a tryst of rhyme and song
A merry mob began to quiver
To nod, to dance, and deliver
A brilliantly beautiful clash
With a cascading finale flash.
Harter wasn't kidding. Just as he was done 22 of the more seasoned musicians of the Flagler Youth Orchestra, including one–Daniel Masbad–who plays with the Jacksonville Youth Symphony Orchestra appeared and launched into a whirling rendition of Gaelic Storm's "Irish Party in Third Class," the tune made famous by "Titanic."
And then earth was turned.
"I'm very proud that this property represents a partnership between the city of Palm Coast and our arts foundation," Netts had said. "Together—-together–we stand as strong advocates for encouraging the vitality of cultural acts and arts in our community. Together we want to make Palm Coast a genuine destination for more people to come here for our cultural contributions, and then to stay here to learn more about what we have to offer as a city. I'm honored to represent our city council and really all of our residents as we build this new connection between music and Palm Coast. When artists perform at this spot in Town Center, the beauty of live music will engage and inspire us to come together in joy and well being."