A couple of weeks ago two American patrol boats violating Iranian waters in the Persian Gulf were seized and their crews of 10 detained by Iranian authorities. American authorities would have done the same or worse if roles had been reversed and, say, an Iranian patrol boat was snooping within 200 miles of Jacksonville port. (Or even if roles had not been reversed: We've naturally forgotten all about the USS Vincennes not only violating Iranian territorial waters that July day in 1988, but shooting down an Iran Air plane and killing its 290 civilian occupants as it flew over Iranian airspace 28 years ago.)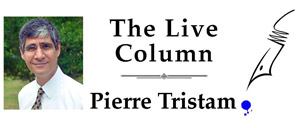 The 10 American sailors were luckier. In a matter of hours rather than days, they were released.
What started as a potential crisis to rival the taking of hostages from the American Embassy in Tehran in 1979, then as now during a presidential cycle, fizzled to a bump on Persian Gulf wavelets. Diplomacy spoke louder than guns. It always does. It's dull, it doesn't lend itself to fat headlines and vows of vengeance. It's certainly not useful to the current brand of Cheerios and Cocoa Puffs running for president. But it works.
For all that, those candidates on the Republican side found a way at least briefly to let us know that unlike those pansies Barack Obama and John Kerry, they would not have tolerated the sight of those 10 sailors kneeling at Iranian gunpoint. Donald Trump and Ted Cruz especially—the Laurel and Hardy of the Republican field—trotted out their semi-automatic rhetoric of force and bombast at their last shared burlesque.
"If I am elected president," Cruz said, "no serviceman or servicewoman will be forced to be on their knees in any nation that captures our fighting men and women. We'll field the full force and fury of the United States of America." In other words, if Cruz had been president when those sailors were captured, we'd have been at war within hours, and if I understand "full force and fury" correctly, as I very much hope Cruz does not, Cruz would not hesitate to use nuclear weapons to get his debating-club point across.
After the sailors were released he didn't wait to release a campaign ad doing exactly what the Iranian government had done days earlier with those men on state TV: he paraded them in his ad for political gain, and had the gall to tell them he'll have their back (just as soon as he's done using them).
Trump in comparison was relatively mild for someone who thinks winning back the Middle East is just a matter of carpet-bombing every sand dune and raghead (or is that Cruz's thing too? Hard to keep up with hysterical inflation). He just used all caps in a Tweet to demand that Iran release the sailors, giving us another fascinating insight into his brand of diplomacy: he too likes to fire his missiles by remote control.
Meanwhile our own Marco Rubio, who was 9 years old when Ronald Reagan was elected, reminded us why he has a way to go in his political education when he credited Ronald Reagan for the release of those 52 hostages 35 years ago. It was his way of saying that had he been president, Iran would have been too scared to defy American power, even, presumably unlawful American power. Of course Reagan had nothing to do with the release of those hostages. It had been all Jimmy Carter's and Algeria's legwork, not to mention that old bore, diplomacy.
I'm not excusing Carter's role in provoking the hostage-takers' madness and "the shattering of relations between the United States and Iran," as the New York Times put it in 1981. It was Carter who, after wisely resisting his hawkish aides for months, agreed finally to let into the United States  the man once ridiculously known as the Shah of Iran—the title means "king of kings"—who by then was on the run and dying of cancer. Mohammed Pahlavi was a tyrant, a torturer and a mass-murderer. Also, a close friend of successive presidents going back to Lyndon Johnson.
Carter knew the risk he was taking by letting him in that time. But anticipating the Cruz-Trump-Rubio brand of screw-you brinkmanship, he took it anyway. It took him 444 days to atone. He did. But at a price we're still paying. Obama was paying down that debt when he included that $150 billion, if that's the true amount, as part of the Iranian nukes deal. The money belongs to Iran (or, more accurately, the assets belong to Iran), frozen stiff since Carter's great misjudgment, and now misinterpreted by Trump and friends as somehow "our" money to give or not to give.
Imagine if any one of those friends had been president during the hostage crisis. Doubtful those 52 hostages would have come home alive. Then again, Reagan was thought to be crazier than Barry Goldwater when he took office, and look how he handled Iran's next rash of hostage-taking. With felon-to-be Oliver North doing his dirty work he not only dealt arms for hostages with Iran but took his illegal entrepreneurship multinational by channeling the profits to those terrorist Contras he called "freedom fighters" in Nicaragua, back when he couldn't convince Congress to pay for his war there. Lucky for him his term was nearly up and senility had set in, so the administration of "I Don't Recall" could drown its crimes in a vat of forgetting, an 80s version of Roman emperors' last baths. Too bad Rubio's knowledge of his hero's history is as shady as Rubio's own.
But this isn't the age of fact or accuracy. It's the age of YouTube and Twitter, where anything goes as long as it fits in 140 characters or a 30-second spot. No one will hold madness, ignorance, science fiction or gibberish against you. Evidence and diplomacy are the only sins.


Pierre Tristam is FlaglerLive's editor. Reach him by email here or follow him @PierreTristam. A version of this piece aired on WNZF.