The Palm Coast Fraternal Order of Police Furthers a Lie in a Protest at Epic Theaters
FlaglerLive | January 6, 2016
On Saturday I got an email from Ron Conklin, president of the Fraternal Order of Police Lodge, the association of retired cops, in Palm Coast. He said the association had scheduled a demonstration at Epic Theaters at 11 a.m. today protesting remarks about police by filmmaker Quentin Tarantino. "As you probably are aware of the remarks Mr. Tarantino made which received national media attention," Conklin wrote, "he condemned all police as 'murderers'!"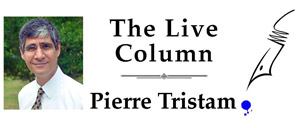 Actually I was not aware. I had been to the very demonstration in Washington Square Park in New York where Tarantino made his little speech on Oct. 24—my wife, son and I were walking by and it was worth stopping to take a few pictures and hear the chants—but I was too late to hear Tarantino. I'd heard that police were upset, but by the timing of the protest (an officer had recently been murdered in New York). I didn't pay attention  to Tarantino—didn't even know he had a new movie out—until Conklin's email.
Sure enough, a boycott movement among police unions and associations had grown since then against Tarantino's "The Hateful Eight," a nearly three-hour movie now showing at Epic. It has nothing to do with cops or killings by cops. But cops wanted to punish Tarantino for what he'd said and his movie presented an easy target. If he'd called all police "murderers," I'd want to boycott him, too.
But he said no such thing.
Here's what he actually said: "Hey, everybody. I got something to say, but actually I would like to give my time to the families that want to talk. I want to give my time to the families. However I do just also want to say: What am I doing here? I'm doing here because I am a human being with a conscience, and when I see murder I cannot stand by, and I have to call the murdered the murdered and I have to call the murderers the murderers. Now I want to give my time to the families."
The speech was quoted word for word by National Review, hardly a liberal organ, let alone an anti-cop one. And National Review's Josh Gelernter was putting it bluntly: "Conservatives ought to support Tarantino — not because they like him or his movies, not because they agree with any of his political positions or because they are anti-police, but because Tarantino did not call policemen murderers."
Not even close. He didn't even imply it. What he said could have—and should have—just as easily been applauded by any reasonable cop. If he had in mind the eight cops charged with murder or attempted murder in a span of five months last year, then he wasn't saying anything different than what the criminal justice system was saying in those cases: when cops kill without justification, they're murderers like anyone else who kills without justification. The only difference is that cops had been getting away with murder almost with impunity until protests and the Black Lives Matter movement finally heightened awareness of the disproportionate killings of black men by police since that of Michael Brown in Ferguson, Mo., in August 2014. (In 2015, police fatally shot almost 1,000 people, 90 of them unarmed.)
Yet police groups across the country were mounting these silly protests against Tarantino, based on a lie, and drawing media attention for them—and of course away from the actual problem. As always, part of the blame rests with media: irresponsible news organizations have not only reported on the protests as if Tarantiono had called all cops murderers, but they've headlined advance notice of the protests while uncritically swallowing the police organizations' willful deception. No need to look too far: here's the Orlando Sentinel headline on Dec. 29: "Retired cops plan protest of Quentin Tarantino's new film after comments calling police 'murderers.'"
So Conklin was right when he told me this morning that, while he hadn't read Tarantino's speech word for word, he'd read the headlines. "I heard it, it's been in the paper, it's been on the news," he said.
But when it comes to respecting evidence, I expect a little more from cops, even retired ones. I had printed Tarantino's speech in full. I took it out and showed it to Conklin, even read it to him out loud.
He didn't accept it. "That's not what the newspapers and the TV say," he said. This was the full quote, in context, I told him. "I wish you would have seen the other papers," Conklin said, as if I was making stuff up. "All I know is what I heard and what everybody else heard. You can ask anybody else here. He said police are murderers. That was at the rally. Whether they soft-stroked it, whether he walked it back, I don't know. Take it from what the newspapers are saying and what people are saying."
No, Mr. Conklin: let's take it from what Quentin Tarantino actually said. Conklin wouldn't budge: "This is one newspaper's opinion," he said, pointing at Tarantino's quote. I thought I'd been worm-holed into a story Kafka was writing from the grave, and not just because of Conklin's aversion to evidence (a disturbing aversion for an ex-cop). Some thirty or so retired cops had lined up the sidewalk with small protest signs and an American flag. If the point of the protest was to dissuade moviegoers from seeing "The Hateful Eight," they'd picked the wrong day and the wrong time: hardly anyone goes to the movies at midday in Palm Coast.
But they weren't there to protest. They were there to pose for the cameras and perpetuate a lie at Tarantino's expense. They were there to join up with the larger effort across the country by similar associations to pretend that police brutality doesn't exist, cop shields are infallible, and those who cry foul are just anti-cop. (When I showed the Tarantino quote to another protester, who happened to be the treasurer of the local FOP, he too disputed the veracity of the quote, wondered why I was there if I wasn't going to report on his protest, and finally said, unsurprisingly, "get out of my face.")
Conklin won the day. At least four news organizations went through the motions of uncritically reporting the story as if what the ex-cops were claiming was true. There was no doubt that in that small crowd and in those "news" reports, blue lives mattered. Truth? Not so much.


Pierre Tristam is FlaglerLive's editor. Reach him by email here or follow him @PierreTristam.