Thursday Briefing: Raising the Floor in Flagler Beach, Live Murder of Journalists, That Old Trump-Bush Feud
FlaglerLive | August 27, 2015
Today: high in mid-90s, low in mid 70s, heat index from 101 to 105. Details here.
Today's fire danger is low. Flagler County's Drought Index is at 288.
The weather in Anguilla: high 84, low 79. Details.
Today's document from the National Archives.
The OED's Word of the Day: Mamlambo, n..
The Live Community Calendar
Today's jail bookings.
Today's Briefing: Quick Links

Note: all government meetings noticed below are free and open to the public unless otherwise indicated. Many can be heard or seen live through each agency's website.
Think Flagler First Luncheon
: Helga Van Eckert, Executive Director of Flagler County Department of Economic Opportunity and Kevin Guthrie Flagler County's Public Safety Emergency Manager will discuss "Disaster Economics" and the role of the business community in disaster preparation, management and recovery.
Guthrie
will talk about the importance of businesses being properly prepared for disasters and how some business segments may be able to capitalize on a disaster situation by partnering with the County to provide key services, including real estate, food, cleaning service, construction and others. The session will provide an update on the county's response and recovery models and the important role the business community will play in these scenarios. Registration at 11:45 a.m., Hilton Garden Inn. The event is booked up.
The Palm Coast Beautification and Environmental Advisory Committee meets at 5 p.m. at the council conference room at city offices, City Marketplace. The board will discuss the rule change allowing cell towers along Palm Coast Parkway. It will also discuss environmental issues surrounding the Hulett Swamp wellfield area.

The Flagler Beach City Commission meets at 5:30 p.m. The commission will discuss the possibility of levying fees when the pier is used for special events. The more controversial part of the meeting deals with a proposed ordinance that will change the building code. The commission would require new construction to be 2 feet above base floor elevation, a proposal that would significantly improve storm management, but that builders oppose, claiming it'll add too much cost to construction. The full agenda and background materials are here.
Flagler 4-H Open House at the Flagler County Fairgrounds, 6 p.m.

Overselling Flagler: How County Tourism and Government Zeal Lost the Spartan Race Before It Started
: Matt Dunn's dealings with Spartan officials, revealed in an investigation through the emails and texts that chronicled his deal-making for the races over the past year, show a zeal for transacting the "get" but little awareness of, or apparent interest in, policy and protocols—whether budgetary or environmental—and virtually no appreciation for the political context that ultimately sank his biggest pet project to date. His method also raises numerous questions.
Still Turning Into Hurricane, Tropical Storm Erika Now Seen Edging East of Florida Coast The National Hurricane Center's latest five-day tracks for Tropical Storm Erika–released at 5 and 8 a.m. Thursday–show the storm still developing into a hurricane by Monday, but edging east of the Florida coast by a wide enough margin that landfall anywhere in Florida now appears less likely. That's a significant change from previous tracks, which had projections of the storm first striking south Florida, then shifting north toward the Central Florida coast. Fortunately for Flagler County and surrounding areas, the storm is continuing its slow shift east.
Portuguese Secretary of State José Cesário Marks Palm Coast Opening of Honorary Consulate: The consulate is one of just two of its kind in the United States—the other is in Massachusetts—that has full administrative powers to issue Portuguese passports, birth, death and marriage certificates and many other documents of the sort. It can issue anything an embassy can, except visas. Cesário's presence at a small ceremony in the second-floor offices of the consulate was meant to underscore the importance of the consulate in Portugal's constellation of diplomatic missions, and of course the importance of Palm Coast's Portuguese community in the eyes of the home government: Palm Coast was chosen over Orlando and other cities as the location for this consulate because of the that community.
State Education Board's "Historic" Funding Proposal Is Still $1,000 Per Student Below 2006 Level: In inflation-adjusted dollars, the $7,209 figure is still well below the level of the 2007-08 school year, when spending was the equivalent of $8,201 in current dollars–$1,000 per student more than the state school board's proposal, and $1,100 more than the current allocation. Further complicating matters, only $50 million of the $475.9 million hike in funding the state board is proposing would come from the state. The other $425.9 million would come from local property taxes that make up a key part of the formula for education spending. That approach has drawn criticism from Democrats and some Republicans, who equate it to a tax increase.

The Florida Supreme Court releases opinions at 11 a.m.

Note: Most proceedings below can be followed live on the Florida Channel.

The Florida Elections Commission is scheduled to continue two days of meetings. (8:30 a.m.)
The Tobacco Education and Use Prevention Advisory Council meets. (9 a.m., 4052 Bald Cypress Way, Tallahassee. Also, call-in number: 1-888-670-3525. Conference Code: 700 265 0509.)
Jacksonville power plant: The Florida Power Service Commission takes up issues such as a proposal by Florida Power & Light to buy and, ultimately, shut down the coal-fired Cedar Bay power plant in Jacksonville. (9:30 a.m., Betty Easley Conference Center, 4075 Esplanade Way, Tallahassee.)
State Chief Financial Officer Jeff Atwater is expected to speak during a policy-committee conference of the Florida Association of Counties. Earlier in the day, Dick Batchelor, of Consumers for Smart Solar, and Stephen Smith, of the Southern Alliance for Clean Energy, are expected to discuss competing solar-energy ballot initiatives. (Solar discussion at 1:15 p.m., Atwater at 6:30 p.m., Hilton St. Petersburg Bayfront, 333 First St. South, St. Petersburg.)
–Compiled by the News Service of Florida and FlaglerLive

This weekend marks the 10th anniversary of Hurricane Katrina's landfall in New Orleans. President Obama tours the city and speaks at 5 p.m.
The trial of Owen Labrie, 19, the prep school student accused of rape in an exclusive school in New Hampshire, moves to closing arguments today.
Oil prices and stock markets are tanking. Here's the latest on oil:

In Coming Days in Palm Coast and Flagler:
Click on the links for more details:
August 29: Flagler Chapter of the NAACP Hosts Annual Freedom Fund Banquet, 6 p.m. at the Ocean Ballroom of the Hammock Beach Resort, 200 Ocean Crest Drive, Palm Coast. The branch boasts of fine dining, dancing, and music provided by Darnel Butler & Xpression.
Sept. 4: Michell Palmmucci is the featured artist at Ocean Art Gallery for September. Her show, "Paradise – Lost and Found," opens Friday, September 4 with a 6 p.m. reception at 200 S. Oceanshore Blvd., Flagler Beach. The artist will be on hand to meet guests and demonstrate her painting style.
Friday, Sept. 11: The Palm Coast Arts Foundation Presents Big Band Night (and more) with The Chris Thomas Band of Jacksonville, in the Ballroom of Halifax Plantation, 4000 Old Dixie Highway, Ormond Beach. Dinner and dancing is all part of the ticket price ($50 PCAF members; $60 general public).  Click here for details.
Sept. 21: Flagler Beach Police Captain Matthew Doughney and 7-Eleven host "Doughnuts with Doughney": The Flagler Beach Police Department and the city's 7-Eleven have partnered to host "Doughnuts with Doughney" on Monday, September 21, from 8 a.m. to 10 a.m. at 408 South Oceanshore Boulevard.
Sept. 28: Bunnell's State of the Art Water Treatment Facility Grand Opening and Ribbon Cutting at 100 Utility Drive (directly across the street from the Flagler County Government Services Building), from 4 to 6 p.m.
Oct. 6: The Flagler County School Board holds a town hall meeting at the Government Services Building.
Flagler County is now accepting applications for the Fall 2015 Citizens Academy. Classes will be held on Thursday evenings from 5 to 8 p.m. beginning September 10 for nine weeks. For more information, click this link or go to flaglercounty.org/academy.

Palm Coast Physical Therapy Offering Free Neuropathy Seminar Sept 24: Palm Coast Physical Therapy is hosting a free seminar on Neuropathy on September 24th from noon to 1 p.m. at their office at 84 Pinnacles Drive, Ste 300, Bldg. A, Palm Coast, FL. "We will discuss the causes and symptoms of Neuropathy," said owner of Palm Coast Physical Therapy Em Dinopol. "The Neuropathy Association estimates that over 20 million people, or 1 in 15 in the U.S., have some form of neuropathy so this is a very important topic."Attendees can expect to learn about the latest treatments available that can help to eliminate the need for addictive medications or surgeries. Topics will include: the anatomy and physiology of the Cervical Spine, how aging affects the Cervical Spine, Degenerative Disc Disorders, Osteoarthritis, Intervertebral Disc disorders, Spondylosis, Cervical Disc herniation, managing headaches from degenerative changes in Cervical Spine disorders, and how to preserve and conserve your Cervical Spine. The seminar will include a presentation as well as a question and answer period.  Seating is limited and those interested in attending are asked to call 386-447-7824 to reserve a seat. Palm Coast Physical Therapy Center is a privately owned physical therapy clinic that has proudly served the community since 2001, while providing a compassionate and trusting environment for anyone in need of physical therapy. Their mission is to enhance the overall health and quality of life for each patient by treating them with high quality, personalized physical therapy. They have done this while also establishing a solid and trusting relationship with their referring physicians, ensuring that they stay informed on the patients' progress. Palm Coast Physical Therapy Center treats a variety of issues including but not limited to neuropathy, pelvic floor muscle weakness, Parkinson's disease, arthritis, whiplash, headaches, athletic injuries, MVA (motor vehicle accidents), chronic neck and back pain, repetitive strain, overuse injuries, as well as Postural Dysfunction, Diabetic Neuropathy, balance impairments, Plantar Fasciitis, pre and post-operative care, incontinence, and generalized strengthening. They encourage patients not to set limits on what they can do and to schedule an appointment to get evaluated. They are located at 84 Pinnacles Dr., Building A. They can be reached via phone at 386-447-7824, or online at http://www.palmcoastptc.com or https://www.facebook.com/PalmCoastPhysicalTherapyCenter.
On September 7 – International Manatee Day & Labor Day: Celebrate one of the world's most extraordinary animals on International Manatee Day, which also falls on Labor Day this year.  An upswing in boating traffic is expected on Florida's waterways during the busy long weekend, putting manatees at even greater risk.  Save the Manatee Club encourages recreational boaters to be prepared to help protect the endangered species by requesting a variety of the Club's free public awareness materials. Save the Manatee Club produces and distributes bright "cautionary" yellow boating banners with the message, "Please Slow: Manatees Below."  Displaying these popular waterproof banners helps alert other boaters to manatees in the area.  Free shoreline property signs, weatherproof boat decals, and waterway cards that feature manatee protection tips in English, French, Spanish, and German, are available, too.  The Club also produces a family-friendly outdoor sign for high traffic sites to teach the public "manatee manners" and help curb manatee harassment. 'We have received thousands of requests for outreach materials over the years and have provided free signage to dock owners, municipalities, and county governments to raise manatee awareness," says Patrick Rose, Save the Manatee Club's Executive Director. "For decades, we have led efforts to secure funding for Florida's rescue, rehabilitation, and release program.  We've also been able to expand our international efforts from Mexico and Belize to Senegal, Liberia, and Nigeria.  We've bought food for orphaned baby manatees and provided all kinds of educational materials to students around the globe." Save the Manatee Club is an award-winning international nonprofit conservation organization in operation since 1981 when it was co-founded by singer/songwriter Jimmy Buffett and Bob Graham, former Florida Governor and U.S. Senator.  The Club is the recognized worldwide leader in manatee education and conservation efforts. More "Manatee Protection Tips for Boaters" can be found on the Club's website at savethemanatee.org/boatertips.  Also download the free Manatee Alert App for iPhones and iPads at http://bit.ly/15EYen6, which notifies boaters when they are approaching manatee speed zones and facilitates the reporting of injured manatees and manatee harassment.  Also check out the Club's new animated boating video, "Share the Waterway," athttps://youtu.be/rmDSpaRPrBg. The free materials listed can be obtained by contacting Save the Manatee Club via e-mail at education@savethemanatee.org, by regular mail at 500 N. Maitland Ave., Maitland, FL 32751, or by calling toll free at 1-800-432-JOIN (5646). For more information on manatees, the Adopt-A-Manatee® program, or to sign up for the Club's free e-newsletter, visit the Club's website atsavethemanatee.org.
Highwaymen artist R.L. Lewis, author Gary Monroe kick off fall WISE program: The Daytona State College Foundation's Wisdom in Senior Education (WISE) program will feature something to suit everyone's interests when it kicks off its fall season in September. Among the season's highlights is a return visit on Tuesday, Sept. 22, by R.L. Lewis, one of the 26 African-American painters who emerged during the 1950s and '60s to become known as the Florida Highwaymen. In 2009, Lewis captivated a WISE audience of nearly 250 people who came to hear his account of the Highwaymen and witness a demonstration of his creative method. Lewis will be introduced by Daytona State photography professor Gary Monroe, a leading authority on the Highwaymen who has authored several books on the artists. Monroe tells a story that relates the racist attitudes of the past, the nostalgia for a once unspoiled Florida, so-called "outsider art" and the entrepreneurial spirit of the original 26 painters. Theirs is a story of entrepreneurs who sought to rise above the meager existence offered by the agricultural and citrus industries – a common vocation for many African-American workers in Florida at the time. Art to the Highwaymen was a craft, a way to earn a living. At the time, no gallery would show the work of unknown, self-taught African-American artists. Instead the Highwaymen painted from their garages and backyards on inexpensive Upson board, framed their work with crown molding, then traveled Florida's east coast on weekends to sell their paintings to hotels, offices, businesses and tourists. They were a prolific group. Volume was a key to their survival as artists. Their technique allowed them to produce brilliantly colored landscape paintings quickly and efficiently. It is estimated that more than 200,000 of their original works exist, according to Monroe, whose research and books about the Florida Highwaymen triggered a renaissance of demand for their paintings in recent years. The Highwaymen were inducted into Florida Artists Hall of Fame in 2004. Today, their original art can command thousands of dollars. Monroe's most recent work tells the story of Mary Ann Carroll, the only woman among the renowned landscape painters who Monroe calls the First Lady of the Highwaymen. The WISE season kicks off on Tuesday, Sept. 15, with a presentation about the history and future of Daytona Beach International Airport by Steve Cooke, the airport's director of business development. On Oct. 13, Andrew Sandall, executive director of the Museum of Arts and Sciences, will talk about some of the more than 30,000 objects and artifacts housed at Florida's largest museum of its kind. WISE patrons interested in estate planning and how to avoid probate won't want to miss a Tuesday, Nov. 3, presentation by attorney Randal Schecter, and, on Nov. 17, Tim Weaver, general manager of Trader Joe's in Winter Park, will share the history of the burgeoning grocery chain that in recent years has developed somewhat of a cult following. Daytona State's own Chef Costa Magoulas, chair of the Hosseini College of Hospitality Management, will close out WISE's fall season  on Tuesday, Dec. 1, with delectable demonstrations and tips on how to create holiday spreads that are guaranteed to impress even the most finicky guests. The Foundation created the WISE program to provide continuing education and cultural enrichment activities to senior members of the community. WISE is open to anyone age 50 or older. All WISE presentations will take place at DSC's Daytona Beach Campus Hosseini Center, 1200 W. International Speedway Blvd., from 2 to 3:30 p.m. Find a complete listing of fall presenters at DaytonaState.edu/wise. For more information, contact Kent Ryan (386) 506-4425, or RyanK@DaytonaState.edu.
Seats are still available for Flagler County's (usually) popular Citizens Academy program designed to introduce participants to the day-to-day operations of Flagler County government. Beginning on Sept. 10, classes will be held Thursday evenings from 5 p.m. to 8 p.m. for nine weeks. Sessions feature presentations from each department of Flagler County government, in addition to meeting with Constitutional Officers and County Commissioners. Meeting locations will vary each week including a tour of Emergency Operations and the Flagler County Executive Airport. The program culminates in a highly engaging mock County Commission meeting with participants taking on the roles of commissioners, county administrator, and as concerned citizens as they utilize the information they have learned throughout the session. Each Citizens Academy class is limited to 30 participants selected in order of their application and the program is free to all Flagler County residents. Interested residents can apply online from the County's website at www.flaglercounty.org/academy; or for further information, please contact Ben Hogarth, Flagler County Special Projects Coordinator at 386-313-4040 or by email at bhogarth@flaglercounty.org.

Ex-Broadcaster Kills 2 on Air in Virginia; Takes Own Life: He was a fired television reporter with a history of conflicts at work and rage apparently stoked by racial grievances. And when he sought revenge on Wednesday, gunning down two former colleagues, he used the tools of social media to ensure that his crime was broadcast live, recorded from multiple angles and posted online. Vester Lee Flanagan II, 41, identified by the authorities as the gunman, waited until Alison Parker and Adam Ward, young journalists at WDBJ in Roanoke, were on air, then killed them while recording on his own video camera. Mr. Flanagan shot himself in the head hours later, the authorities said, but as the chase for him was on, he wrote about the shooting on Twitter, uploaded his video to Facebook and sent a manifesto to ABC News that spoke admiringly of mass killers and said that as a black, gay man he had faced discrimination and sexual harassment. The shooting and the horrifying images it produced marked a new chapter in the intersection of video, violence and social media." From The Times.
Inside the Trump-Bush melodrama: Decades of tension and discomfort: "The feud between the two leading Republicans, which has escalated in recent days, is shaping up as a defining dynamic at this early stage of the race. And considering Trump's dominant status in polls and Bush's fundraising dominance, the tensions between the two are likely to be a factor for weeks or months to come as each candidate attempts to topple the other on his way to the nomination. The 2016 campaign is only the latest manifestation of decades of discord between Trump and the Bush family. Since the gilded 1980s, when Trump and George H.W. Bush rose as forces in their respective spheres, the relationship between Trump and the Bushes has been a melodrama — veering between displays of public affection and acerbic insults. At the core, there are clashes of style, manner and class between the Bushes — a patrician clan of presidents, governors and financiers who have pulled the levers of power for generations — and Trump, a hustling New York City deal-maker who turned his father's outer borough real-estate portfolio into a gold-plated empire." From the Washington Post.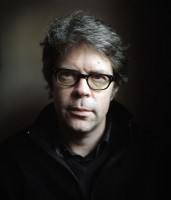 On Jonathan Franzen: "Do you love Jonathan Franzen? Does America? Does the world? These questions sound ridiculous, but they're the ones Franzen has been posing over the past two decades, as he has, against long odds, made himself the kind of public figure about whom they aren't entirely ridiculous or even unusual. He started asking them in the mid-'90s in a series of essays — most famously, one published in Harper's as "Perchance to Dream" in 1996 — that lamented the novelist's diminished role in the culture; the burned-out state of "the inner city of fiction"; and the failure of his first two novels, despite critical acclaim, to connect with a wide readership. Yet he knew that, even if it had been a while since a writer more challenging than Scott Turow or Stephen King had appeared on the cover of Time, E. Annie Proulx, Toni Morrison, and Cormac McCarthy were still selling lots of books. Many of their readers, a sociologist informed him, were women; many were people who'd grown up, like Franzen, as social isolates (not necessarily nerds, Franzen took pains to point out); many were people whose lives had turned out to be different from their parents' lives. These people wanted to read about lives not unlike their own, and to be entertained. Franzen would transform himself from an angry young man into their trusty bard. Or try." From New York Magazine.

Palm Coast Construction and Development Progress Reports:
The following is an update of ongoing construction and development projects in Palm Coast, through Aug. 6:
Palm Coast Parkway Six-Laning is 87 percent done: Widening on the north side of the parkway almost complete. Landscape irrigation work continues. Milling and Resurfacing of Roadway continues. FPL began installation of light poles and fixtures along the north side of the roadway.
Holland Park, 27 percent done: Continuation of installation of new water main. Began installation of FP&L primary conduit to new transformer.
Palm Coast City Hall at Town Center, 84 percent done: Installation of drywall on interior walls, mechanical duct work & VAV damper installation, electrical conduit rough-in and fire sprinkler piping are all 98% complete. Painting of interior and exterior walls continues. Floor tile in bathrooms continues. Mechanical system startup occurred. Parking lot curbing completed. Irrigation installation began See ongoing images of construction here.
Colechester Drive Bridge, 32 percent done: Bridge deck being removed, curbing on all sides has been removed.
County's I-95 Interchange Matanzas Woods Reclaim Water, 25 percent done: Contractor has installed approximately 1,000 ft. of reclaim water main total installed 5,000 ft. to date.
Palm Harbor Parkway Roadway Extension, 6 percent done: Contractor working on submittals and coordinating utility work with FPL & ATT.
Island Walk Shopping Center Phase 1, 91 percent done: The second run of gravity main was installed near Starbucks entrance.
Shops at Pine Lakes Convenience Store, 96 percent done: Pump station start-up and testing completed.
Old Kings Road Force Main – Master Pump Station, 10 percent done: Clearing crew on site removing trees.

Road and Interstate Construction: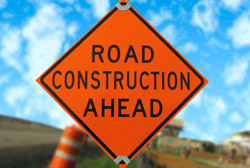 Palm Coast:
Palm Coast Parkway: Expect heavy delays on Palm Coast Parkway From 7 p.m. Tuesday, Aug. 18, to 5 a.m. Wednesday, Aug. 19: Westbound traffic will be reduced to one lane on the I-95 bridge. These lane closures are required for street light pole installations. In addition, motorists and other travelers should expect intermittent eastbound and westbound nighttime lane closures on Palm Coast Parkway between Florida Park Drive and Cypress Point Parkway / Boulder Rock Drive from 7 p.m. until 7 a.m., Sunday through Friday until the completion of the project in December 2015. One lane eastbound and one lane westbound will remain open at all times. These lane closures are required for paving and traffic signal operations.
Old Kings Road Lane Closures: On Monday and Tuesday, Aug. 17 and 18, motorists and other travelers should expect lane closures on Old Kings Road in the vicinity of the Matanzas Woods Parkway intersection. A single lane will remain open at all times. From Friday, August 21, through Sunday, August 23, motorists and other travelers should expect lane closures on Old Kings Road and Matanzas Woods Parkway in the vicinity of the Matanzas Woods/Old Kings Road intersection. A single lane will remain open at all times.
Complete Road Closure on Old Kings Road: On Wednesday and Thursday, Aug. 19 and 20, motorists and other travelers should expect a complete road closure on Old Kings Road and Matanzas Woods Parkway in the vicinity of the Matanzas Woods intersection. Matanzas Woods Parkway will be closed at Bird of Paradise allowing eastbound traffic to Matanzas High School only. Travelers heading south on Old Kings Road at the U.S. 1 intersection will be notified that Old Kings Road is open to local traffic only. Old Kings Road will be closed at the Forest Grove Drive intersection allowing northbound traffic to Matanzas High School only.
Road Closure Note: The northbound lane of S. Old Kings Road from Town Center Boulevard going north approximately 2.5 miles will have a moving lane closure starting Monday, July 27. The lane closure will be from 7 a.m. to 5 p.m. weekdays and will continue for approximately three weeks. A flagman will direct traffic.
Lane closures to begin July 27 on South Old Kings Road in Palm Coast: The northbound lane of S. Old Kings Road from Town Center Boulevard going north approximately 2.5 miles will have a moving lane closure starting Monday, July 27. The lane closure will be from 7 a.m. to 5 p.m. weekdays and will continue for approximately three weeks. A flagman will direct traffic. This lane closure is needed to allow a City contractor to clear the right-of-way along the roadway in preparation for an upcoming wastewater system project.
Flagler County Road 302 is Closed to all but local traffic as repaving began on June 7 and the roadway will be closed to all but local traffic. Others will be required to detour around County Road 302 using State Road 100. The roadway will be closed for 90 days, or until early September.
Palm Coast's Colechester Lane bridge to be closed July 7 through Sept. 4:  A detour will be established taking travelers over the Colorado Drive bridge instead. Signs will be posted directing motorists to the Colorado Drive bridge. The City of Palm Coast strives for safe construction zones. The City asks for the cooperation and patience of residents as this important bridge improvement project is completed. For more information, contact Palm Coast Customer Service at 386-986-2360.
US 92 to close overnight Tuesday for pedestrian bridge installation: The new pedestrian bridge installation is scheduled overnight Tuesday Aug. 18. Construction will run from 10 p.m. Tuesday night  to 5 a.m. Wednesday morning. During the installation, US 92 (International Speedway Boulevard) will be closed – eastbound and westbound – between Daytona Boulevard and Bill France Boulevard. Well-marked detours will be in place.
Detours:
Traffic going eastbound on US 92 will turn left on to Daytona Boulevard, right on to Avenue B, and then right on to Bill France Boulevard, where US 92 eastbound can be accessed.
Traffic going westbound on US 92 will turn right on to Bill France Boulevard, left on to Avenue B, left on to Industrial Parkway, right on to Avenue A, and left on to West Road, where US 92westbound can be accessed
This pedestrian bridge will be 750 feet west of Bill France Boulevard, and will include landscaping, lighting, fencing and bridge treatments. The bridge is part of the ongoing pedestrian improvements on US 92, which include upgrading the Williamson Boulevard intersection with new mast arms and other improvements, and replacing existing sidewalk and ditches with 12-foot sidewalks and closed drainage system. All businesses within the construction zone will be accessible during the instillation of the pedestrian bridge. For more information about this, and all Central Florida state roadway projects, visit www.cflroads.com.
Volusia: I-4 Widening from SR 44 to east of I-95, Monday and Friday, 7:00 a.m. – 5:00 p.m., Eastbound/Westbound shoulder closing. Sunday through Thursday, Eastbound and Westbound lane closures as needed from 8 p.m. to 6 a.m. Thursday, 9:00 p.m. – 5:30 a.m. EB road closure between Canal St./SR 44 and I-95 with detour at US 92 exit ramp.Motorists should be aware of traffic shifts near Canal St./SR 44.
County Road 304 Project Map and Description

Comment of the Day (From the Comment Section):
Frances Royals, "Overselling Flagler: How County Tourism and Government Zeal Lost the Spartan Race Before It Started": in Again, Flagler Live, I really appreciate your reporting of this event and how it happened. It is rare today that a journalist will take the time to actually do the investigation necessary for an informative article like this one. I am especially glad that you let us know that Mr. Hadeed had questions about it. I know Mr. Hadeed and his knowledge of the preserve and I could not understand how he would work on this. Knowing that Mr. Hadeed, Commissioner Revels, Commissioner Hanns and Commissioner Ericksen were against this makes me feel much better about our County leadership. I also think that Mr. Meeker said that he was undecided and waiting for discussion. I think it is time for a group of concerned citizens for the welfare of Princess Place and all of our green spaces here to organize and attend the meetings where these decisions are being made. It would have been very very sad to have had this event happen at the Preserve. I am concerned that the management plans for these green spaces may be altered to make it easier for someone to get through high impact events that can damage the ecosystems of the preserves. As we go forward in out county, it is extremely important to take care of the green spaces that we have. I was not against the race being held at an appropriate place nor am I against "progress" for our county. Positive change can happen without it being at the expense of our protected green spaces. Again, thanks to all the many many people who helped stop this event. I think we need to learn some lessons from it." Reply to Frances Royals here.

Cultural Coda:

The Risks of The Everyday – with Jared Diamond from The Royal Institution on Vimeo.