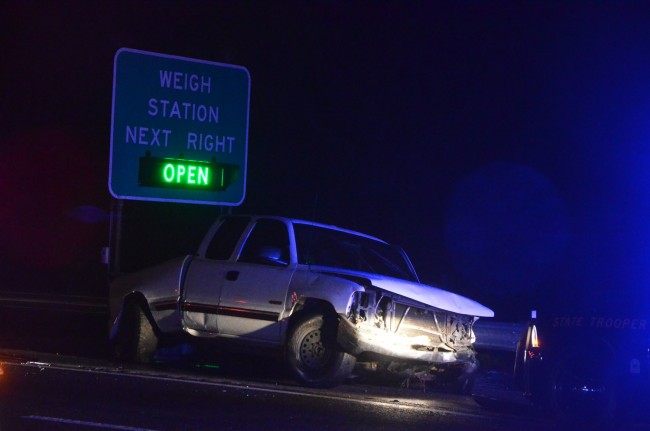 A five-vehicle wreck under heavy rain early this morning shut down the northbound lanes of I-95 just south of the Palm Coast weigh station and sent at least five people to a local hospital, none with life-threatening injuries.
The wreck took place at 4:45 a.m., well before dawn, starting just past the bridge above Town Center Boulevard and unfolding over the length of a football field. Several Florida Highway Patrol investigators at the scene were still trying to reconstruct the incident. As dawn broke they had inconclusive evidence about what triggered the wreck. One investigator said that because of the numerous vehicles involved, much of the reconstruction will have to rely on the accounts of drivers and passengers.
Two people, a couple from DeLand, the only people involved in the wreck who were not taken to Florida Hospital Flagler, said they were traveling in their Honda in sheets of rain when they started seeing the wreck unfold in front of them, with a white Chevy pick-up struck once and left disabled in the middle of the highway, then struck again and slammed against the guard rail. The driver of the Honda attempted a maneuver to avoid the wreckage and thought he had, only to be rear-ended. The Honda sustained the least damage of the five vehicles, to its rear bumper, and parked in the right shoulder as the investigation continued.
About 50 feet to its south, a Jeep SUV with a Bethune-Cookman specialty license plate stood perpendicular to the highway, its smashed nose against the east-shoulder guardrail, its passenger side caved in. All its air bags had deployed. Some 50 feet south of the Jeep on the opposite side of the three northbound lanes, two sedans were jackknifed against each other. A Ford with a child seat in the back had collided with a Hyundai Accent. "The rumor is there was a mother and child," one of the FHP investigators said. The investigators were not yet certain about the number of injuries and those involved because rescue units had already transported all the injured to FHF before troopers arrived.
Thirty feet further south, back on the east side of the highway, the white pick-up was in the shoulder facing almost directly south, its front and rear severely damaged.
Roger's Towing of Bunnell arrived at 7 a.m., just as the wreck was beginning to lengthen the morning rush's back-up, and was expected to have cleared the scene by 7:30. The Palm Coast Fire Department and Flagler County Fire Rescue had initially responded, along with the Palm Coast Fire Police, which controlled traffic. FHP will release the identities of those involved in the wreck later today.
More images will post shortly.