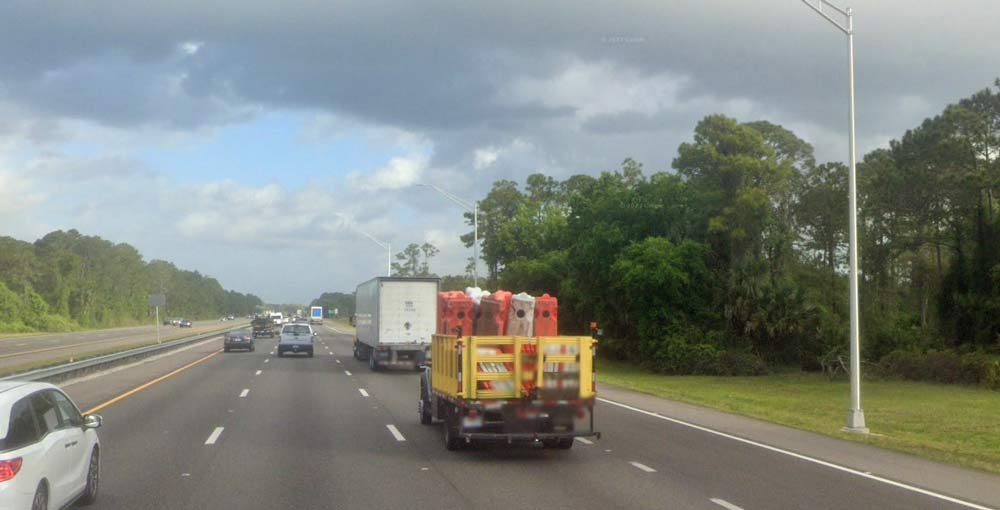 A 37-year-old Deltona man on a motorcycle was killed early Sunday morning on I-95 just north of the Old Dixie Highway interchange after rear-ending an SUV.
The crash took place at 2:10 a.m. in the northbound lanes of I-95, at mile marker 282. According to the Florida Highway Patrol, the motorcyclist and the SUV were both in the right travel lanes when the motorcyclist struck the vehicle and was ejected. The black SUV then was reported to have struck the guard rail and ended up facing south, according to 911 dispatch notes.




A 22-year-old Palm Coast man was driving the SUV, with a 21-year-old passenger. Neither was injured. The crash blocked all lanes of the highway northbound. Authorities placed an emergency helicopter on standby but did not call it in. The motorcyclist was located in the woods , unresponsive, and was pronounced deceased at the scene at 2:23 a.m.
The Flagler County Sheriff's Office sent up a drone over the woods to rule out the possibility that the motorcyclist was not alone. After a 10-minute survey, the drone did not pick up any heat signatures. Traffic was rerouted at Old Dixie Highway as the Florida Highway Patrol conducted the traffic homicide investigation. The road was reopened shortly before 5 a.m.
It was the 13th fatality on Flagler County roads so far this year, the third involving a motorcyclist. Three cyclists have also been killed.
The day before, Flagler County's motorcycle community was mourning the loss of one of their own in a separate motorcycle crash on Saturday on U.S. 1 in Volusia County, Cw Clarence Mauck, a trucker who called his rig the Pavement Princess.