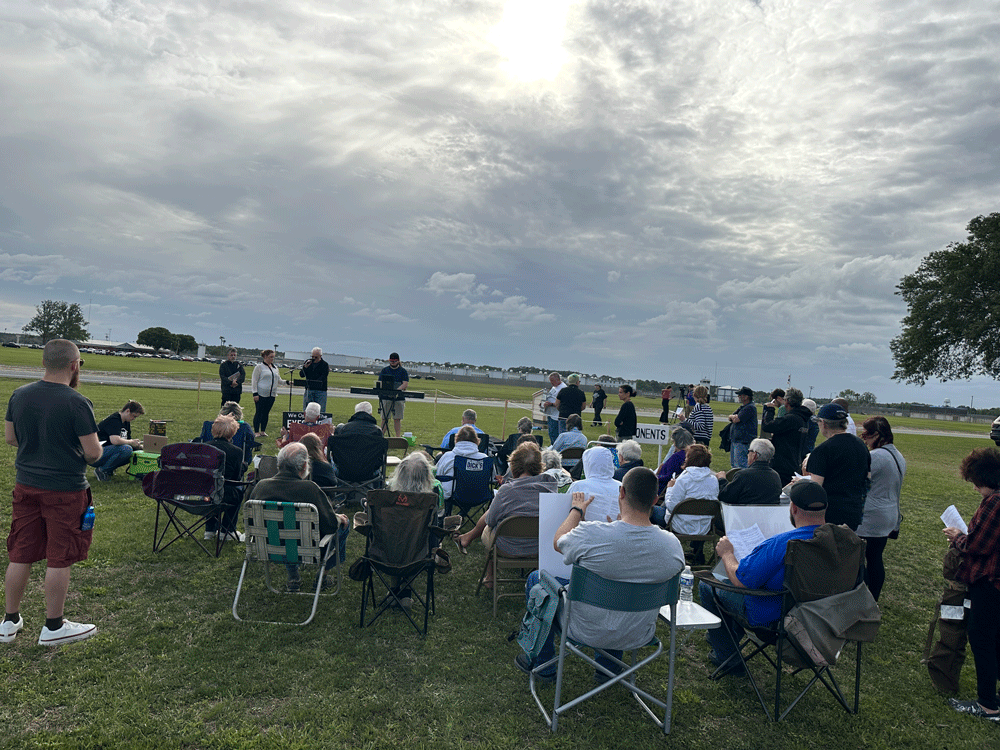 Last Updated: 10:39 p.m.
RAIFORD–From the vacant field along State Road 16 in Raiford, across the road from the state prison where Louis Gaskin was killed by lethal injection this evening, the only sign that the execution had taken place were the three vans that exited the prison grounds around 6:20 p.m., filled with those who had witnessed the death.
Among them were media, state officials, and three of the law enforcement officers in Flagler County who had investigated the 1989 double-murder and elicited Gaskin's confession: Warnell Williams, the lieutenant in charge of the investigation, detective Jim Schweers, and Marc Carman, a young detective near the beginning of his long career with the Flagler County Sheriff's Office.
"It was surreal. That's the only word I can think about," Carman said this evening. "I thought personally that he seemed to be at peace with it." He did make a statement, but neither Carman nor others understood what he said. He heard something to the effect of "the man does the crime," then Gaskin seemed to speak of the appeals process.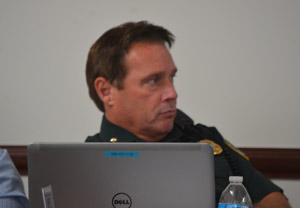 The execution itself took about 15 minutes. Gaskin was not agitated, Carman said. "He didn't seem to be in pain. One time it seemed like his breathing was speeding up, then all of a sudden it slowed down. He just seemed to go to sleep."
Carman said the case, for him and others who worked on it, "was the biggest case of their careers." But witnessing the execution had its effects. "For me it was a solemn experience. I don't think I'd probably do it again."




He had witnessed the results of Gaskin's murder and shooting spree first hand, in all its brutality and seeming wantonness. It was Carman who arrested Gaskin after an all-night stake-out at 803 Hymon Circle in Bunnell, using a pair of handcuffs he has never used again, and kept since in a safe.
Yet he was not eager to see him die. "It's going to sound strange," Carman said. "He's been in there a long time. I thought it was a really horrific, gruesome crime. But it wouldn't have bothered me if he just did life in prison."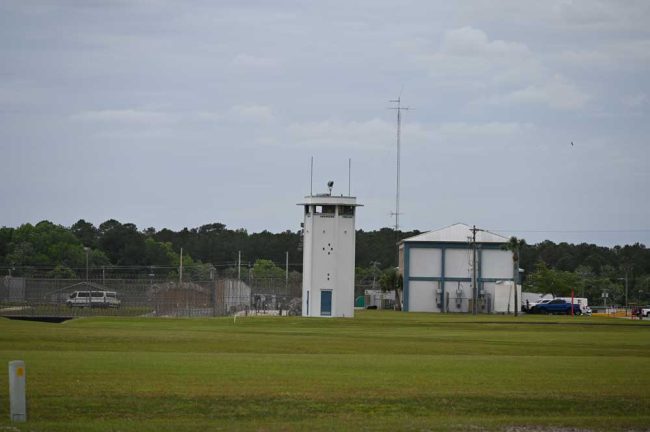 In the vacant field before the execution, a group of three or four dozen opponents of the death penalty, most of them from Volusia and a few from Flagler counties, sang and prayed ("Precious Lord, Take My Hand") in a service led by Father Phil Egitto of Our Lady of Lourdes Catholic Church in Daytona Bach. They stood and sat, several of them with signs ("Not in My Name"), roughly within an enclosure prepared for them by state police near a sign that said: "OPPONENTS."
About 30 yards away, under a stately oak, seven units of the Florida Highway Patrol were in a gathering of their own, though with a different purpose. They were there for security. Just past them, a few more yards away, was the enclosure with the sign that read: "SUPPORTERS." Only a couple had showed up there this evening. In the past, there were occasions when "supporters" would have their own displays, including images of the victim or victims.




At 6 p.m., the time the state says the actual execution takes place, several members of the "opponents" took a hammer or a stick, and each in turn tolled a bell loud enough for death row inmates to hear. "Not in my name," some of them said as they tolled.
Gaskin, 56, this evening became the first person convicted in Flagler County ever to be executed. Three other inmates from Flagler County who've been on death row in recent years all had their sentences commuted.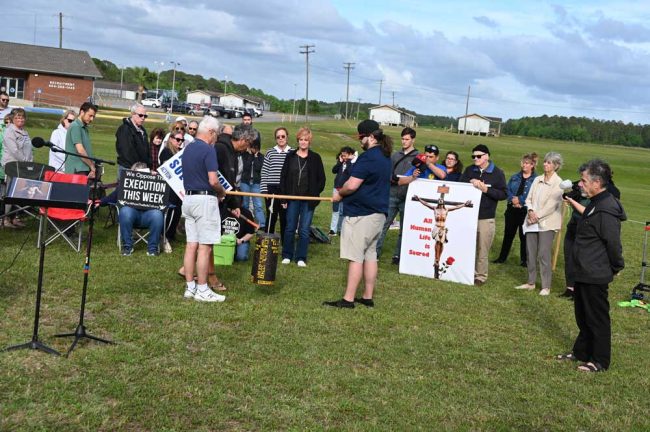 Gaskin was 22 when he shot and killed 56-year-old Robert Sturmfels and 55-year-old Georgette Sturmfels at 10 Ripley Place in Palm Coast, ransacking their house, before going to 1 Ricker Place, where he fired at Noreen and Joseph Rector, severely wounding Joseph before the couple was able to escape by car to Memorial Hospital. Joseph survived.
"It took me a long time to come to grips with what happened that night," Noreen Rector wrote FlaglerLive last week. "I'm sure I had PTSD from fear, the terror of the phone lines being cut, the gunshot through the window, having to run outside and drive to the hospital while shots were being fired at us, sharing what we thought would be our last words, just trying to figure out what the hell had just happened to us."
She and Joseph divorced after 34 years of marriage. "So here I am, 33 years later being asked by the Governor's office if I want to witness the execution (really?). And by reporters how I feel about the death warrant being signed. Consequently, I have had to reflect, relive, remember all that has happened since that night. I would be satisfied if Louis remained in prison, without the possibility of release. I don't believe the death penalty serves any purpose."




No Gaskin family members turned up for his execution. He is believed to have two half-siblings. One of the people in the group of opponents was Ron Wright, Jr., who'd been sentenced to death after a jury recommended death in a 7-5 vote and spent three years on death row before becoming the 27th death row inmate in Florida to be exonerated. There have been 30 exonerations so far.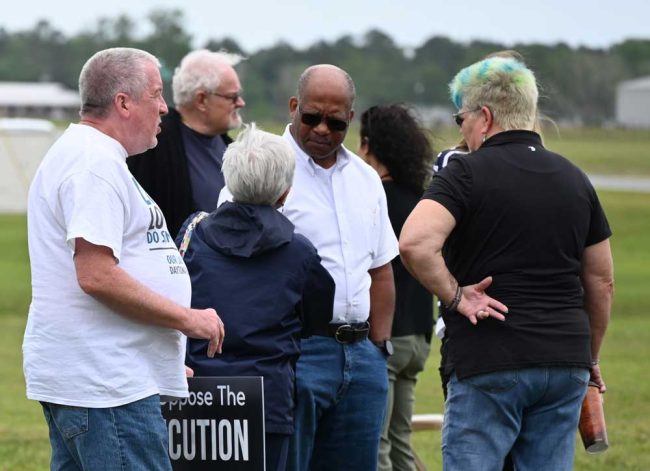 "My biggest reason for opposing the death penalty is simply because we've proven 30 times now, here in the state of Florida alone, that we cannot do this correctly if we can't get it right every time. Anything we can't do right I don't believe we should be doing at all," Wright said, about 20 minutes before 6 p.m. "There was a quote a friend of mine said years ago that you can free an innocent man from a jail cell, but you can never free anyone from the grave. And that was Freddie Pitts, a former death row inmate." He, too, was exonerated. "And he's absolutely right. Because until we absolutely know the truth and know the things we don't know, we don't know if we're getting this right or wrong."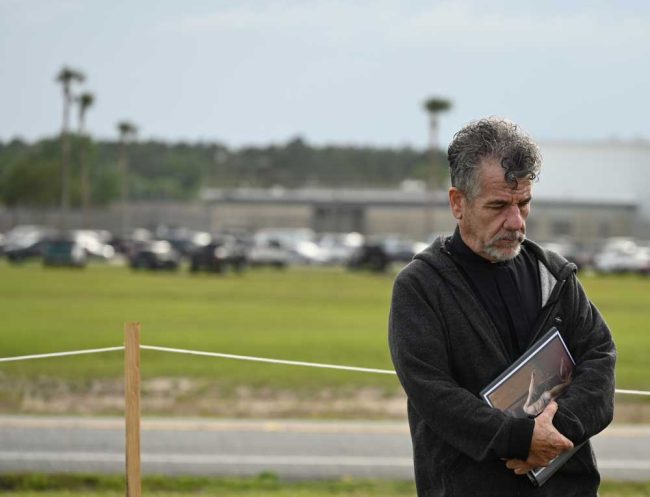 Wright is now a board member of Floridians for Alternatives to the Death Penalty (FADP), one of three exonerated men on the board. He continued: "To the credit of those who advocate for the death penalty and wanting people held accountable and punished for their crimes, there is none of that in death. The punishment is waking up every day, day in and day out, inside those walls, behind those bars and keys and locks and having all that time to regret what you did." As he spoke he pointed at the prison across the road and its six blocks of grimy-white buildings, guard towers shaped like air traffic controller towers at each cardinal point. "But death: Like I said, there's no more punishment. There's no rehabilitation, there's no changing. You're just gone and the biggest problem with that is, what good or benefit is that anyone else? That's never going to bring a loved one back. That's never going to change what's happened. It's not going to rewrite history. So what are we really accomplishing by executing somebody?"




To Father Phil, it looked as if the state was moving away from the death penalty–getting rid of non-unanimous jury verdicts, reducing executions in the last few years. "So we had been progressing along but I do think that with the last election, I have a lot less hope than I had before," he said. "It seems as though they think that this is being tough on crime and it's not."
He called the state's killing "premeditated murder." Understanding feelings of revenge, recognizing the loss and pain that has been inflicted on victims, he said an additional death doesn't bring anyone back, nor does it get rid of the pain. It adds another dearth.
"And so we're here to bring Christ's love and mercy and forgiveness to this moment," he said, "because the only way to extinguish darkness is with light. Not with more darkness. So I don't know that what we do changes anything, but I know that it changes us because someone has been killed in our name. … And I am here to say Not In My name is the blood of Louis Gaskin on me."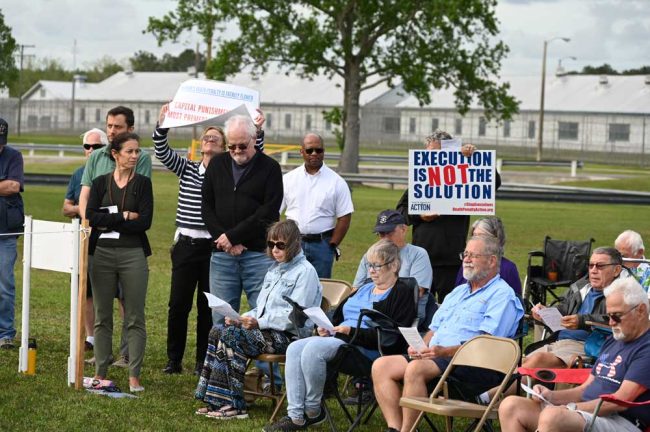 Executive Director of Floridians for Alternatives to the Death Penalty Maria DeLiberato, a former assistant state attorney in Miami, was also among those in the gathering across the road from the prison. Gaskin's execution, she said, would not have happened in any other state in the country but for Florida's lower standard on jury recommendations. All other states require a unanimous verdict. (In fact, so did Florida, briefly, but the Legislature reversed that law this spring.)
Echoing polls to that effect, DeLiberato said the majority of Floridians don't favor the death penalty. "It is our lawmakers and our governor that are interpreting one specific verdict in South Florida and the Parkland case that they believe was a travesty of justice, and that is the motivation to change the death penalty law and to restart executions," she said. "I do not believe that people of the state of Florida truly want the death penalty and want to be a state that executes someone every single month. This is coming from our leader."
The next execution has already been scheduled. On April 5, Ron DeSantis signed a death warrant for Darryl Barwick, 56, convicted of murdering a Bay County woman in 1986.