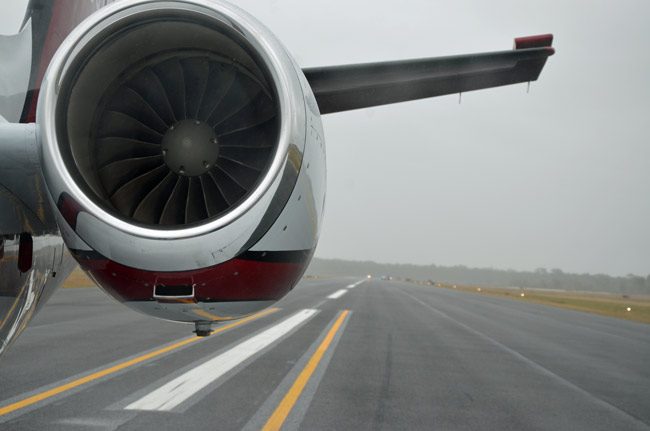 Roy Sieger sometimes sounds like a kid in a candy shop, a 1,150-acre candy shop: that's the size of the Flagler County Executive Airport he manages. "This is awesome. I love doing projects at this airport, I love being the airport director," he told a small group of government, business and airport officials this morning as he stood on the airport's newest addition: a $17 million, 5,500-foot runway he was officially dedicating in a ribbon-cutting, more than two decades after it was conceptualized, in 1996.
He loves the job so much that this was the fourth time in seven months he'd invited press and public to share his excitement. The first time was last June, for the ground-breaking on the runway, dubbed then and now as the most expensive project undertaken at the airport in its 75-year history. The second time was for a press tour of the entire grounds, including the control tower. The third time, in October, was for the inaugural flight off the new runway, known as Runway 11-29. And the fourth—attended, like the first, by every county commissioner and then some: ex-commissioner George Hanns was also there—was today, hurried though it was because just as Sieger began speaking, gray skies forming what in airport parlance was a very low ceiling began spitting a cold drizzle. It was just as well: the assembled had heard the story of the runway enough times and lunch was beckoning in a hangar not far away.
They heard the required words, stood for the ribbon-cutting, stood for selfies or photographs with others, and walked on the carpet-like asphalt. It wasn't any old asphalt. It's lined with quarter-inch deep, quarter-inch wide groves every inch and a half, the better to create traction for landing and departing planes. Some 29,000 tons of asphalt was brought in by 1,450 trucks and spread over the new runway into what would equate to the equivalent of 20 highway miles, with 100,000 square feet of airfield paint striping from 1,000 gallons. The old runway was milled into 1.8 million square feet of asphalt milling and is being recycled elsewhere on county roads. The runway itself was a little over $12 million, with the Federal Aviation Administration assuming $9.33 million of that, the state Department of Transportation paying $2.72 million, and the airport paying $128,000.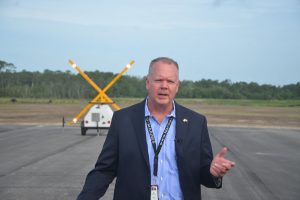 On top of that, "we spent $5 million between property acquisition, wetland mitigation, design, administration," Sieger said.
The very last take-off from the old runway took place last July 27 as Sieger himself and pilot John Rising went up in a T-6—appropriately, a World War II training plane. The airport was built by the military as part of that war's efforts. The first take-off from the new runway took place on Oct. 24 in an IAI Westwind jet piloted by Tripp Wacker.
Not that it would matter to most but the runway itself was moved 400 feet to the south and got a 500-foot extension to the east, while the old runway was turned into a parallel taxiway. The airport's two runways accommodate 500 takeoffs and landings per day on average at the airport, 60 percent of them flight training. The two runways enable pilots to choose the best way to land and take-off into the wind. More than 400 LED airfield and guidance signs were installed as part of the runway project.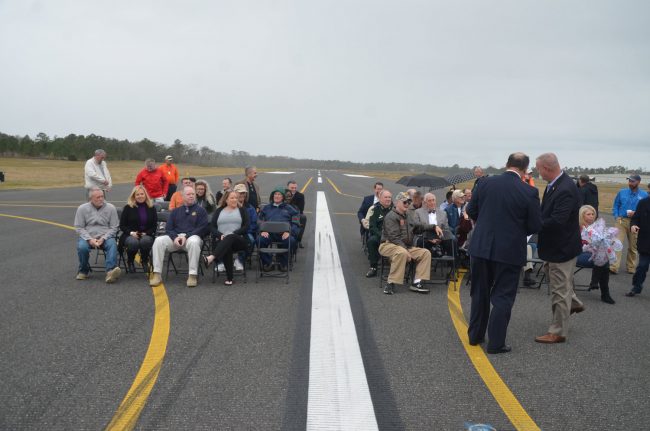 The new runway isn't just cosmetics: it widens the margin of error for pilots, who now have more room to maneuver should something go wrong during a landing or take-off. And while the runway is now long enough to accommodate a 737, the more pertinent purpose is to allow corporate jets to fuel up more heavily: heavier jets need longer runways. That helps the jets cut down on refueling stops. "It's supporting us too because we like to sell more gas," Sieger said. "We can increase our margin."
The airport is a so-called government enterprise fund, which means that it runs like a business, independent of tax dollars. "We make a profit of about $600,000 a year. It stays in the airport," Sieger said during one of those visits with the press. Airport dollars are generated from hangar leases, building leases and fuel sales. It's public money, but it's not tax dollars. The airport has a staff of six, Sieger included.
There are further plans ahead, chief among them a planned 12,000 to 14,000 square foot general aviation terminal. The design alone will cost $350, 000 to $400,000. Construction will cost $3.5 million to $4 million. It's expected to be done "within the next three years," Sieger said, with funding from the transportation department and, depending on how the grant is structured, 20 percent from the airport fund. "We're going to build it so we can actually have some businesses in there," Sieger said. He envisions another car rental business and a flight school. County Administrator Craig Coffee sees perhaps a restaurant overlooking the flight operations.

The first flight off the new runway, in October: