The Flagler County Supervisor of Elections Office was all beehives this morning, a reflection of an election that so far indicates turnout so heavy that it is on pace to shatter even 2016's numbers–a presidential election year–at least for early voting and vote-by-mail ballots.
On one side of the office, the Canvassing Board and more than a dozen workers were going through just that morning's delivery of 7,193 mailed-in ballots, the mail bins stacked up in racks six feet high. The office had mailed out nearly 19,000 ballots, which represents 23 percent of Flagler's registered electorate. Supervisor of Elections Kaiti Lenhart expects to get 75 percent back.
"It was nothing like this," Lenhart said of the general election in 2016. "This beats 2016. We sent more ballots for this than we did for the presidential." In 2016, a total of 13,423 ballots were mailed in. If Lenhart's expectation of a 75 percent return rate holds up, some 14,000 mail ballots will be sent in.
The numbers exceed those for 2014, the last off-year election, when just under 9,000 ballots were mailed in. In other words, just today, the canvassing board was going through almost as many mailed-in ballots in a single day as it did for the entire 2014 election. "So we're already going to blow that, we're way past that," Lenhart said, noting the four trays of mail received this morning.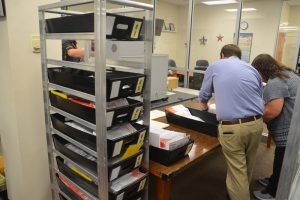 There's also early voting, which began on Monday in Flagler and much of Florida, running for 13 consecutive days. And so in a different part of the supervisor's office, in the large room set up as a polling place, every single one of the two dozen-odd voting booths was occupied by a voter late this morning as more kept walking in steadily. On Monday and Tuesday, there'd been long lines, including long waits at the Flagler County Public Library on Palm Coast Parkway, another of the three locations. The third location is the Palm Coast Community Center on the parkway.
Flagler County ended day two of early voting with 4,220 ballots in. Combined with mailed-in ballots, that's a turnout so far of nearly 14 percent. By late this afternoon, the early-voting tally was up to 6,000 ballots cast for a turnout approaching 16 percent.
"Early voting turnout has really been steady, and even though there's a line, it's moving. I think it's because it's one of the longest ballots we've ever had in the county, so that voters are taking a little bit more time in the voting booth than they normally would." The office is limited on space, Lenhart said: even if 100 booths were put in, voters couldn't be checked in fast enough to fill them. "So early voting has been pretty busy."
Early-voting enthusiasm is mirrored across Florida and the nation where states have early voting. In 2014, a total of 20.5 million ballots were cast before Election Day nationwide, including 3.1 million in Florida. As of this afternoon, 9.6 million Americans had cast ballots, including 1.45 million Floridians, according to the University of Florida's Michael McDonald, a professor of political science who studies elections and has maintained a website tallying early-voting numbers over past elections.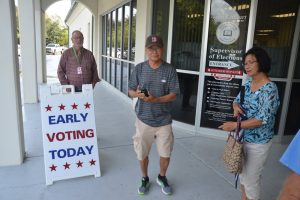 "If these patterns persist, we could see a turnout rate at least equaling the turnout rate in 1966, which was 48 percent, and if we beat that then you have to go all the way back to 1914, when the turnout rate was 51 percent," McDonald told The New York Times Tuesday. "We could be looking at a turnout rate that virtually no one has ever experienced."
As in past elections, more Republicans than Democrats are voting early: older voters tend to be Republican, and older voters tend to like voting early.
So far in Flagler, nearly half the ballots cast (49 percent) are by registered Republicans, well exceeding the 41 percent proportion of registered Republicans in the county. Just over 34 percent of ballots have been cast by Democrats, who represent 31 percent of the Flagler electorate: that's an indication of a little more enthusiasm, but still nothing matching the GOP's. Independents are the least interested: just 16.5 percent of ballots cast are by independents, even though they represent 28 percent of the electorate.
"More voters are engaged in the process," Lenhart said. "I think people are excited about voting, they know we'll have a new governor by the end of this, and there's just so much going on politically in the world today. It's hard to really attribute it to one or two things, it's everything. Political activism is on the rise. Younger voters are more engaged. When I go to high schools, the students are so engaged and so smart. They have the best questions. They really are feeling like they're part of the process as they turn 18, and they're registering to vote. We can see this trend statewide that younger voters are registering, and hopefully they'll turn out in this election."
"The only glitches so far has been the long waits to vote, especially at the public library. "The ballot is long, so I just encourage voters to get their sample ballot, it's on the website, flaglerelections.com, download that, take a look at it, if they haven't gotten it in the mail already. And use that as a guide. Be ready when you go vote. You don;t want to see these amendments for the first time in the booth. There's 12 of them statewide and three more for Palm Coast voters, so a total of 15."
Still, it's early to make predictions about final turnout. In 2014, Flagler's turnout was 53.4, Florida's turnout was 42.8 percent, and the nation's was a paltry 36.7 percent. Election after election, early voting and voting by mail have claimed a growing proportion of all ballots cast, with less than a third of voters casting ballots on Election day proper. That proportion of Election Day voting may be slighter still this year.

Download a Sample Ballot: for All Flagler and City Voters (2018)