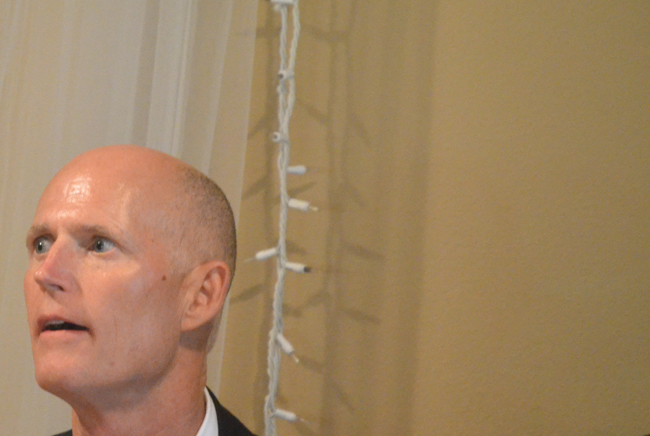 Florida's record $77.1 billion, election-year budget went to the governor Tuesday along with 21 other bills, including a proposal to increase highway speeds that is expected to be vetoed.
Gov. Rick Scott and his staff have 15 days to scrutinize every line in the 431-page budget document, weighing legislators' earmarks against the need to score political points in allowing individual items to remain or be vetoed.
And for the most part, Scott and his staff haven't offered clues on what will stay or what will go.
The spending plan (HB 5001), the largest in state history, spreads around a hefty surplus, adding new money to public schools, state colleges and universities, environmental projects and child welfare while leaving room for about $500 million in tax and fee cuts that are already being used as a centerpiece for Scott's re-election campaign.
Flagler County got a few perks in the budget, though it's still possible some may get vetoed. The Florida Agricultural Museum received $500,000, the city of Palm Coast's Concentrate Treatment Project, a water-utility upgrade, got $375,000. Whitney Lab Research Village in Marineland got $712,310. And The Greatest Save, the Major League Baseball-backed safety program that "arms kids and teens with the tools to recognize dangers and respond instinctively" (as it explains on its web page) got $181,000.00. Also, Daytona State College received $58.5 million, most of it geared toward its campus in Volusia, but with some trickle-down effect for Flagler.
Among the more-unique individual items in the budget are $2 million for public transportation improvements so people can get to the planned 1,000-foot SkyRise Miami tower, $123,000 for a dog park in Jacksonville and $350,000 for restoration of an Addison Mizner-designed fountain in Palm Beach.
Scott has line-item veto power. Last year, he cut $368 million from what had been a $74.5 billion budget.
He cut $142.7 million from the spending plan in 2012, after nixing $615 million his first year in office.
The Florida Democratic Party wasted little time in calling for Scott to veto unspecified "pork" in the budget and direct the Republican-dominated Legislature to instead shift more money to education.
"With over a billion dollars in new revenue this year, there's no excuse for public schools not to be fully funded," Democratic Party Chairwoman Allison Tant said in a prepared statement.
The budget provides the highest education funding in Florida history in terms of its total amount. However, on a per-student basis, education funding is still almost $190 below where it stood before the 2008 financial collapse.
Senate Appropriations Chairman Joe Negron, R-Stuart, expects the governor will have a difficult time finding "pork" in the budget.
"The burden of proof rests with an individual legislator on any budget item, but I've had good conversations with Gov. Scott and with his budget staff," Negron said. "I strongly disagree with the assertion about pork in the budget. Under our constitution the Legislature is the appropriating body. The budget should contain items that individual, elected legislators think are important to their community."
Negron noted that the spending plan includes $7.1 million for a new 4th District Court of Appeal courthouse on state-owned land in West Palm Beach. Negron said the item, which he backed, will be far different from the $48.8 million 1st District Court of Appeal building in Tallahassee that has been dubbed the Taj Mahal.
"The (4th District) building will be smaller, it will be more efficient, it will be appropriate for what is transpiring in the building," Negron said. "We're going to show how a public building can be done in a very efficient and effective way."
The replacement of the 44-year courthouse in West Palm Beach comes as the current building has mold in the courtrooms and was in line for $3 million in renovations to comply with security and Americans with Disabilities Act needs.
The delivery of the budget will also soon spur Florida TaxWatch's annual list of "turkeys," which are projects the Tallahassee-based group says the governor should consider vetoing.
TaxWatch spokeswoman Morgan McCord said Tuesday that no date for the release of the turkey list has been set.
Among the 21 other bills sent to the governor on Tuesday is a measure (SB 392) that would allow the state Department of Transportation to increase speeds from a maximum of 70 mph to 75 mph on certain highways.
Scott announced last week he would "stand with law enforcement," which has opposed the possibility of higher speed limits, and veto the bill.
Sen. Jeff Brandes, a St. Petersburg Republican who was one of the sponsors of the measure, intends to bring the proposal back next year.
Another bill (SB 2514) now before Scott gives him a second chance to decide on the future of the Coast to Coast Connector.
The bicycle and pedestrian path — backed by incoming Senate President Andy Gardiner — is up for $15 million to link an existing patchwork of trails across Central Florida.
The bicycle path proposal was vetoed last year when it was listed as a $50 million line item spread over five years.
Gardiner, an Orlando Republican who views the project as an economic driver, has been working to change Scott's opinion of the trail between Titusville and St. Petersburg.
–Jim Turner, News Service of Florida, and FlaglerLive